DPS SCHOOL CHOICE
Choose Stedman Today!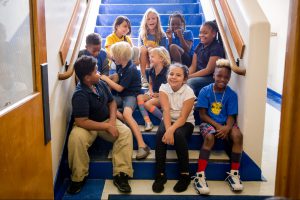 All families with students entering ECE-3, ECE-4, Kindergarten, Middle or High School MUST participate in DPS SchoolChoice. If you need assistance, please let our front office know. If Stedman is your boundary school, you are guaranteed a spot in our traditional English Classrooms. Please note that Spanish Immersion is a separate program that must be choiced into. Choice is taking place completely online this year! See below for more information. Make sure you complete the process by February 15th at 4pm. For Round 2 Info, scroll to bottom.
SchoolChoice is as easy as Find, Apply, Register!
Find the best school for your student with the Great Schools Enrollment Guides (available at schools), the new School Finder online tool at schoolchoice.dpsk12.org, and by touring schools of interest. SCHOOL FINDER
Apply by using the new online application at schoolchoice.dpsk12.org between JANUARY 15 and FEBRUARY 15, 2019 at 4 p.m. (List your top 5 options!)
Then Register to attend your school when you receive your school placement notification in April 2019.
Need assistance? Contact the Office of Choice and Enrollment: call 720-423-3493 / email schoolchoice@dpsk12.org / visit schoolchoice.dpsk12.org
El proceso EscojoMiEscuela es tan fácil como buscar una escuela, solicitar ingreso e inscribirse en ella.
Busque la mejor escuela para su estudiante mediante las Guías de inscripciones de escuelas excelentes (disponibles en las escuelas), a través de la nueva herramienta en línea para buscar escuelas disponibles en schoolchoice.dpsk12.org y al realizar visitas guiadas de las escuelas.
Solicite ingreso al usar la nueva aplicación en línea en schoolchoice.dpsk12.org entre el 15 de enero y el 15 de febrero de 2019 a las 4 p. m.
Luego inscriba a su hijo para que asista a la escuela una vez que reciba la notificación de colocación escolar a principios de abril de 2019.
***
We have received a lot of questions about the DPS Choice Process for Round 2. This Round begins at 12:01am on Tuesday, May 1st. Round 2 is a first-come, first-served basis (with some priorities given). Follow the below link for more info!