Office Staff | ECE | Kindergarten | 1st | 2nd | 3rd | 4th | 5th | Launch | Specials | Health Services | Custodial Staff | Food Services | Paraprofessionals | Support Staff
Michael Atkins, Principal – michael_atkins@dpsk12.org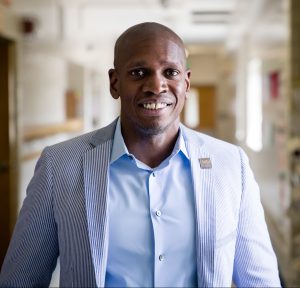 My name is Michael Atkins and I am DPS! The halls our current students walk are the same halls that carved the path which allows me to lead in Denver Public Schools today. As a student, I was bussed (Keys vs. District 1) from my home in Park Hill to Bromwell Elementary School, then to Hamilton Middle School, and concluded my academic career with the district at East High School. Along my journey I have worn many different hats, including student, custodian, paraprofessional, teacher and now a leader. Each hat offers a unique lens within our district. I am my experiences and all of these experiences have given me the expertise and assurance that I am ready to trade my current hat for a new one.
Kayla Krittenbrink, Ritchie Intern – kayla_krittenbrink@dpsk12.org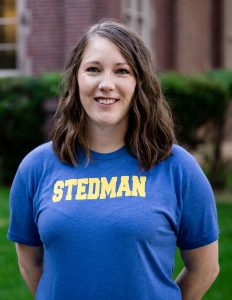 My name is Kayla Krittenbrink and I am so excited to join the Stedman community as the Admin Intern for the 2019-2020 school year. I completed my master's degree in Bilingual Education in Spain and am currently in an Educational Leadership and Policy program. This will be my 12th year in education and 9thyear in Denver Public Schools. Prior to coming to Stedman, I have taught in bilingual Kindergarten, 1st and 2nd grade classrooms as well as reading intervention and ESL. This will be my 5th year working as a bilingual literacy specialist on DPS's Language and Literacy team.  Through this work, I have had the privilege of teaching and coaching hundreds of teachers and leaders across the district. I support them in developing expertise in early language and literacy processing through the Guided Reading Plus courses.
I am passionate about maximizing academic performance for all students, supporting the whole child, and biliteracy development.  It is an honor to be part of a community that shares these values! In my free time I love to ride my bike, hike, dance, read and craft. Please introduce yourself if I haven't had the opportunity to meet you yet!
Emily Madison, Dean of Instruction – Emily_Madison@dpsk12.org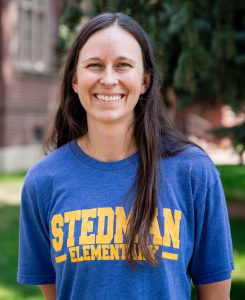 My name is Emily Madison and I am a Dean of Instruction at Stedman. I hold a master's degree in Linguistically Diverse Education, and I have been at Stedman since 2013. Before coming to Stedman I taught 1st, 4th, and 5th grades and worked as a math interventionist. I love supporting the amazing teachers at Stedman. They are passionate, caring, and constantly striving to provide the best education possible for our students.
In my free time I love to spend time outdoors running, hiking, and gardening.  In the winter you can find me snowshoeing or curled up with a good book. I live with my husband Chris, my son Eli, and our dog Bashful. 
I'm looking forward to a joyful year of learning!
Adrienne Lopez, Dean of Instruction – Adrienne_Lopez@dpsk12.org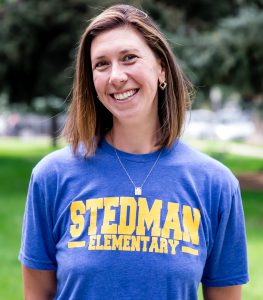 My name is Adrienne Lopez and I am a Dean of Instruction at Stedman Elementary.  I have worked in education for over 14 years in both New York City and Denver with experience as a classroom teacher, collaborative team teacher, reading intervention teacher, literacy coach and assistant principal.  I hold graduate degrees in both Literacy and School Leadership.  I love being with children and supporting teachers in their craft.  I feel fortunate to engage with this community not only as a Stedman staff member but also as a Stedman parent.  
I live in Denver with my husband and our two children.  We love experiencing our beautiful state together through skiing, hiking, camping and biking.
Anne Ginnold, Dean of Immersion – anne_ginnold@dpsk12.org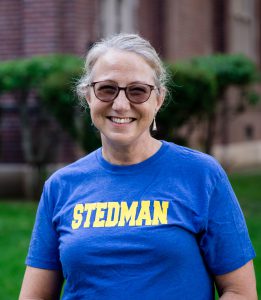 My name is Anne Ginnold, and I'm Dean of Instruction focusing on immersion.  I am thrilled to be part of such a collaborative and caring community of learners: parents, educators and students that I get to see every day. I bring over 20 years of experience as a bilingual Kinder and 2nd grade teacher, ESL teacher and coordinator, and varied positions all directing programs and training and coaching teachers in bilingual and immersion settings. I embrace the opportunity to continue building the immersion program at Stedman and share my passion for a bilingual/biliterate/bicultural educational experience with our students and families. Originally from Oakland, California, I moved to Denver 3 years ago to be close to my cousins who grew up and live in Park Hill, and explore the natural beauty of Colorado.  My biggest accomplishment and greatest pleasure is being a mom, and raising my two amazing children, now adults: Elena, 27 who lives here and works as a nurse, and, Alex who is 24 and works as an engineer in Santa Cruz.  My children are bilingual, biliterate and bicultural. 
Crystal Griego, Senior Team Lead Crystal_griego@dpsk12.org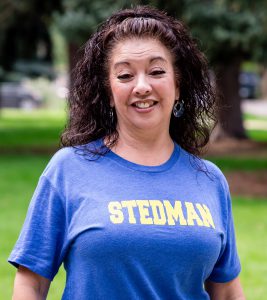 Crystal Griego is the Reading Intervention Teacher and Senior Team Lead at Stedman Elementary.  She is responsible for providing additional support for students reading significantly below grade level.  She is also responsible for coaching and supporting educators to be effective instructors while simultaneously increasing her own professional growth.  She has served in Denver Public Schools for 20 years.  A couple years ago, Crystal received the award Teacher Leader of the Year in DPS as well as Exemplary Teacher Leader
Crystal received a master's degree from University of Colorado at Denver in Curriculum and Instruction.  Currently, she enrolled in graduate work at Adams State College for certification in Guided Reading Plus.  She will build capacity with this framework during the current school year in her Early Literacy role at Stedman Elementary.
Although her work is high demand in educational support systems, Crystal has her own personal support system at home.  It includes her husband and soul mate who works in a national financial institute, a son who graduated from Metropolitan State University last May pursuing his passion in adult fitness, a daughter who graduated two years ago from University of Colorado as an architectural engineer currently working in Washington D.C., and the unconditional love of her dog Bailey.
Sam Sims, Senior Team Lead Samantha_sims@dpsk12.org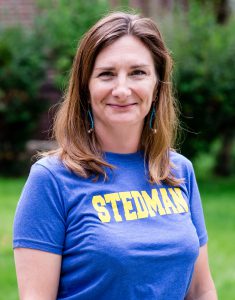 I'm Samantha

Sims

, you know me around campus as "Maestra

Sims

." I am new to Stedman this year, am in the role of .05 Digital Literacy Teacher, and .05 Senior Team Lead, where one of my areas of focus is coaching the emerging dual language program. I love it! 
I moved here from Mexico City, where I worked for a social for-profit focused on visual literacy and tranformational dialogue. I trained the facilitators of the team, wrote new curriculum, and gave courses to teachers, government officials, bankers, parents, and kids.
Prior to that, I lived and taught in Tucson, Arizona, where I met Dr. Peterson, our amazing principal. In Tucson, I taught intermediate grades with a focus in special education, systems thinking, and student-generated learning culture. 
I am so grateful to be part of the Stedman team, and to be here in Colorado. I love reading (mostly non-fiction related to education or leadership), hiking (lots to do here!) and making art. 
Please introduce yourself if I haven't yet met you. I look forward to learning and helping others learn–Go Knights! 
---
Office Staff
Rhonda Lee, Secretary – Rhonda_Lee@dpsk12.org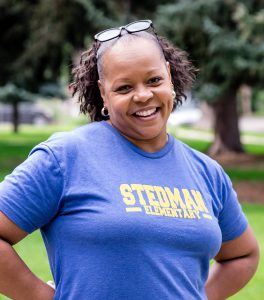 My name is Rhonda D. Lee and I'm the new secretary at Stedman Elementary. I started at Stedman in 2013 as a part of the cafeteria team but I always knew that I had more to offer. I've worked with children as a cheerleading coach, managed a beauty school and I have two beautiful daughters of my own. In my spare time I enjoy dancing, walks, and drawing. I'm glad I have the opportunity be a part of the Stedman front office team. GO STEDMAN KNIGHTS!!!!!
Andrea Herrera Madrigal, Secretary – ANDREA_HERRERAMADRIGAL@dpsk12.org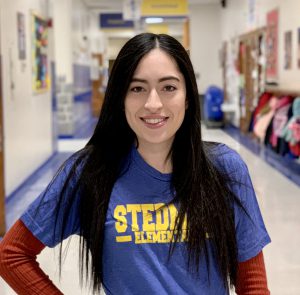 My name is Andrea Herrera and I am excited to join Stedman Elementary. I graduated a little over a year ago with my bachelors degree in Communication from MSU Denver. 
Some of the things I like to do on my free time are spending it with family and friends. I enjoy meeting new people and going on new adventures.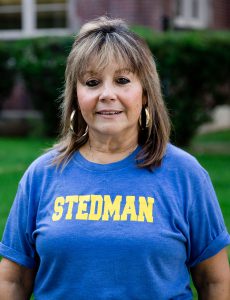 I am from Venezuela, South America, but I have been in the USA for more than 30 years and became a US citizen. I am a mom and a proud grandma of 3 wonderful kids, one of them I raised since she was almost four and now she is almost 21.

In my "free time " I like to go to the gym to keep myself healthy, and I look forward to going to the beach during our breaks. I love teaching the little ones because you can always make a difference in their lives. I also know how hard it is to learn in another language, so it has been my passion to help ELL students go through this process. I enjoy teaching at Stedman and being part of the ECE team and the Park Hill community. 
Jennifer Moran (Full Day ECE 4, English) – Email: Jennifer_moran@dpsk12.org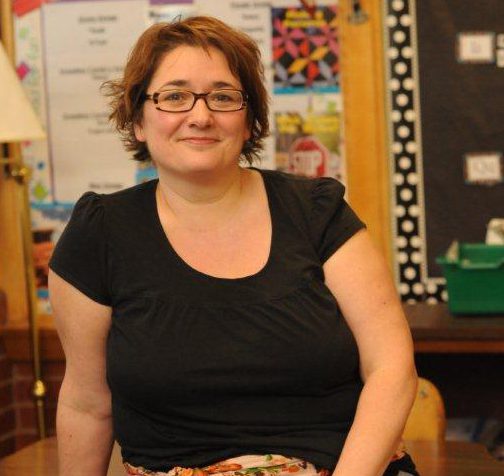 I am a passionate person who tends to wear my heart on my sleeve.  I love animals and have two Boston Terrors (terriers). Stedman has been a part of my heart for over a decade.  I love this school and the families with all of my heart.  I became a National Board Certified Teacher with an endorsement in Early Childhood a few years ago and am looking to go back to get my Master's.
Jose Saucedo (Full Day ECE4, Immersion) – Email: Jose_saucedo@dpsk12.org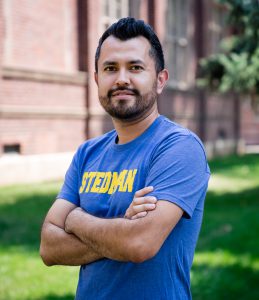 Hello, my name is Jose Saucedo and I play for team DPS! I am so happy to be teaching ECE- 4 immersion program at Stedman this 2019-20 school year. I am a native Spanish speaker and was born in Aguascalientes, Mexico. I became a DPS student when I was in the 3rd grade and graduated from John F Kennedy High School. I received my undergrad in Environmental Design through CU Boulder and my teaching license through Metro State University. My previous experience includes being a paraprofessional in Special Education, teacher in ECE -3-year-olds, ECE- 4-year-olds and Kindergarten. I also had the opportunity to work for the Colorado Department of Education for two years as a Colorado Preschool Program Support Specialist.
During my free time, I enjoy taking pallets apart and spending time with my two kids Emma (second grade) and Mateo (kinder).  Both my kids are happy students of Stedman and we feel so fortunate to be at this school.  
Erika Grimes (Half Day ECE 3 English) – Erika_grimes@dpsk12.org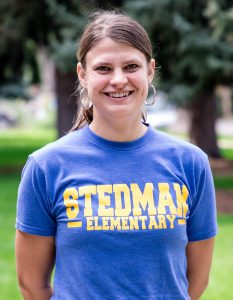 I am lucky to be a native of this beautiful state of Colorado. I grew up on the West side of town, graduated from D'Evelyn High School before continuing on to Colorado State University. I received my BS in Human Development and Family Studies with an endorsement in Early Childhood Education. While at CSU, I was heavily involved in Student Leadership and Civic Engagement where I had many life changing experiences that furthered my passions for leadership, social justice, and community. I also spent every summer of my colligate years running a youth camp in Durham, North Carolina called Urban Hope. My love for children, families, and community is what drew me to education.  I was able to do my student teaching at Columbine Elementary and took my first job at Stedman in 2008. In 2015, I took on my first leadership role at Stedman as a Team Lead. I was able to stay in the classroom and teach, while serving on the leadership team. This year I am honored to be the ECE Team Specialist. I'm very grateful that I landed at such a rooted and beautiful neighborhood school that I've grown to deeply love.
I live in Park Hill with my 2 inspiring children Micah (5), Aniyah (3) and our lovely dog Daisey Mae. I love being a mom, and I believe motherhood has made me a much better teacher. I'm very happy to have my son Micah in my afternoon class this year! Being from Colorado, I love all things "Colorado" like hiking, skiing, camping and the Denver Broncos. I have coached basketball at Stedman ever since I've taught. When I'm not at work and not occupied with being "mom", you could find me in the outdoors, gardening, doing house projects, at community events, playing basketball (yes, there are grown-women's leagues!), or sitting at a quiet coffee shop reading or people watching…usually turns into the latter. I deeply value the families at Stedman and am proud to be a part of this community!
Pablo Benitez (Full Day ECE 3, Language Immersion), Email: PABLO_BENITEZ@dpsk12.org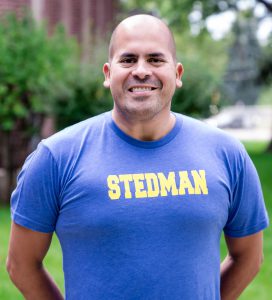 My name is Pablo Benitez.  I am new to Stedman but I have been teaching for 15 years.  I will be teaching ECE this year at Stedman.  When I have free time I enjoy spending time outdoors with my family.  I love camping, hiking, and traveling to national parks with my family.  I love living in Colorado!  I am looking forward to having a great year here at Stedman!
---
Patricia Landy (Kindergarten) – email: Patricia_landy@dpsk12.org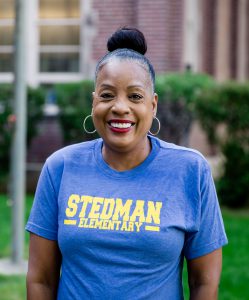 My name is Patricia Landy and I am the Kindergarten teacher. I am married to my wonderful husband of 20 plus years, I have 2 children, 1 granddaughter and my dog Dutch. I love to travel and spend time with family.
I have 22 years' experience working with children. I grew up in this neighborhood and I graduated from George Washington High School. I have a degree from the Community College of Denver in Early Childhood Education. I also have a degree from the University of Northern Colorado specializing in Elementary Education.
I like teaching kindergarten because every year brings something new and different. There is so much growth and excitement within the students. My joy comes when they learn to read and explore. They learn about themselves, others and the world around them.
Maria Ortiz (Immersion Kindergarten) – email: maria_ortiz@dpsk12.org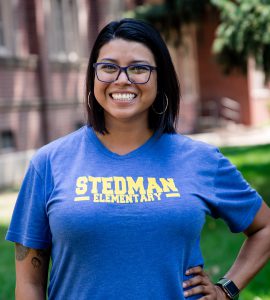 Hola… My name is Maria Ortiz. My students will be able to call me Ms. Ortiz or Ms. MO! I look forward to working in the Stedman community; I will have the pleasure of working with the dual language kindergarten class this year.
I am from Dallas, Texas; I graduated from the University of North Texas with a degree in Interdisciplinary Studies and a Bilingual Education Certification. I grew up in a bilingual home, and I believe that being bilingual is an incredible part of my identity. I love the idea of working in a dual language classroom and teaching the beauty of a second language to my students. I am dedicated to serving my students and community. I enjoy working with others, volunteering, and learning about new things. I love spending my free time traveling, learning about new cultures, hiking and connecting with nature, which is one of the reasons why I chose Colorado to start my teaching career.
Patty Albujar (Immersion Kinder) – LILY_ALBUJARORTIZ@dpsk12.org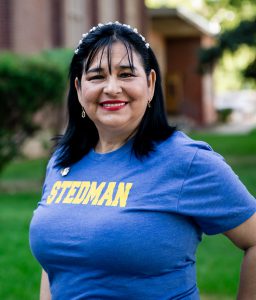 My name is Lily Patricia Albujar Ortiz, but my students call me Mrs. Patty. I am honored to have joined Stedman as the kindergarten immersion teacher. I am originally from Peru, where I obtained a Bachelor degree in early childhood education and a Master's degree in Learning Disabilities. I first moved to USA to work for DPS as a ELA-S teacher 11 years ago. In total I have over 20 years of experience as a teacher of the early childhood education in Spanish. I love to be able to teach the Spanish language as well as the Hispanic culture to create a new generation of bilingual people. I believe being able to speak different languages and understanding more cultures than our own opens the doors to incredible opportunities in this world. 
About my personal life, I have two beautiful children, a loving husband, and a precious dog. In my free time I like to be with my family and cook Peruvian food. I also love to dance, sing Karaoke and during vacation travel. 
I am excited for this to be my first year at Stedman, to continue to help students embrace their different backgrounds while learning a second language and striving for academic and social-emotional success. I
 can't wait to meet you all to start this new journey.
Rachel Zammuto (1st) – rachel_zammuto@dpsk12.org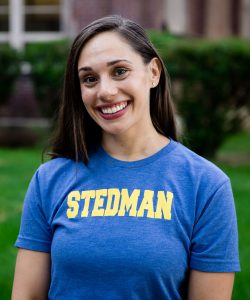 Hola! My name is Rachel Zammuto and I am excited to be joining the Stedman family as a first grade teacher! This summer, I moved back to my native Colorado from Bangkok, Thailand where I was teaching first grade at an international school. I also spent several years teaching at American schools in Muscat, Oman and Manizales, Colombia. Before going overseas, I taught first grade at a dual-immersion bilingual school in Boulder. I hold a Bachelor's degree in Spanish and a Master's in Bilingual and Multicultural Education. I love working with young learners who are excited about the diversity in our community and curious about the world around them. I also love to dance, practice yoga, read and explore new places and languages. I know this will be a great year of learning with the Knights! 
Elena Galvez-Iglesias (Immersion 1st) – ELENA_GALVEZIGLESIAS@dpsk12.org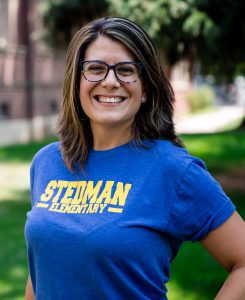 I am from Barcelona, Spain. I arrived to Denver on July, 2014 to teach in an immersion School in Northglenn as a Spanish Immersion Teacher in 3rd grade. My teaching experience came from 2008 when I got my degree as an Elementary teacher with a mention in Music at the University of Barcelona. In Spain I was working from 2008 until 2014 in Barcelona Public Schools.
Currently and from 2016 I have been teaching at Stedman, I am very proud to be part of the Dual language Program Stedman has.  I love what I do and I believe that the children can transform the future for the better. What I enjoy the most in life is to spend time with my family, friends, in nature and traveling.
Belen Cal de Lara (Immersion 1st) – MARIABELEN_CALDELARA@dpsk12.org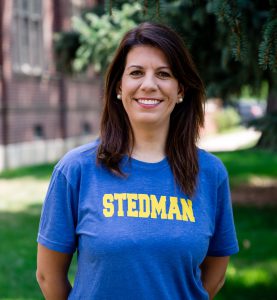 Hi! My name is Belén, I´m from Spain. I have been teaching in bilingual programs for 13 years. Four years ago I made the most exciting decision of my life: coming to the US to teach Spanish!! I think that traveling and living abroad opens your mind and your heart to new experiences and different points of view that make you grow as a person and a professional too. That is something that I love to share with my students.
I love teaching at Stedman because there is a sense of community and purpose that I didn't see before. Families and all the Staff have made me feel as I belonged to the Stedman family since a long time ago!
I hold a bachelor´s degree in Elementary Education and in English as a second language, and a Master´s degree in Educational Psychology. Currently I am finishing my Master´s degree in Leadership and Management of Schools. When I am not working or studying… I love seeing new places, being with friends and cooking!
Deborah Sims-Fard (2nd) – Email: deborah_simsfard@dpsk12.org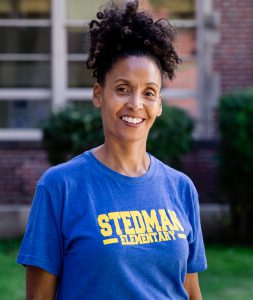 Hi Friends, my name is Deborah Sims Fard, and I'm a Stedman Alum!  I grew up in the Park Hill Neighborhood and remember walking home from Stedman, around the corner, to go home for lunch – they actually let us do that back then?  My Stedman journey has been student, Para, Summer Scholars Literacy Coach, Teacher, Bullying Prevention Coach, and now back to the classroom. In addition, Culturally Responsive Teaching and Parent Advocacy are additional strengths I bring to our Stedman sandbox.  My first priority is the safest learning environment possible as a tool to academic success, join me on our journey to the best learning experience Denver has to offer – Stedman Strong.
Olga Martinez (Immersion 2nd) – Email: olga_martinez@dpsk12.org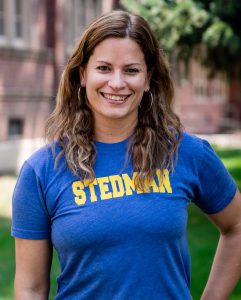 My name is Olga Martínez. I'm from Puerto Rico. It's a pleasure for me to join to the team at Stedman Elementary as a second grade teacher in the dual language program.  I have worked as a spanish teacher for over 15 years.  I hold a Bachelor degree in Education and a Master degree in Early Childhood.  I'm a dedicated teacher and it is a wonderful opportunity for me to teach my native language. I'm so excited to share with my kids the wonderful world of reading,  and my favorite story books for children are from the author Georgina Lázaro. I'm anticipating a great and fun school year! 
Dawn Romero (3rd) Dawn_romero@dpsk12.org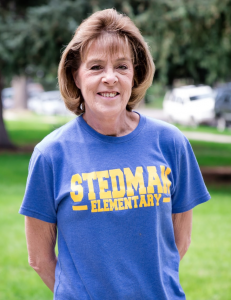 Stedman has been my home for 30 plus years.  I have been with DPS for 34 years.  I teach because education is my passion. Teaching is more than just a job. It's my passion. It's an ever-surprising mix of very hard work and ecstatic successes, both big and small. As a teacher I have the power to open wide the doors of future achievement.  I aim to assume this role and in doing so, provide my kids with choices for their futures through a high-quality education. I teach because I know that my students have dreams and goals for their futures and I can move students toward dramatic academic growth.  Their potential is inspiring and I am confident in their ability to succeed. When I'm not teaching I enjoy my family, hiking, gardening, and SDP.
"Knowing is not enough; we must apply. Being willing is not enough; we must do."  –Leonardo da Vinci
"It is not what we do for our children, but what we have taught them to do for themselves, that will make them successful human beings."  –Ann Landers
*Winner of Distinguished Teacher Award!
Rosario Cabrera (Immersion 3rd) – rosario_cabrera@dpsk12.org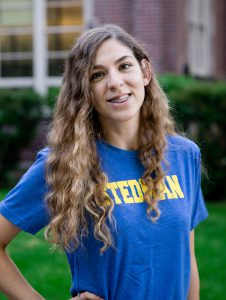 Hi, I'm Rosario Cabrera! I was born in Los Angeles, California but was raised mostly here in the beautiful state of Colorado. I'm proud to be the daughter of two immigrant parents (Jalisco, Mexico), who have taught me sacrifice and perseverance- two qualities that I greatly value and wish to instill in my students. I grew up speaking only Spanish, but later was taught English in school. As an immersion teacher, I can apply my own experiences with learning a new language with my own students. I have a bachelors in elementary education with a minor in Spanish from Regis University. I'm super excited to be here this year and know it will be one for the books!  P.S. An important thing to know about me is that I love Chipotle!
Jimmy Wright (4th) – james_wright@dpsk12.org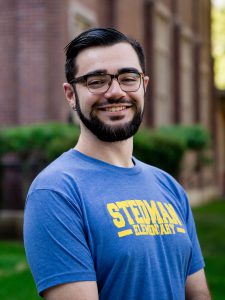 Kendra Bush (Immersion 4th) – Email: Kendra_Bush@dpsk12.org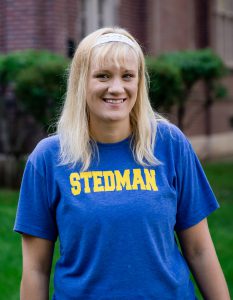 Peter Kuhn (5th Grade)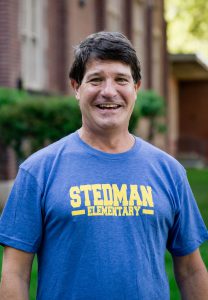 Hi, parents & guardians! I am Pete Kuhn, your 5th grade teacher at Stedman Elementary and I couldn't be more excited to be a part of the Stedman and Park Hill community. I have over seven years teaching experience in 3rd, 4th, and 5th grade as well as middle school math and as a literacy inteventionist in Kindergarten through 3rd grade. I know where your students are coming from, and where they are headed. I love teaching and being a part of your child's journey! I'm originally a Florida boy (Go Gators!) but have lived in Denver for almost 20 years now and have no plans on leaving this beautiful, diverse state. I am married to a wonderful lady, Nancy, who works for the city/county of Denver, and we are the proud parents of an amazing 14 year-old daughter who is a freshman at North High School. When I am not teaching, I enjoy hiking, going to concerts, cooking, and vacationing with my family. I look forward to partnering with you to ensure the social, emotional, and academic success of your child. Feel free to reach out to me anytime. We are going to have an amazing year! 
Justin Darnell – Email: justin_darnell@dpsk12.org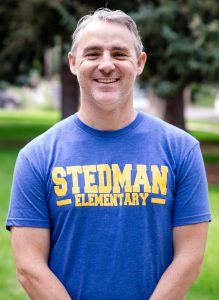 Justin Darnell was named the 2010 Colorado Teacher of the Year by Gov. Bill Ritter! Read more here: https://www.cde.state.co.us/cdeawards/teacheroftheyear_2010
Sarah Rauenhorst – Email: sarah_rauenhorst@dpsk12.org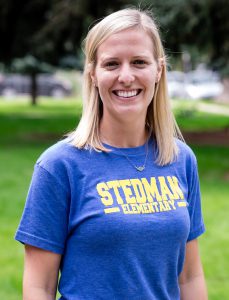 I am so excited to be joining the Stedman community this year with the Launch team. Through Launch's classroom redesign, we hope to seriously engage students in new ways that allow them to see themselves as leaders in their communities. I deeply believe we do this not only in the classroom, but also with strong family and community relationships and support.
Throughout my eight years in DPS classrooms, I have guided students in community organizing, taught literacy at all K-5 levels, coached educators, and helped guide a school to creating a rigorous, supportive school culture. I hope to bring everything I have learned from these experiences to support the Launch and Stedman community. In my free time, I love flying (I'm a pilot!), hiking, camping, skiing, and traveling. 
Kirk Stevenson – Email: KIRK_STEVENSON@dpsk12.org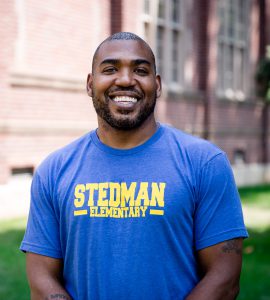 Sade Cooper – Email: sade.ncooper@gmail.com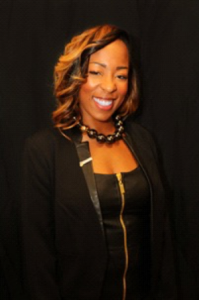 Sade is a native to Denver Colorado, although raised in Moreno Valley CA. her roots are deeply embedded in the Mile-High City. Returning to Colorado in 2000 to finish high school, and pursue a degree in Health Care Management, as a child, Sade' unceasingly had interest in becoming a doctor or financial advisor. Her passion lead her to pursue a career with U.S Bank in 2004. There, Sade' found her purpose and that was to serve and focus on her community.
Sade' commitment to her community has led her to several volunteer opportunities and community leadership roles.  For Sade' Cooper, that meant giving back to Project Voyce, as a board member and Second Chance Home Ministries. Sade' also participated as a mentor for Goodwill's Summer Bridge Mentor Program and acted as an American Heart Ambassador.
Sade' continues to give back to her community, as the founder and Executive Director of C.H.I.C. (Collaborative Healing Initiative within Communities) C.H.I.C was created to help tackle the disparities and economic shortcomings that directly affect families, communities and members of local gangs, particularity that of the female population. C.H.I.C.  work directly with females between the ages of 10-25 who are from low to middle-income communities imbued with violence, substandard living conditions, and inequitable educational systems. Sade' is a real steward for her community, changing lives one day at a time.
Dane Washington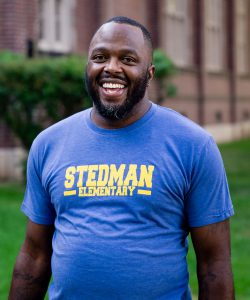 Romain Washington-Duke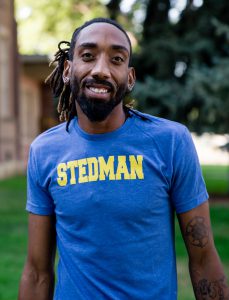 ---
Specials Teachers
Clint Moore (Music) – Email: Clint_Moore@dpsk12.org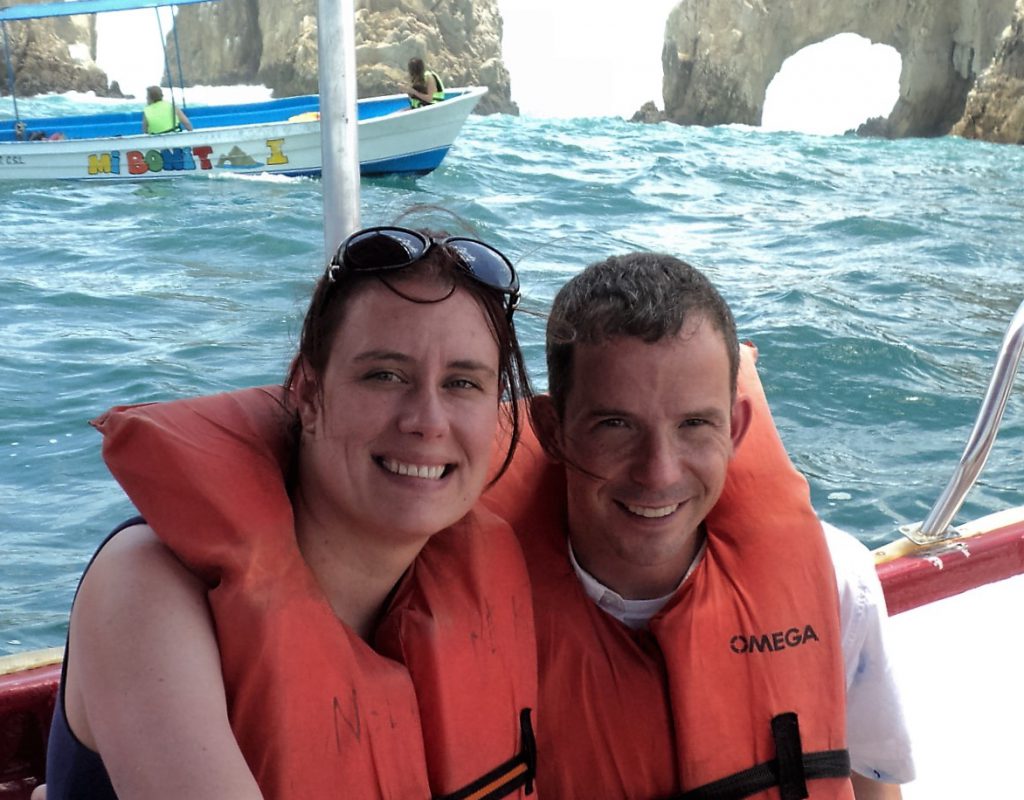 My name is Mr. Clint Moore, students call me Mr. Moore or Sensei "if I am running the Recorder Karate Dojo."  My job at Stedman is music teacher and playground duty Master.  I teach instruments, voice, general music, appreciation for the arts, culture, and of course how to have fun.  In my free time I enjoy fishing, ice fishing is my favorite.  I also really love spending time with the love of my life Mrs. Moore and our two kids, David and Cora.  I love tinkering on my classic Bronco, spending time with friends, playing music when I can, and flying helicopters.  I love lots of books, some are Chickenhawk, The Jungle, and Goodnight Goodnight Construction Site.  My family includes my mom who will come to all of the school's concerts, my wife Rachel, my son David who is in ECE across town, Cora my 2 year old daughter, and my cat Pinky.  My dad lives in Texas and I try and talk to him as much as I can.  He is my mentor and my friend.
Some of my career highlights are when my student scored 1s at CHSAA Large Group Contest when I taught at Fort Morgan High School.  I spent the majority of my teaching career at Henry World Middle School.  I am Level 1 IB trained, and have Level 1 World Music Drumming training as well.  While at Henry my students participated in Denver Citywide Marching Band, Citywide Honor Band, and CHSAA Large Group Festival.  While at Henry I took a year and a half break and became a helicopter pilot for the Colorado Army National Guard, I came back to Henry and taught AVID, Technology, World Music Drumming, Band, Jazz Band, and Orchestra.  I left Henry due to budgeting and moved to Place Bridge Academy where I taught Choir and General Music.  After PBA I taught At McGlone Elementary School and had to leave due to family constraints.  I worked for a while in corporate America and deployed with the Army after which I got the best opportunity of my life, long term sub at Stedman.  I have never felt so connected to a community.  I felt at home the first day I walked in.  Thank you!!!
Peter Rossi, PE – Email: Peter_Rossi@dpsk12.org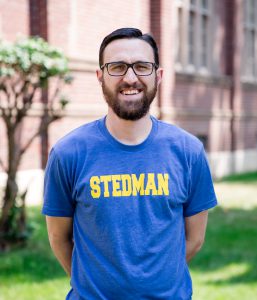 My name is Peter Rossi, and I am the physical education teacher at Stedman Elementary School. As a 
Denver native, I am thrilled to join the Stedman team and serve the community I grew up in. I am 
entering my fourth year as a P.E. teacher, and I love educating our children on the benefits of living an 
active lifestyle. My goal is to provide students with the knowledge and skills to be physically active for a 
lifetime.
Prior to Stedman I worked at a DPS charter school and for Jefferson County Public Schools. I hold a 
bachelor's degree in journalism and a master's degree in physical education. I am a lifelong learner and 
am always looking to implement a new strategy in my practice.
While I'm not teaching, I love to stay active by playing basketball or lifting weights. I love to travel and 
support our local sports teams. The Rockies, Nuggets and Broncos are my favorites! My favorite thing to 
do outside of school is to spend time with my wife, Melinda, our baby girl, Liliana, and our sweet dog, 
Jackson.
Crystal Griego, Reading Intervention
Samantha Sims, Digital Literacy
---
Support Staff
Molly Eldredge (Reading Intervention) – Email: Molly_eldredge@dpsk12.org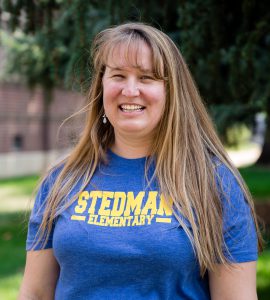 I am grateful to begin a new year at Stedman Elementary School, a wonderful community in which to learn, teach, and grow! I am a parent of a 2019 DPS graduate,  and this is my 14th year as a DPS educator.  At Stedman, I am excited to serve as a bilingual reading interventionist, early literacy specialist, team lead, and member of the Instructional Leadership Team.  
In addition to enjoying my work, I love to spend time with my son, Francis, our sweet dog, Daisy, and loved ones.  Other passions include outdoors, nature, gardening, animals, and plants. I am filled with joy as we begin the new year at Stedman!
Brooke Trexler (Math Interventionist) – Email: brooke_trexler@dpsk12.org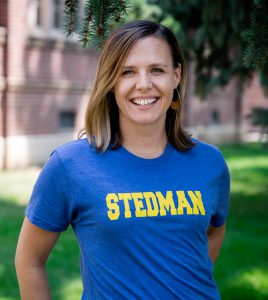 Hello Stedman families! I'm Brooke Trexler ! This is my ninth year of teaching, and in that time I've taught students from 1st through 8th grade. 
I grew up in the Denver area and graduated from Englewood High School and CU-Boulder. I live in Denver with my husband, Andrew, and two children, Soren and Amelia. My kids grew up going to DPS schools and are now in middle school and high school. On weekends you might find us skiing or hiking in the beautiful Rockies, exploring Denver's amazing parks and museums, or continuing our quest to find the absolute best pizza in Denver (suggestions welcome!).
My goal for my students is to help them develop the skills to do anything they can dream of, as well as things we can't even begin to imagine will be possible someday. I want them to ask big questions, think flexibly and creatively as problem-solvers, and have the confidence and communication skills to advocate for themselves in middle school, high school and beyond. I am excited to work with all of you this year and welcome any communication and feedback as we work towards our goals!
Megan Walsh (English Language Development) – Email: megan_walsh@dpsk12.org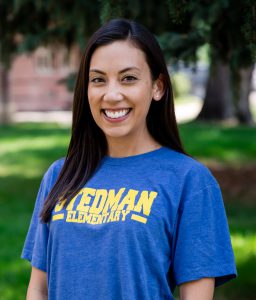 My name is Megan Walsh and I've been at Stedman for several years now! I am a Denver native and DPS alumna. I attended Colorado State University for my undergrad and am currently working on my Master's of Education at the University of Colorado-Denver. 
My husband is also in education; he is an assistant principal at Kepner Beacon Middle School in DPS. Our son Lincoln is our first child, and we have two big dogs. I enjoy spending time with my family, traveling, and READING!
Dominique Edmonds, Restorative Approaches Coordinator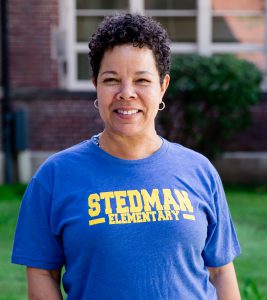 My name is Ms. Dominique, this is going on my fourth year as Restorative Practices Coordinator at Stedman. I initially started as a Secretary for three months. During this short period, I recognized a strong need to build relationships; administration/teachers, students/teachers, parents/staff & parents/teachers. I chose Stedman because I felt that I could be instrumental in bridging the gaps in relationship building.  I have worked with youth in the Park Hill community for many years. Our students are challenged with many struggles and heartbreaks in their daily lives. Stedman is one place that truly believes in the Whole Child Team, and feels like home away from home.
This has been an amazing start of a new year at Stedman. My focus is to continue helping students and teachers address problematic behavior, by restoring relationships and repairing harm.  With the additional supports in place, this year has provided an opportunity to do more preventative work, by pushing into the classrooms. I know that Stedman will continue to move forward academically, and will continue to provide a safe learning environment for all. We are a strong community growing together!
Nick Chiolo, Mild-Moderate Special Education – nick_chiolo@dpsk12.org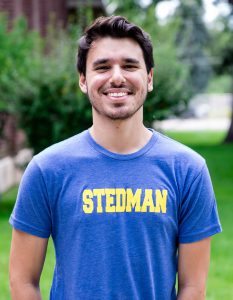 I was born and raised on the east coast in a small suburb outside of Philadelphia called Blue Bell. I am new to Stedman this year and in the role of the Mild-Moderate Special Education teacher. Before Stedman, I attended the University of Pittsburgh and received my Master of Education degree in the Spring of 2017.
My free time is mostly spent outside, hiking, and exploring. I enjoy music, photography and graphic design as well. I also love to travel – over this past summer I spent time in Hong Kong, Eastern Europe, and driving from PA to CO.
I am thrilled to be teaching and living in Denver, and am looking forward to the school year ahead!
Heather Showman, Social Worker – heather_showman@dpsk12.org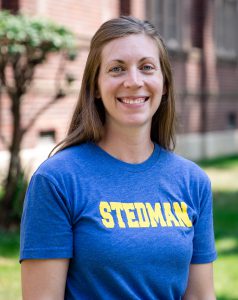 I am Heather Showman and am your School Social Worker! I started working at Stedman late in the 2016-2017 school year, and have loved getting to know our students and community!  I was born in Indiana, but spent most of my childhood in South Carolina. Shortly after moving to Denver four years ago, I was surprised to learn that my Great Great Grandfather was a Denver native and I have had so much fun learning about my Denver roots!
Prior to coming to Stedman, I spent four years as a school social worker and school-based therapist on the Fort Apache Reservation in Arizona, then moved to Denver to work as a school-based therapist working with the refugee communities in the metro area.  I love Indiana Basketball, Carolina Football, hiking, reading, and my two cats. I am excited to be a part of Team DPS and return to Stedman as your school social worker!
Emma Fleisher, Speech-Language Pathologist – emma_fleisher@dpsk12.org
Beth Caffrey, Nurse – beth_caffrey@dpsk12.org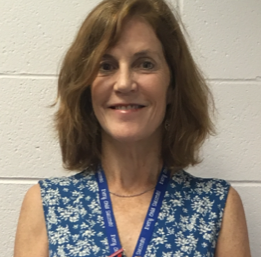 I have been a nurse for about 30 years with experiences in Emergency Room, ICU, Public Health and this is my 3rd year as school nurse for DPS! I enjoy anything outside-especially snow skiing, camping and tennis. I have 2 teens that are seniors at East High this year.
I am excited about being at Stedman and keeping your kids safe.  Please reach out with any questions or concerns regarding your student's health and ways that we can support them while they are in school. 
Amy Barrett, Gifted/Talented – amy_barrett@dpsk12.org
Jenn Sill, Psychologist (Intern)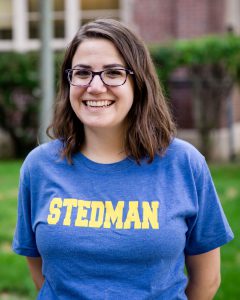 My name is Jenn Sill and I am a School Psychologist Intern. I am working to get my doctorate in School Psychology from the University of Colorado Denver, and I am so excited to spend my internship year at Stedman Elementary! In previous roles, I have served as a Paraeducator, a camp counselor, and a Registered Behavioral Technician. In my free time, I love to spend time with my husband, our 6-month old son and our cat, Clyde. I am so excited to be a part of the Stedman Community, growing together!
Emily Watson, Occupational Therapist
Ashley Mosley, Behavior Support Technician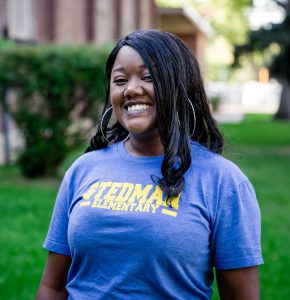 It is my strong belief that purpose lies where the heart lives. I began my professional journey with Denver Public Schools in 2008 and was unaware that my heart would find its home in what I now believe to be my purpose in this season of my life. In my time serving students, I became aware of how disparities manifest when behavior hides the child beneath the chaos. The unfortunate truth was that so many of Denver's best students were falling through the cracks and believing the narrative that they could never achieve higher. This reality has driven me to want to do whatever I can to support ALL students in obtaining tools needed to navigate not only education, but the world. I look forward to supporting and collaborating alongside the amazing Stedman team with the common goal of success our children.
Ali Monroe Larson, Family Services Liaison – Email: alison_larson@dpsk12.org
---
Facilities Manager: Brandon Mercadel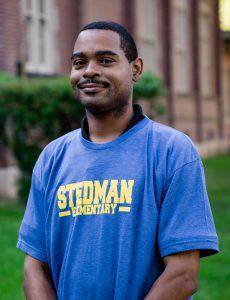 Facilities Crew Lead: Markus Villa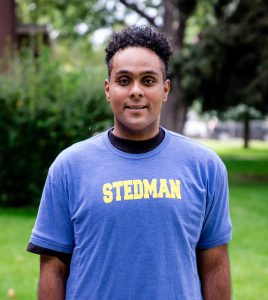 ---
Manager: Annalisa Simmons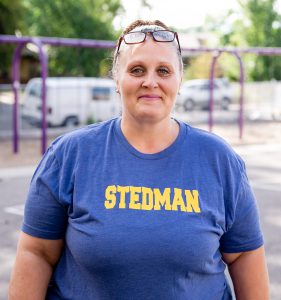 Tracy O'Donnell
Krista Claes
---
Nancy Soto (ECE3 Spanish)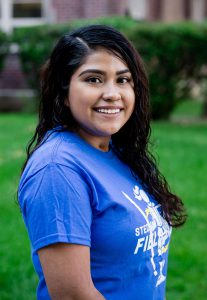 My name is Ms. Nancy, I was born in Los Ángeles, California and raised in Denver, Colorado. I have a disability called Spina Bifida. My disability has taught me a lot to get out of my comfort zone and face my hardest challenges and to not be ashamed of my disability. As my first year of being in DPS, it is a pleasure to have joined Stedman as a paraprofessional in ECE 3s. I am looking forward to helping students learn and grow their minds. I graduated from Bruce Randolph School with an award, now I attend Red Rocks Community College majoring in psychology. Coming from a Mexican background, being a bilingual person and being in a Spanish Immersion language school, I am super excited to teach some Spanish!! It is always an honor to show some of my Mexican heritage even it is only the language. I am super excited for my upcoming years at Stedman!
Yoana Zavala Cesar (Kinder Immersion)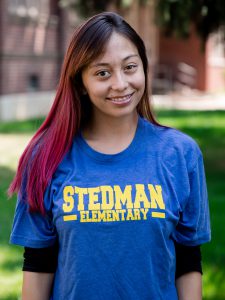 Patricia Flores (ECE4 Immersion)
Alejandro Hernandez Martinez (ECE4 Immersion)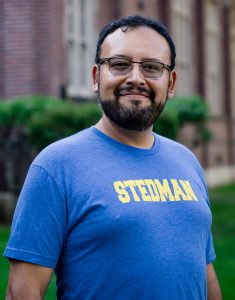 Tiffany Daniels (ECE)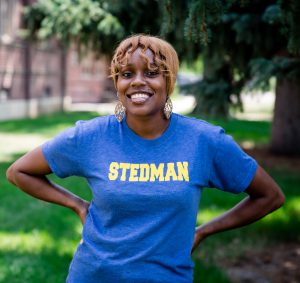 Yvonne Dollison (Kinder Spanish) – Email: Yvonne_dollison@dpsk12.org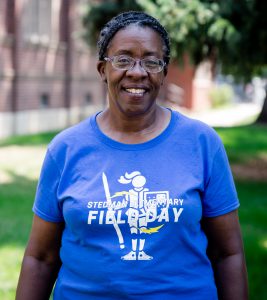 I have:
 worked with children since I was 13  years old (7 yrs old if you want to be official),
 lived in Park Hill for 55 years,
 graduated from DPS,
 worked with DPS for over 20 years,
 been a part of Stedman's family for 6 years,
 completed many artistic presentations over the years.
I believe…
Lisa Thompson-Mix (1st Grade) Email: LISA_THOMPSON-MIX@dpsk12.org
Alicia Vasquez (ECE4) Email: Alicia_Vaszquez@dpsk12.org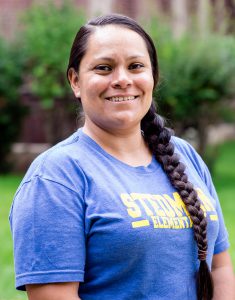 Students call me Ms. Alicia or Ms. V and I am the ECE 3s & 4s Paraprofessional and Stedman Garden Coordinator. In my free time I enjoy the outdoors, fishing with my children, watching movies as well as spending time with my family laughing!