Dear Families,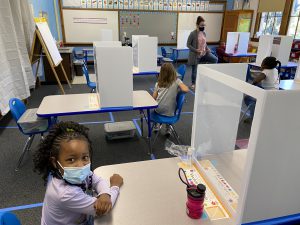 We've had a wonderful week transitioning our Kinder and 1st Grade students back into the building. We're grateful for those of you that have entrusted your babies to us. We are doing everything we can to keep our community safe and healthy.
2nd-5th Grade Updates
We are excited to announce that we will be bringing our 2nd and 5th grade in-person learners back slightly earlier than planned! Please see below for important dates as we prepare to welcome these classes back:


Thursday, October 8th: Asynchronous learning (no-live instruction) for Grades 2-5
Monday, October 12: 2nd/3rd Grade In-Person Phase-In

1/2 of each class attends
Sims-Fard: Students with last names Adams-McKenzie attend
Martinez: Students with last names Arthur-Hoisington attend
Zammuto/Eldredge: Students with the last names Barney-Maugel attend
Romero: Students with last names Buchanen-Mauldin attend
Cabrera: Students with last names Aiquipa-Hieb attend
All other 2/3 learners are asynchronous
Tuesday, October 13: 2nd/3rd Grade In-Person Phase-In

1/2 of each class attends
Sims-Fard: Students with last names Milliken-Willis attend
Martinez: Students with last names Kirkpatrick-Varela attend
Zammuto/Eldredge: Students with the last names McGuiness-Rodriguez attend
Romero: Students with last names Morris-White attend
Cabrera: Students with last names Kobler-Shellen attend
All other 2/3 learners are asynchronous
Wednesday, October 14: 4th/5th Grade In-Person Phase-In

Godbolt: All Students attend
Bush: Students in 4th Grade attend
Kuhn: All Students attend
All other 4/5 learners are asynchronous
Thursday, October 15: 4th/5th Grade In-Person Phase-In

Godbolt: All students attend
Bush: Students in 5th Grade attend
Kuhn: All students attend
All other 4/5 learners are asynchronous
All 2-5 Remote Learners will receive a new schedule prior to the start of in-person learning
See below for the video from Mr. Atkins about safety measures and changes to our school for in-person learning!
REMINDER: Fall Break is October 16-20. There will be no school on these dates.
Important Reminders for 2nd-5th Grade Return
New Hours for In-Person learners

:

Grades ECE-2: 9am-3pm (Monday-Thursday) and 9am-1pm (Friday)
Grades 3-5: 9:10am-3:10pm (Monday-Thursday) and 9:10am-1:10pm (Friday) (this is due to the need for separate entrance/exit use)
Please do NOT arrive any earlier than 5 minutes before your bell. We cannot have students lingering or playing on the playground before school unfortunately.
No playground use before/after school.
See map below for your child's entrance/exit door. Every class must only enter/exit through their assigned door.
In-person learners, please be sure to bring to school:

any materials you've been given by your teacher
your Chromebook and charger
any remaining school supplies
personal water bottle
Specials classes will take place after the in-person school day (after 3pm) and will be participated in asynchronously. We know this is not ideal, but it is a necessary adjustment to make sure we have adults supporting our classrooms in a safe and healthy manner.
At this time, remote learners cannot switch to in-person learning until January due to the physical space being prepared for our current numbers. If you need to change your selection in grades 2-5, contact Alison_larson@dpsk12.org as soon as possible (before Monday).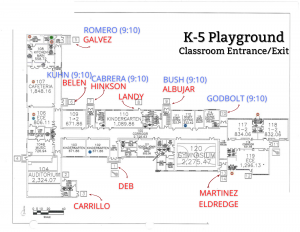 Snacks
Thanks to the HFDK, 
Healthy Food for Denver Kids
 grant from the City of Denver, Stedman will be able to provide a fruit or vegetable snack every afternoon for every K- 5 student at school. Funding will also provide a water bottle for every student and allow us to connect nutritional programming with activities in the school garden. Stay tuned for more details as we get the program up and running with the return of students, and contact 
Ellen LeJeune
, program coordinator, with any questions!
Before/After Care
Leading Edge
 will be providing childcare before and after school along with continuing its remote learning support for those in grades 2-5 until they begin in-person. Please visit their page for more info and updated pricing: 
https://www.leadingedgekids.com/stedman/
 and see below more information about HOW to enroll.
What will I need to enroll? A credit/debit card or checking account is required to pay the annual registration fee and schedule future tuition payments. The non-refundable registration fee is due at the time of enrollment. Future payments will be scheduled to automatically debit from the financial information you provide. Any credit amount on your account may be applied to the registration fee and/or future payments. Enroll your child by logging in to the Leading Edge Parent Portal at https://families.leadingedgekids.com/. In order for your child(ren) to be on the roster and accepted into Leading Edge he/she must be enrolled in our available programs.
Log into our Parent Portal at https://families.leadingedgekids.com/ and follow the prompts to complete the online enrollment.
What if I previously had an account with Springboard? The email address associated with the primary account holder is your username for your Leading Edge account. To access your account, you will need to use the reset password function. Here is a link to reset your password on login. https://families.leadingedgekids.com/index/password/forgot
How do I complete and submit the required parent forms? As required by state licensing, family/child information forms (Parent Agreement, Medical Release, etc.) must be completed before your child can attend Leading Edge. These forms can be downloaded from your Parent Portal under Account – Downloads and returned to your Site Coordinator on the first day of program. Updated forms are required each school year. Also included in Downloads is our Family Handbook and other important information.
Questions about billing or enrollment? Please contact Customer Care at support@leadsschools.com or 800-341-5791.
VAC
Our next Values to Action Committee meeting will take place on Tuesday, October 6th at 5pm via Zoom. Contact Andrew Lefkowits for more information: andrew@lefkowits.com or the link to take part!
Additional Reminders:
All Families: Please complete your lunch application, whether or not you believe you qualify for Free or Reduced Priced Lunch. This is important data for our school and district to get accurate funding for nutrition. Apply HERE if you have not already.
Device Fees: We received communication from our Department of Technology Services (DoTS) that families will be charged for lost or damaged DPS devices. Please be sure to take care of your child's device. A minimum of $25 will be charged for damage with up to $250 possible in damages. A lost device will cost you $250.
Health & Safety: it is our duty to keep our children and staff safe. Please be mindful of your interactions outside of school and continue to practice social distancing and mask-wearing so that our classrooms can be safe spaces for everyone.
As our students are now using the field, please remember that dogs are not allowed. We understand many community members utilize the space for their dogs, and it is difficult to enforce the prohibition, but we've had an issue with people not cleaning up after their pets. Please encourage your neighbors to be responsible.
Meals are still being provided free of charge to all kids – stop by our front lawn 11am-1pm Monday-Friday. Students in K/1 will begin receiving their meals in the classroom.

If you want to receive a "blue bag" for your family each Friday, please click HERE to let us know how many you will need. This is confidential of course. These bags will be similar to previous years and provide some food items for weekend consumption. This program will begin next week!
If you are in need of additional assistance, please be sure to contact our Family Liaison, Ali Larson at alison_larson@dpsk12.org or by text at 303-242-6414.
We look forward to these upcoming transitions and the continued health and safety of our community.
Sincerely,
Michael Atkins
Principal