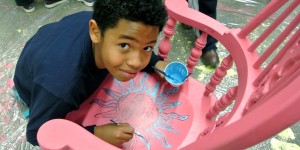 Through fundraising, we will increase opportunities for experiential learning, arts
and technology integration into core academic instruction.
Our A-Z Grant brought teaching artist, Ill Se7en to work with two of our classes. Students used their imagination, call and response, and writing to connect what they have learned in their poetry unit to lyricism, hip hop, and life. Peace Up!
Photos below feature partnership with La Napoule Art Foundation and artist Dmitri Obergfell:
Stedman partners with regulary with Cleo Parker Robinson Dance Company. Students (below) performed on May 2015 at the Cleo
Parker Robinson Dance Theatre after a three-week residency with two guest Company dancers.