Dear Families,
Next week begins our new journey into in-person learning with the start of ECE back in the building. This has been meticulously planned and prepared for, and we have an immense amount of information to share with you regarding how we hope to operate safely and smoothly in this new environment. Many of these protocols will occur when K-5 returns in October, so we wanted to share this with our entire community. (Please be sure to join me for a Live Chat tomorrow (Friday) at 1:15pm. We will send the link for the chat tomorrow via text.)
Our ECE families will notice many changes. From the hours of the program to procedures for drop-off/pick-up, from meal protocols to daily routines. We hope to answer all your questions here, in our video above, or during Friday's live chat.
ECE IN-PERSON INFORMATION
HOURS
First off, our biggest change is the school day for our ECE students.
ECE4, at this time, will take place from 8am-2pm. This will help us accommodate families with students in K-5 remote learning. (This will be reevaluated when K-5 students return to in-person)
We ask that families not arrive earlier than 7:55am for check-in, and arrive no later than 2:05pm for pick-up.
Students/families will not be able to play on the playground equipment before/after school.
FIRST WEEK OF SCHOOL: We are using a phased-in start to the in-person year to allow staff and families time to test out these new procedures. Your child's teacher will be in contact with you about which day your child should attend (we will only have 1/3 of the class attend on Monday, Tuesday, and Wednesday before starting together on Thursday). Please be sure to look for that information.
DROP-OFF/PICK-UP PROCEDURES
Each classroom will have a SEPARATE entrance for both drop-off and pick-up.
Jen Moran's class: Enter on the west-side of the building, door #12. This door enters directly into her classroom.
Isabel Stephenson's class: Enter on the east side of the building, door #10. Please enter our grounds along Dahlia Street.
Ben DeLawyer's class: Enter on the south side of the building, door #11. Please try and enter our grounds through the staff parking lot.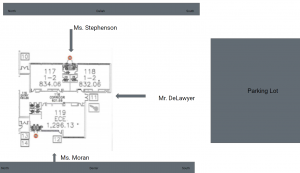 **No students should play on the playground before or after school.**
Please find your classroom's check-in table and get in line to sign in.
Be sure to observe mask-wearing and 6′ social distancing while at drop-off/pick-up.
We will have cones for guidance during check-in.
Disinfected pens are available in the "clean" bin, please discard in the "dirty" bin when done.
HEALTH SCREENINGS
Temperature checks will take place every morning. We also ask that you "pre-screen" your child at home to make sure your child is not exhibiting any symptoms of illness. You will then complete the health screening form upon arrival every morning. You can find a sample of the self-screening form
HERE
(or
HERE
in Spanish).
If you aren't well enough to come to school, one of your teachers will walk with you to the health office and we'll call your family to pick you up. (Privacy will be honored)
All teachers/staff are also getting screened every morning!
See below graphics for more information about potential scenarios.
Having any illness symptoms or a temperature at or above 100.4 means that a student may not stay at school that day.
After signing in and completing the health screening, your student will be taken inside to wash hands and grab his/her breakfast. Meals will be eaten on their individual mats.
Late arrivals/Early departures: Students arriving after 8:10am will need to buzz in at our front door along Dexter Street where they will be screened. Parents arriving for an early pick-up will need to buzz in at our front door along Dexter, wait outside, and the student will exit the front door. Adults must be prepared with identification.
MEALS
Every child will be provided a breakfast and lunch for free every day. You are still welcome to provide your own meal for your child, but please know that all precautions will be taken for children in the classrooms. Meals will be delivered directly to classrooms and taken by children after hand-washing.
SCHOOL DAY PROTOCOLS
Masks: All students must wear a mask during the day with the exception of meal time, nap time, and mask-breaks. It would be helpful to send your child with an extra mask in case their first mask gets dirty.
Social Distancing: All students will be encouraged to keep at least 3′ distance during the day. We know this will be difficult for little kids, so please help us to prepare your students for this environment.
Hand-washing: Hand-washing will occur frequently and at a minimum every other hour.
Bathroom trips: Every ECE classroom has its own bathroom. These will be sanitized twice daily by our facilities team.
Recess: Each classroom will have its own recess time on the playground and/or field. Students will receive mask-breaks but will still be asked to maintain 3′ distance to the best of their ability. The ECE playground equipment will be wiped down between each classrooms' use.
Materials: Students will not be able to share materials, and all materials will be wiped down after use.
Water bottles: Please send your child with his/her own water bottle. Water fountains are NOT accessible at this time, so each student will need to keep a water bottle in the classroom.
Nap time: Students' cots will be placed 3-6′ apart and their belongings kept in plastic bags. Masks will not be worn during nap time.
Learning Centers: Learning centers will be spaced out throughout the classroom and have limited numbers of students using them each day. These will be regularly sanitized. Groupings will be limited in size daily.
Adults: Students can only have two adults in the classroom at a time, and one adult can only support two classrooms. This means that your child will only be interacting with their teacher and one of our paraprofessionals during the day.
Smocks/Aprons: Adults will wear smocks or aprons as added protection.
Cleaning and disinfecting: All ECE classrooms must adhere to the cleaning and disinfecting guidance outlined by the Colorado Rules and Regulations Governing the Health and Sanitation of Child Care Facilities. This is not a change in expectation and should already be a part of best practice for ECE procedures.
Dress Code: A friendly reminder that there is no dress code. Students should wear closed-toe shoes and appropriate clothing for play.
VISITORS
For the safety of the school community, no visitors are allowed inside the school building, including parents and families.
The only exception is in the case of a student emergency. At that time, a caretaker will be able to enter after passing a health screening.
BEFORE/AFTER CARE
At this time, Leading Edge is not offering before/after care for ECE students. This will be reevaluated when K-5 students return.
ATTENDANCE
If your child is experiencing illness at home, please call into the front office (720-424-3800) to alert the staff and make sure the school is aware of an absence. See below for more information on class quarantines.
We know this is a lot of information. Hang in there! We look forward to seeing our ECE families next week.
Sincerely,
Michael Atkins
Principal