See below for a letter from Principal Atkins regarding the recent SPF ratings: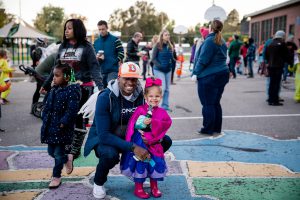 Dear Stedman Community,
Thank you for being a part of our fantastic year at Stedman!
As we finally settle into Fall, our amazing Knights are certainly enjoying the season: celebrating at Fall Festival (what a wonderful community turnout!), participating in after school activities, preparing for Dia de los Muertos and later our Winter Performance, and continuing to grow together as friends and scholars.
Another sign of the season in Denver Public Schools is the annual School Performance Framework messaging that occurs from the District. The School Performance Framework (SPF) is the DPS system for identifying performance areas in our schools. While there are a number of external organizations that rate our school, the DPS SPF is the one that both provides district-level feedback to the school based on past performance and informs both teacher and principal evaluation.
The School Performance Rating provided to Stedman Elementary by the District for the 2019-20 school year is: "Orange: Accredited on Priority Watch." While we do not believe this rating defines our students or community, we are grateful to have demonstrated growth from last year showing the District that we are on the right path.
In 2018, the Red rating we received was a result of several prior years of lower, inconsistent growth on the accountability measures applied to the system, but we know that this year's data showed marked improvement. We know that the school overall is showing tremendous growth that will continue to carry us to stronger and higher outcomes in the near future as the result of our work together through this year and beyond.
The STRENGTHS for Stedman this year include: 
Math:
All Students, All Grades = 20.7% "Met" or "Above" expectations (an 8.7% increase!)
Percent of Students "Approaching" or "Above" expectations in 2019 = 43.5% (up from 31.5% in 2018!)

Stedman

 Boys increased proficiency by 14.5%!
Our English Language Learners increased proficiency by 10.7%!
Primary Literacy (Early Literacy): Istation
Our 1st through 3rd grade students grew tremendously in literacy proficiency:

Spring 2018 = 48.05%  → Spring 2019 = 65.98%

15 students (46%) moved out of "Significantly Below Grade Level"!
Intermediate Literacy:
All Students, All Grades = 29.3% Met or Above expectation (a 7.4% increase!)
Percent of Students "Approaching" or "Above" expectations in 2019 = 55.4% (up from 46.2% in 2018!)
Percent of Students who "Did Not Meet" in 2019 = 18% (down from 34% in 2018!)
Percent of Students "Approaching" or "Above" in 2019 = 52% (up from 39.7% in 2018!)
Overall:
Our 4th and 5th graders averaged more than a year's growth in literacy
Our 5th graders averaged more than a year's growth in math
We doubled the number of students in kindergarten through 3rd grade who are reading on grade level
We cut the number of students reading significantly below grade level in half.
The GROWTH AREAS for Stedman this year include:
Continue improving Early Literacy data
Continue improving Math Status and growth in grades 3-5
How can YOU help?
Attendance – Stedman receives SPF points for attendance. This measure calculates the number of students who have 95 percent or greater attendance throughout the school year (no more than one absence every month). Help us by making sure your child is at school as much as possible!

Survey participation – Stedman receives SPF points based on the Parent Satisfaction Survey. Although we showed tremendous growth (when comparing data from 2017 and 2018), we will continue to identify as "Does Not Meet" in this category if we don't have enough parents participate. We are close to 90% parent satisfaction but none of it was counted this year due to participation requirements not being met. Look for this survey in the Spring!
Our students and teachers have been working hard to help us achieve our growth. While our systems for monitoring and supporting students through the year continue to improve, we know that it is the dedication, intentional planning, and instruction from our teachers combined with the engagement of our students and support of our families that led to the kind of academic growth we have seen over the last year.
We are so proud of our students and our teachers for the academic successes that we are experiencing. We look forward to maintaining and strengthening these outcomes throughout this school year for all of our students!
For more information related to the SPF, or if you would like to provide input as this system is revised this year visit: https://spf.dpsk12.org/en/.
If you would like to talk about any of this or share your thoughts/ideas, please feel free to reach out or join me at a Coffee with the Principal in the future! We are Stedman, a community growing together.
Sincerely,
Michael Atkins
Principal
Stedman's Priority Buckets – our mental model for addressing our vision, mission and instruction: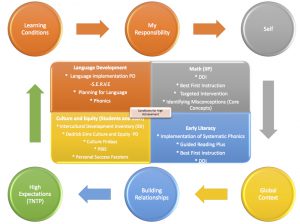 Comunidad de Stedman en Denver,
¡Gracias por ser parte de nuestro fantástico año en Stedman!
A medida que finalmente nos instalamos en el otoño, nuestros increíbles Knights sin duda disfrutan de la temporada: celebrando en el Festival de Otoño (¡qué maravillosa participación comunitaria!), participando en actividades después de la escuela, preparándonos para el Día de los Muertos y luego nuestra Presentación de Invierno, y continuando a crecer juntos como amigos y estudiantes.
Otra señal de la temporada en las Escuelas Públicas de Denver es el mensaje anual del Marco de Desempeño Escolar que se realiza desde el Distrito. El Marco de Desempeño Escolar (SPF por sus siglas en inglés) es el sistema de DPS para identificar áreas de rendimiento en nuestras escuelas. Si bien hay una serie de organizaciones externas que califican a nuestra escuela, el SPF de DPS es el que proporciona comentarios a nivel de distrito a la escuela en función del rendimiento pasado e informa tanto la evaluación del maestro como del director.
El Marco de Desempeño escolar proporcionado a Stedman Elementary por el distrito para el año escolar 2019-20 es: "Naranja: acreditada en la observación prioritaria". Mientras que no creemos que esta calificación defina a nuestros estudiantes o comunidad, estamos agradecidos de haber demostrado un crecimiento de el año pasado, mostrando al Distrito que estamos en el camino correcto.
En 2018, la calificación Roja que recibimos fue el resultado de varios años anteriores de un crecimiento menor e inconsistente en las medidas de responsabilidad aplicadas al sistema, pero sabemos que los datos de este año mostraron una mejora notable. Sabemos que la escuela en general está mostrando un tremendo crecimiento que continuará llevándonos a resultados más fuertes y más altos en el futuro cercano como resultado de nuestro trabajo conjunto durante este año y más allá.
Las FUERZAS de Stedman este año incluyen:
Matemáticas:
Todos los estudiantes, todos los grados = 20.7% "cumplen con" o "superan" expectativas (¡un aumento de 8.7%!)
Porcentaje de estudiantes que se aproximan o cumplen con las expectativas en 2019 = 43.5% (¡subió de 31.5% en 2018!)
¡Los varones de 

Stedman

 aumentaron la competencia en un 14.5%!
¡Nuestros estudiantes de inglés aumentaron su competencia en un 10.7%!
Alfabetización primaria (alfabetización temprana): Istation
Nuestros estudiantes de 1° a 3° grado crecieron enormemente en el dominio de la alfabetización:

Primavera 2018 = 48.05% → Primavera 2019 = 65.98%

¡15 estudiantes (46%) salieron de "Significativamente por debajo del nivel de grado"!
Alfabetización intermedia:
Todos los estudiantes, todos los grados = 29.3% cumplieron o superaron las expectativas (¡un aumento de 7.4%!)
Porcentaje de estudiantes que se aproximan o superan las expectativas en 2019 = 55.4% (¡en comparación con 46.2% en 2018!)
Porcentaje de estudiantes que "No cumplieron" en 2019 = 18% (¡mucho menos que los 34% en 2018!)
Porcentaje de estudiantes "Aproximando" o "Superando" en 2019 = 52% (¡en comparación con 39.7% en 2018!)
En general:
Nuestros alumnos de 4to y 5to grado promediaron más de un año de crecimiento en alfabetización
Nuestros alumnos de quinto grado promediaron más de un año de crecimiento en matemáticas
Mas de doble el numero de estudiantes de kinder a tercer grado leen a nivel de grado comparado con el año pasado
Redujimos a la mitad el número de estudiantes que leen significativamente por debajo del nivel de grado.
Los ÁREAS DE CRECIMIENTO para Stedman este año incluyen:
Continuar mejorando los datos de Alfabetización Temprana
Continuar mejorando el crecimiento y el estado en matemáticas en los grados 3-5
¿Cómo puedes ayudar?
Asistencia – Stedman recibe puntos SPF por asistencia. Esta medida calcula el número de estudiantes que tienen un 95 por ciento o más de asistencia durante el año escolar (no más de una ausencia cada mes). ¡Ayúdenos asegurándose de que su hijo esté en la escuela tanto como sea posible!

Participación en la encuesta – Stedman recibe puntos SPF en función de la Encuesta de Satisfacción de los Padres. Aunque mostramos un enorme crecimiento (al comparar datos de 2017 y 2018), el distrito continuará a identificarnos como "No cumple" en esta categoría si no tenemos suficientes padres que participen. Llegamos cerca del 90% de satisfacción de los padres, pero nada de esto se contó este año debido a que no se cumplieron los requisitos de participación. ¡Busque esta encuesta en la primavera!
Nuestros estudiantes y maestros han estado trabajando duro para ayudarnos a lograr nuestro crecimiento. Si bien nuestros sistemas para monitorear y apoyar a los estudiantes durante el año continúan mejorando, sabemos que es la dedicación, la planificación intencional y la instrucción de nuestros maestros combinados con la participación de nuestros estudiantes y el apoyo de nuestras familias lo que condujo al tipo de crecimiento académico que hemos visto en el último año.
Estamos muy orgullosos de nuestros estudiantes y nuestros maestros por el éxito académico que estamos experimentando. ¡Esperamos mantener y fortalecer estos resultados a lo largo de este año escolar para todos nuestros estudiantes!
Para obtener más información relacionada con el SPF, o si desea dar su opinión mientras se revisa este sistema este año, visite: https://spf.dpsk12.org/es/.
Si desea hablar sobre esto o compartir sus pensamientos/ideas, ¡no dude en comunicarse o venir a un café con el director en el futuro! Somos Stedman, una comunidad que crece juntos.
Sinceramente,
Michael Atkins
Principal
Cubetas de prioridades de Stedman – nuestro modelo mental para abordar nuestra visión, misión e instrucción: