***
We are a diverse and committed community, seeking the personal success and academic growth of every student.
We are a dedicated and loving community, supporting and caring for each other far beyond the classroom.
We are a growing and joyful community, enjoying new opportunities, classmates, neighbors, and friends.
We are an eager and knowledge-hungry community, continuing to improve our academic achievement and celebrating our GREEN designation for academic growth!
We are Stedman. A community growing together.
***
Vision: We, the Stedman community, embrace our diversity and are committed to excellence in our instruction and our quest for wisdom, so all students will achieve academic growth and personal success.
Mission: As life-long learners, we strive for excellence in everything we do while respecting our diverse Park Hill community. We care about each other and make a difference.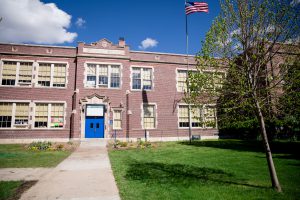 Stedman Elementary School is an historic neighborhood school with deep roots in the Park Hill community. Our school has served generations of neighborhood families with a history of strong parent involvement.
Stedman is a Dual Language school which  means we offer two programs: English or Spanish Immersion. Your child may choose either program, while children from both programs share recess and specials classes together.
Programs for all levels of learners: Emergent, Proficient, and Advanced
Experiential Learning: Students learn through analysis and exploration of real-life concepts through our rigorous curriculum:
Bridges Math Curriculum Kindergarten through 5th grade
Expeditionary Learning English Language Arts 4th and 5th grades
Personalized Learning Supports: Students' needs are met through personalized lessons and experiences.
Daily Guided Reading: Students work in small guided groups to develop their reading skills; teachers select texts for each individual student's ability and progress monitor their growth.
Gifted and Talented: A gifted and talented itinerant teacher supports Stedman teachers in designing lesson extensions and challenges to support students identified as gifted and talented and those working above grade level. Projects encourage creative thinking, cooperative learning, and peak students' interests in academics.
Academic Intervention: Students who are not yet at grade level in reading and mathematics have the opportunity to receive support in the classroom or with our interventionist. Students receive personalized instruction through computer-based skills practice and leveled math groups with Denver Math Fellows.
Educating the Whole Child: Deep community roots ground Stedman people and practices as we work together to support the whole child.
Early Childhood 4 year old classrooms through 5th grade
Students participate in Music, PE, and digital literacy
Spanish instruction for native Spanish speakers
Community partnerships enhance learning: La Napoule Art Foundation (artist residencies), CHIC, Kids Above Everything, Denver Art Museum, and Literacy Partners.
Social and emotional support for students: counselor, school psychologist, and restorative approaches
Before and After School Childcare and Enrichment Opportunities
Click HERE to read about our partnership with Springboard who provides before/after school care ages ECE4-5th Grade!
Visit Stedman and see what we have to offer! Take a tour of our school Mondays at 10:00am or by appointment.