Leadership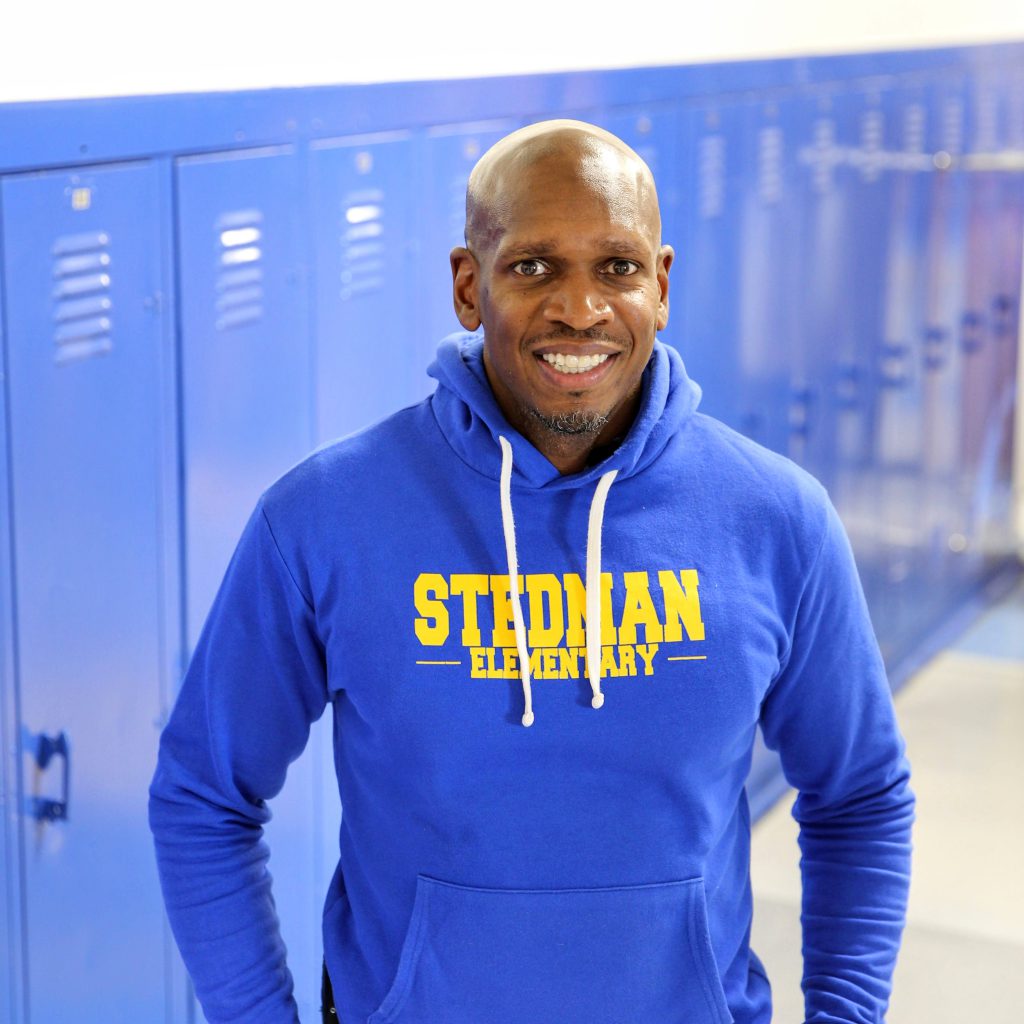 Principal, Michael Atkins – michael_atkins@dpsk12.net
Hi, my name is Michael Atkins. I am the proud Principal of Stedman Elementary. Our prevailing students walk the halls that carved the path which allows me to lead in Denver Public Schools (DPS) today. I have been a part of DPS since I was four years old. My experiences as a student, custodian, paraprofessional, teacher, assistant principal, and principal have given me a unique look into education. I use that lens to guide my work and journey today. I lead to ensure the students under my care have a different experience than I did. I lead in hopes of grabbing educators by the hand and walking with them step-by-step and side-by-side on a journey of intercultural development so we can serve ALL students and interact with our diverse world differently. Let's be the sweeping changes our communities need in this world.
I am proud to have been selected for the Cahn Fellows Distinguished Principals Program starting Fall 2022.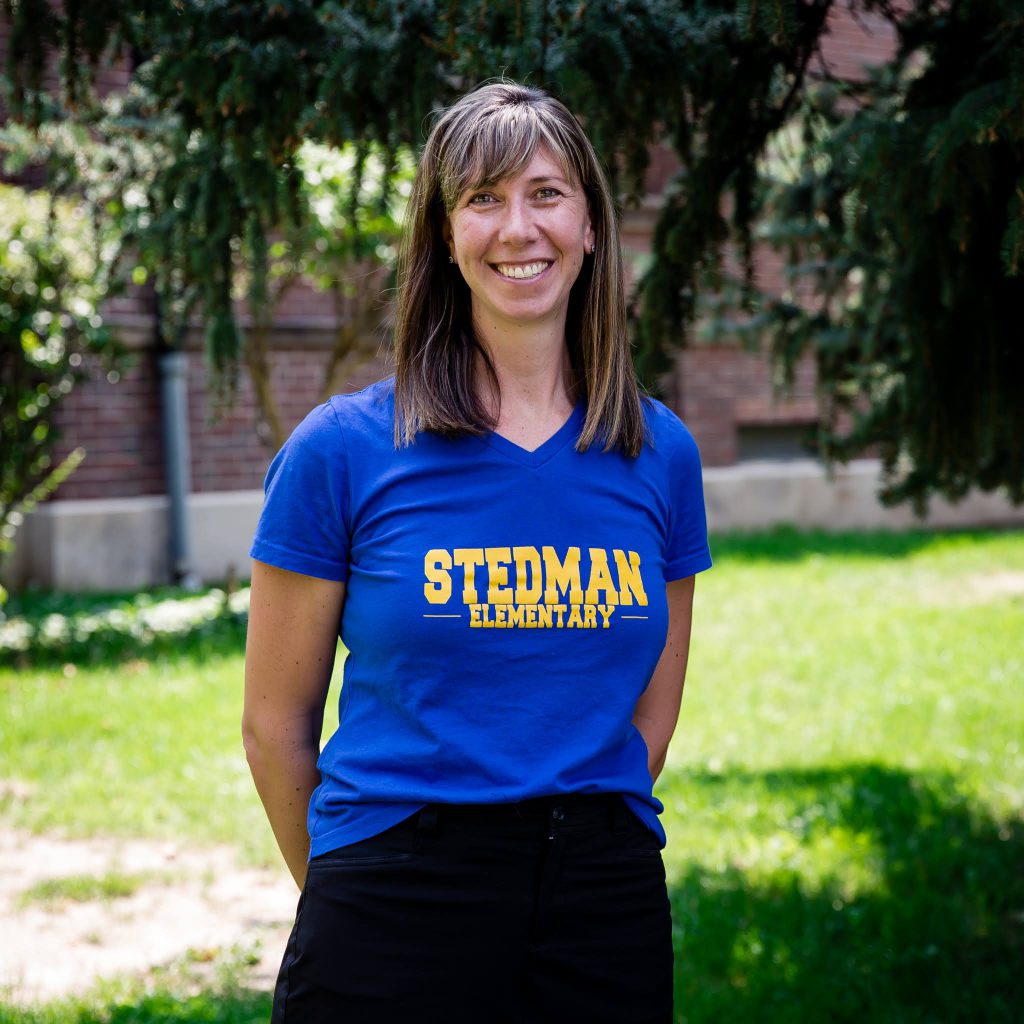 Assistant Principal, Adrienne Lopez – adrienne_lopez@dpsk12.net
Adrienne has worked as a public educator in both New York City and Denver for over 15 years with experience as a classroom teacher, interventionist, Dean and Assistant Principal. She holds graduate degrees in both Literacy and School Leadership. Adrienne lives in the nearby Whittier neighborhood with her two children (Stedman students), husband and black lab. She loves exploring our beautiful state with her family through skiing, hiking, camping and biking. Adrienne is honored to have the opportunity to continue to serve the Stedman community as Assistant Principal. She looks forward to being a part of the exciting growth of the Stedman community for years to come.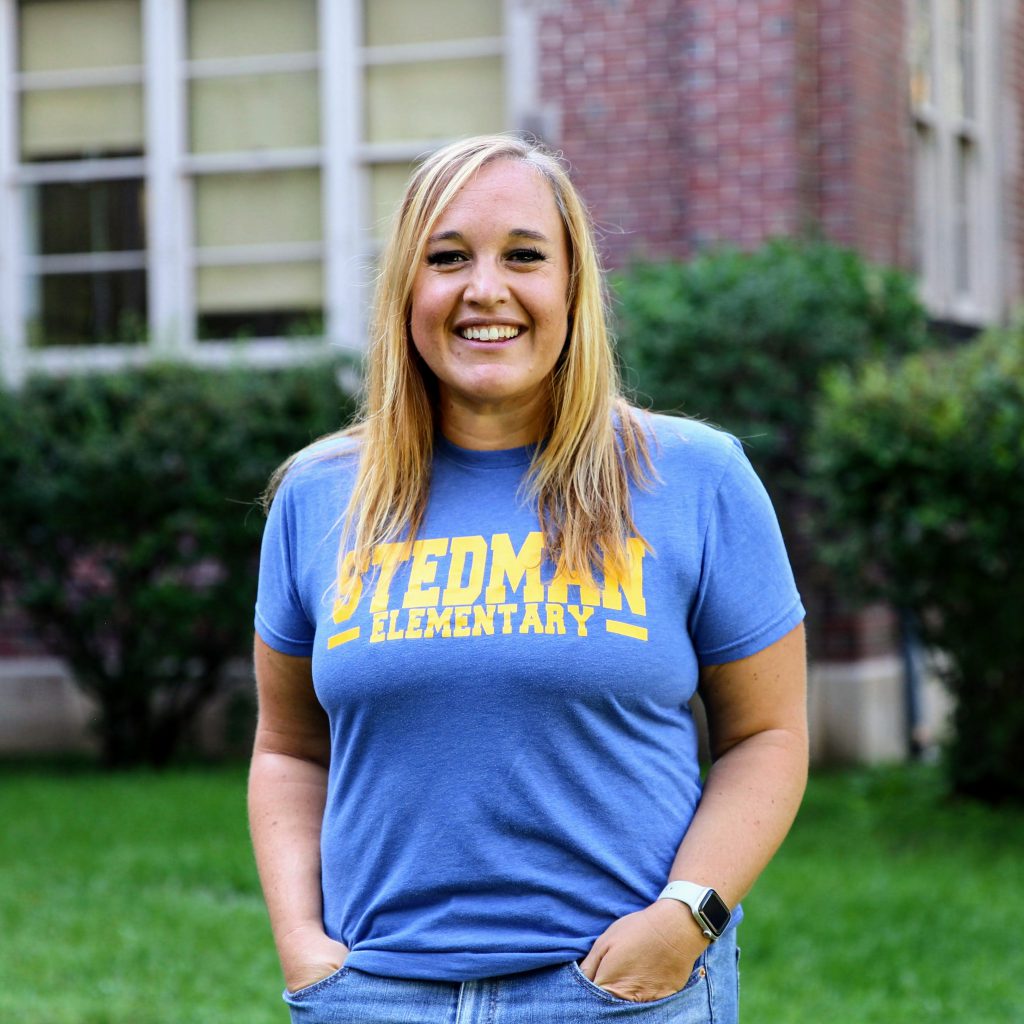 Dean of Culture & Family/Community Liaison, Ali Larson – alison_larson@dpsk12.net
Ali has a background in government, politics, and education, with a passion for equity and community activism. She served on the Washington, DC staff of a US Senator before returning to Denver to work for a former US Ambassador. Ali received her teaching license through the University of Colorado at Denver's Graduate Urban Community Teacher Education Program and taught social studies to students in Adams 12 Five Star Schools. In addition, she managed a successful campaign for a Colorado State House of Representatives candidate in the Denver Metro area and currently serves as an Editorial Board member of the Denver Journal of Education and Community. Most recently she has served as the Family & Community Liaison at Hallett Academy and here at Stedman.
Front Office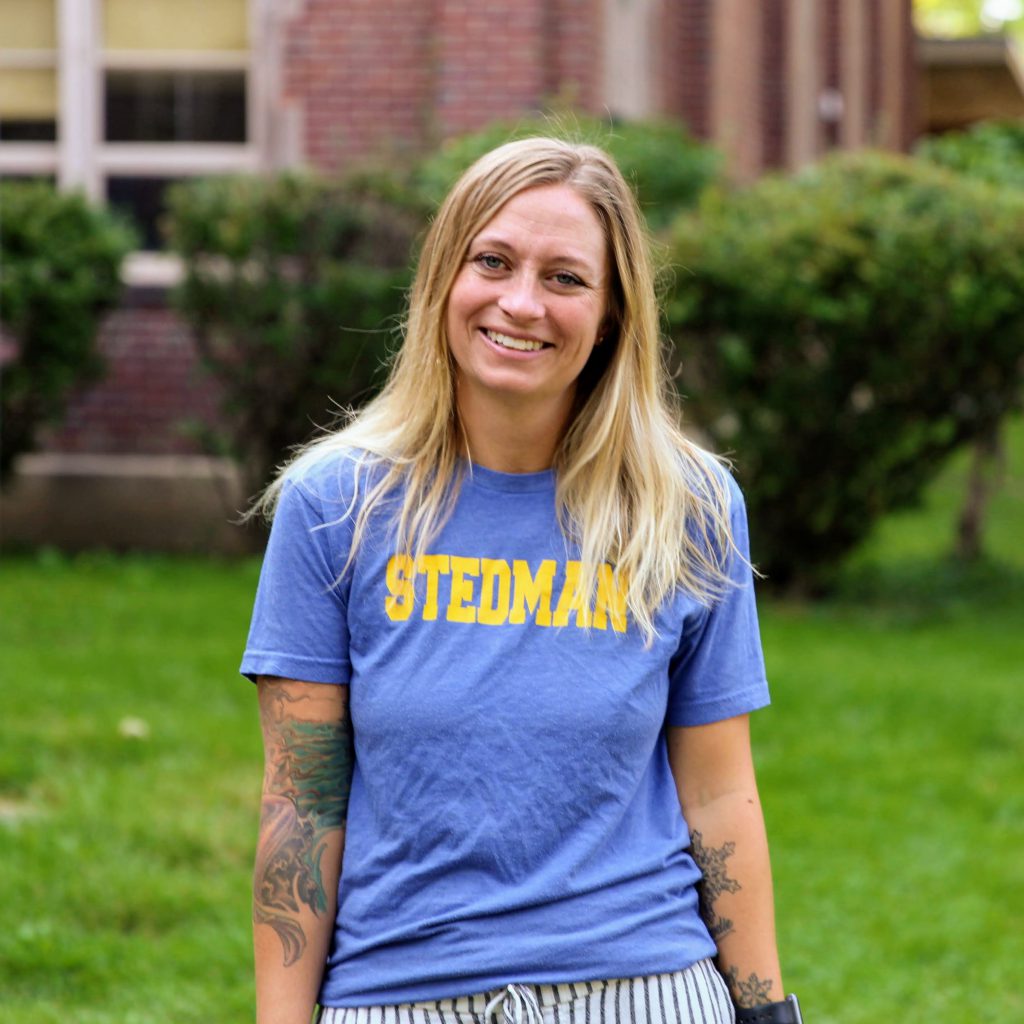 Office Manager, Kait Parsons – kaitlin_parsons@dpsk12.net
I became a part of the Stedman community as a parent and mother first and have two children who currently attend Stedman. I have been an active member of the PTA since 2018 and was PTA President for three years. I have been working at Stedman in the office since 2020 and I have a passion for kids that has driven me to be engaged, not only in my own children's education, but in all students' education. There is much work to do in the public school system and the parent community and I am proud to be a part of Stedman's efforts to bring growth and opportunity to every student and family. When I am not at school I enjoy doing lots of outdoor activities with my family like biking and snowboarding, reading and eating good food!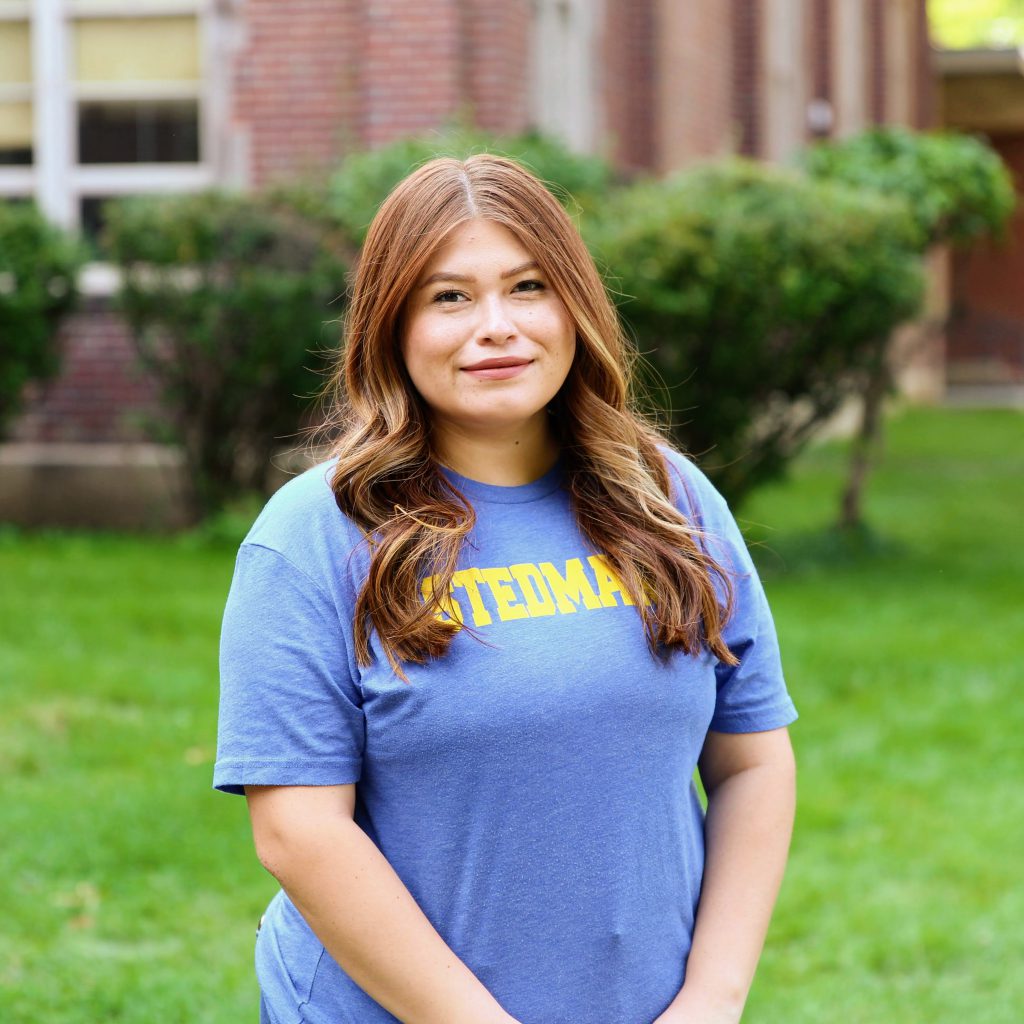 Office Support, Suze Deras – suzette_deras@dpsk12.net
My name is Suzette Deras but preferred to be called Suze. I'm excited to be at Stedman Elementary as secretary. I have a bachelor's degree in psychology. I've worked with children for 5 years in daycares and after school programs. I have also taught dance and yoga to children. When I'm not in the office I like to read, try new restaurants, spending time with family and friends, and of course take dance classes. I'm excited to learn more from the staff and students at Stedman!
Senior Team Leads
Crystal Griego (Early Literacy) – crystal_griego@dpsk12.net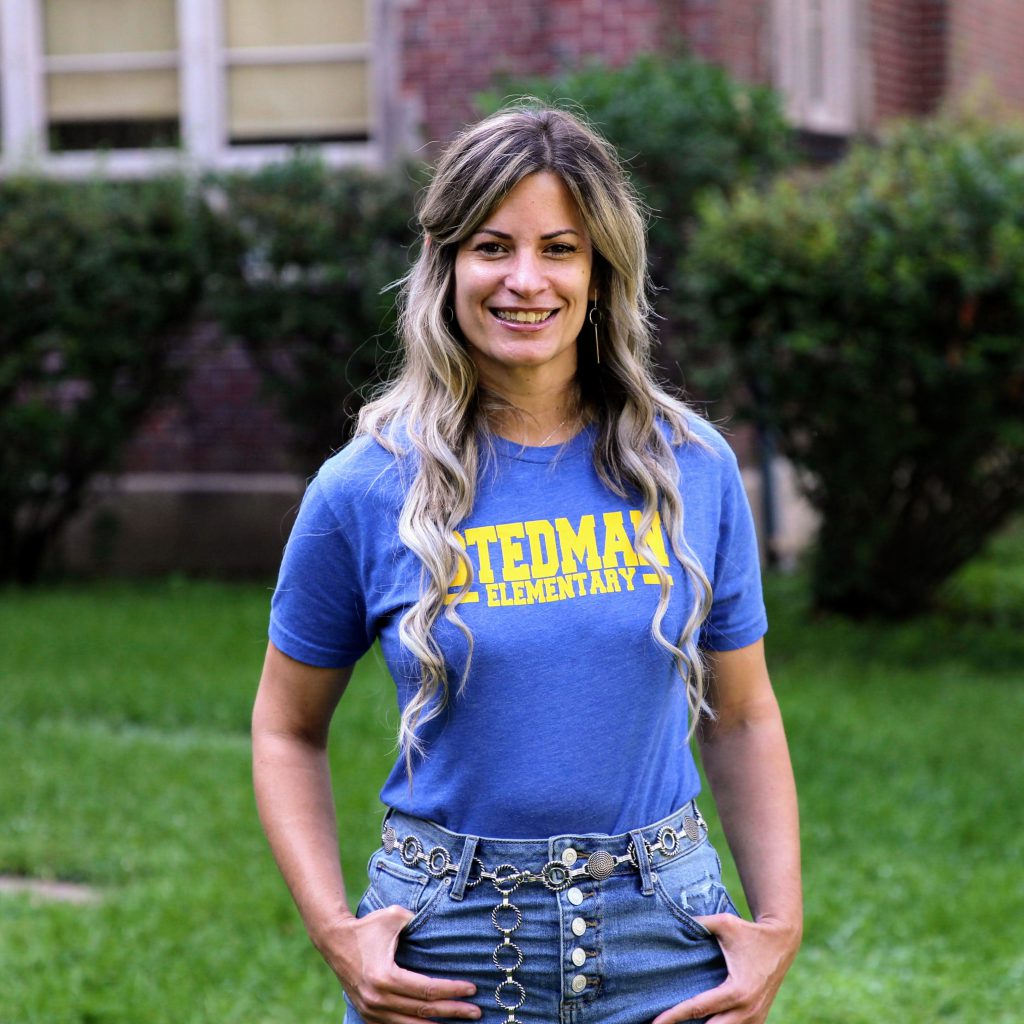 Olga "Jani" Martinez (Biliteracy & Language) – olga_martinez@dpsk12.net
My name is Olga Martínez but everyone calls me Jani. I'm from Puerto Rico. I have worked as a Spanish teacher for over 15 years (5 at Stedman). I'm a Senior Team Lead, Biliteracy Content Lead, and Interventionist. I'm a dedicated teacher and it is a wonderful opportunity for me to teach my native language. I love working with this community and support our students for success. Stedman has been my home and I'm so proud to be part of it!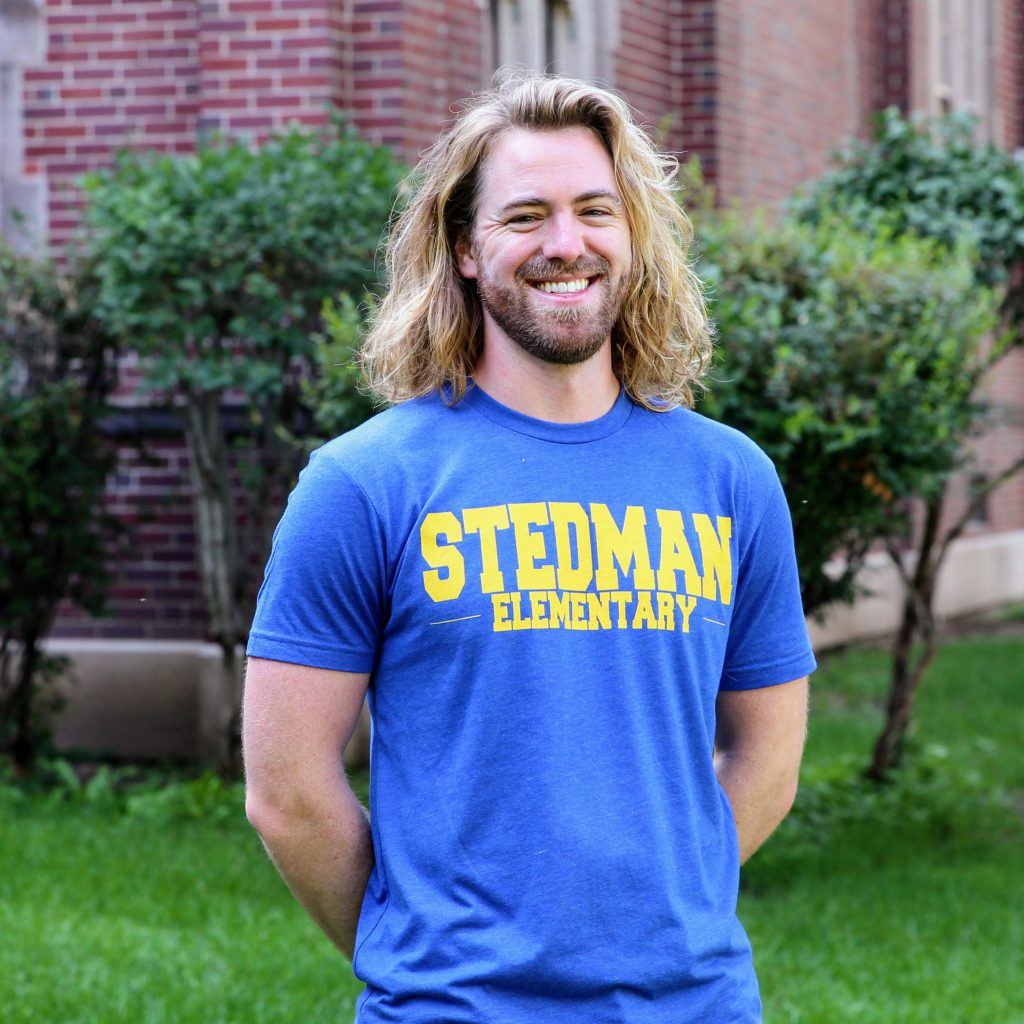 Christopher Landis (Math) – christopher_landis@dpsk12.net
I'm Chris Landis (he/him/his), and this is my 8th year teaching in DPS and my first at Stedman. I have previously taught Special Education, 5th grade in English and Spanish, and was the content lead for Math as well as a Senior Team lead at my previous school. I am excited to get to know the Stedman Community and be a part of all the great work we are going to do this year- I think the chickens are going to be really cool to get involved with! When I am not at school, I like to read sci-fi and fantasy novels, work in the garden, play volleyball in the parks around Denver, or spend time decompressing in nature.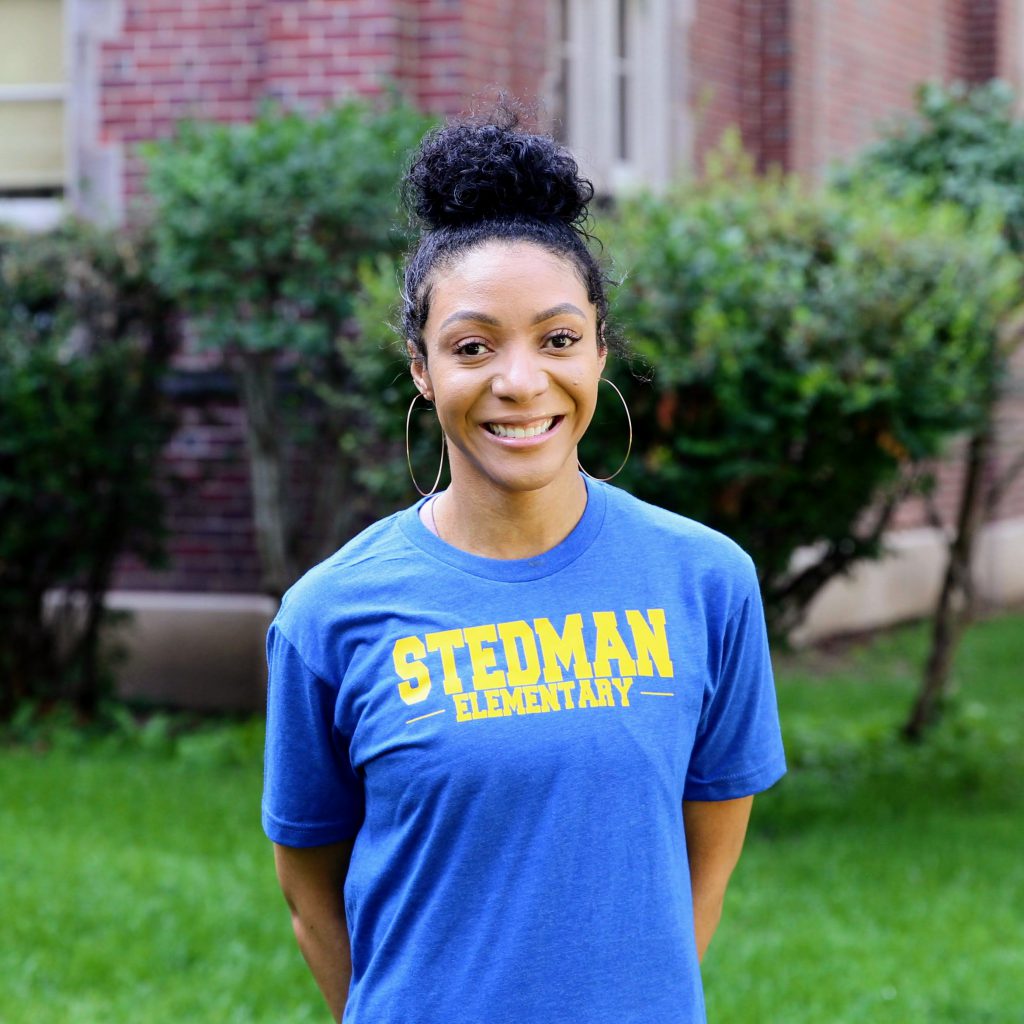 Zuri Hunter-Riley (Early Literacy) – zuri_hunter@dpsk12.net
Hello! My name is Zuri Hunter-Riley. I am new to the Stedman team this year 2022-2023. I've been working for DPS for the past 5 years and I've taught grades K & 1. My goal in the classroom has always been to co-create joy and produce an environment where students feel liberated. I graduated from Regis University with my bachelors degree in Elementary Education and I'll have my masters from University of Colorado this December 2022. In my spare time I find joy spending time with family, roller skating, and reading paperback books.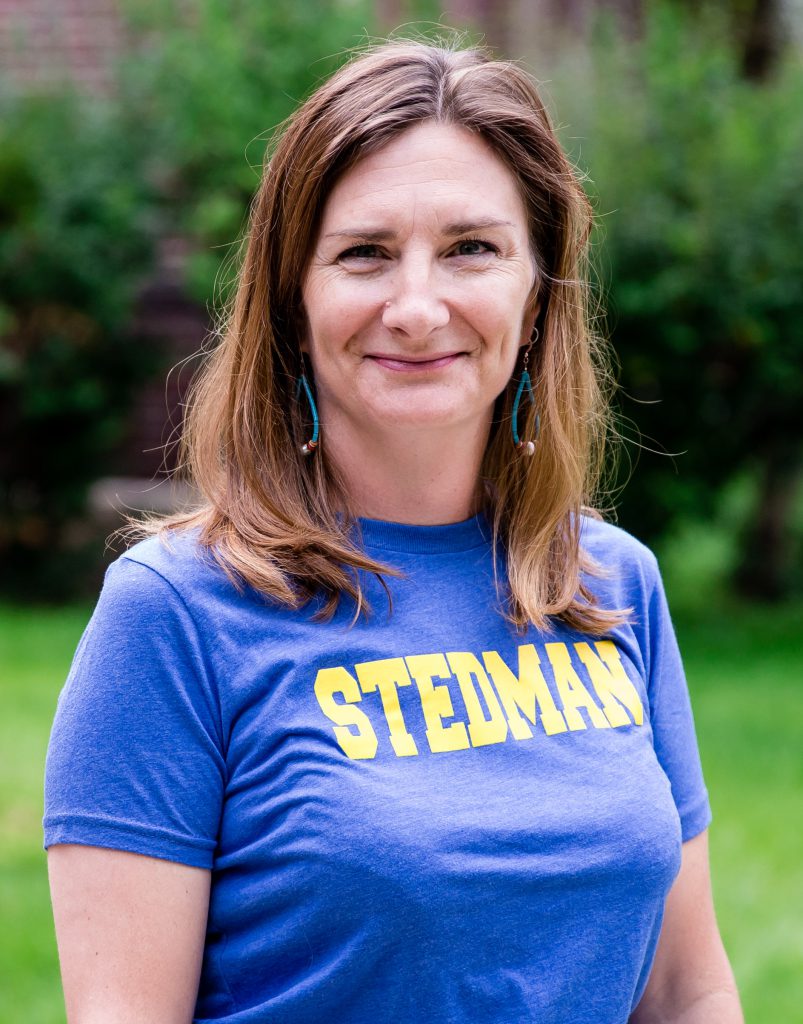 Samantha Sims (MTSS & Tier II) – samantha_sims@dpsk12.net
I have been teaching for 267 years in bilingual settings in both general and special education in Arizona, Mexico, and Colorado. I coach learners of all ages in setting goals and using precise progress monitoring so they can reach them! Some of my favorite teaching tools are direct instruction, fluency timings, and precision teaching. I also love spending time with my family (cooking and eating) and with my animals.
Teaching Staff
– ECE –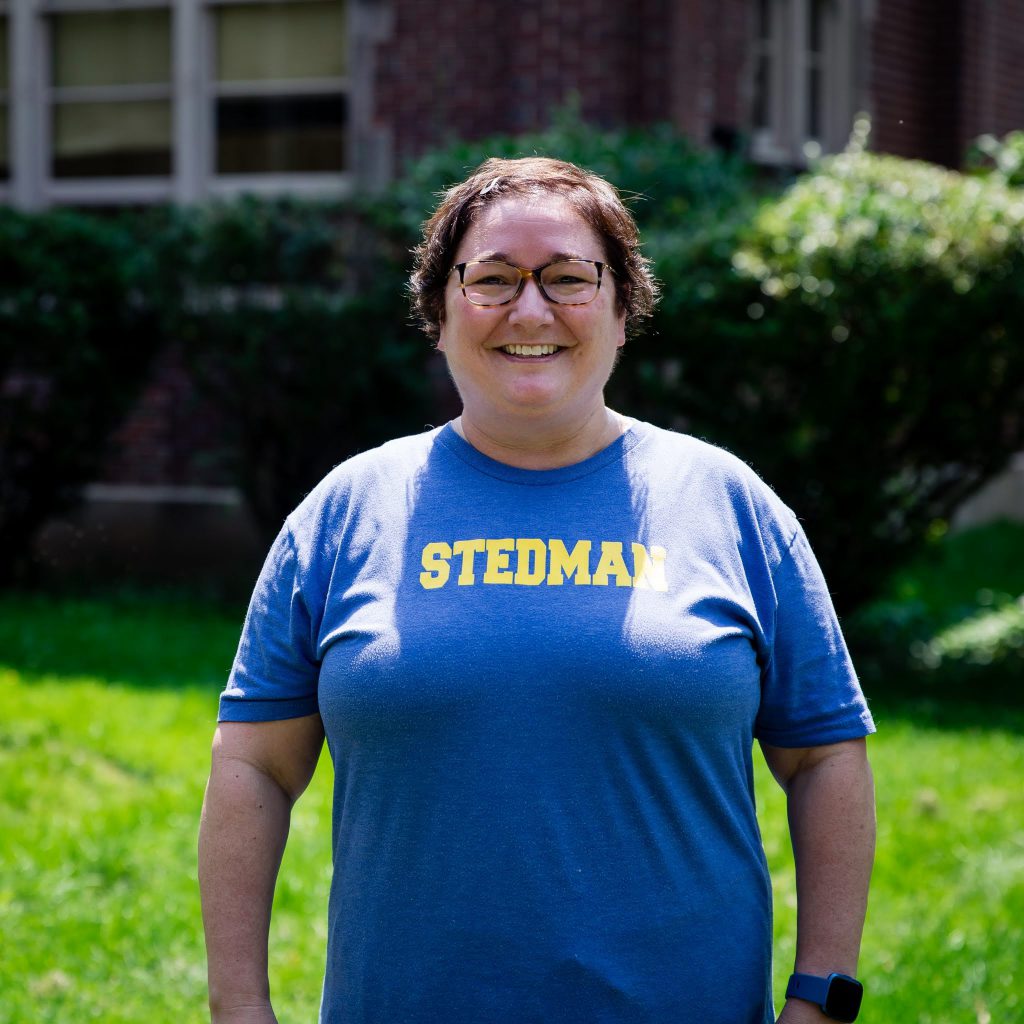 Jen Moran, ECE-4 English – jennifer_moran@dpsk12.net
I am a passionate person who tends to wear my heart on my sleeve. I love animals and have two Boston Terrors (terriers). Stedman has been a part of my heart for over a decade. I love this school and the families with all of my heart. I became a National Board Certified Teacher with an endorsement in Early Childhood a few years ago and am looking to go back to get my Master's.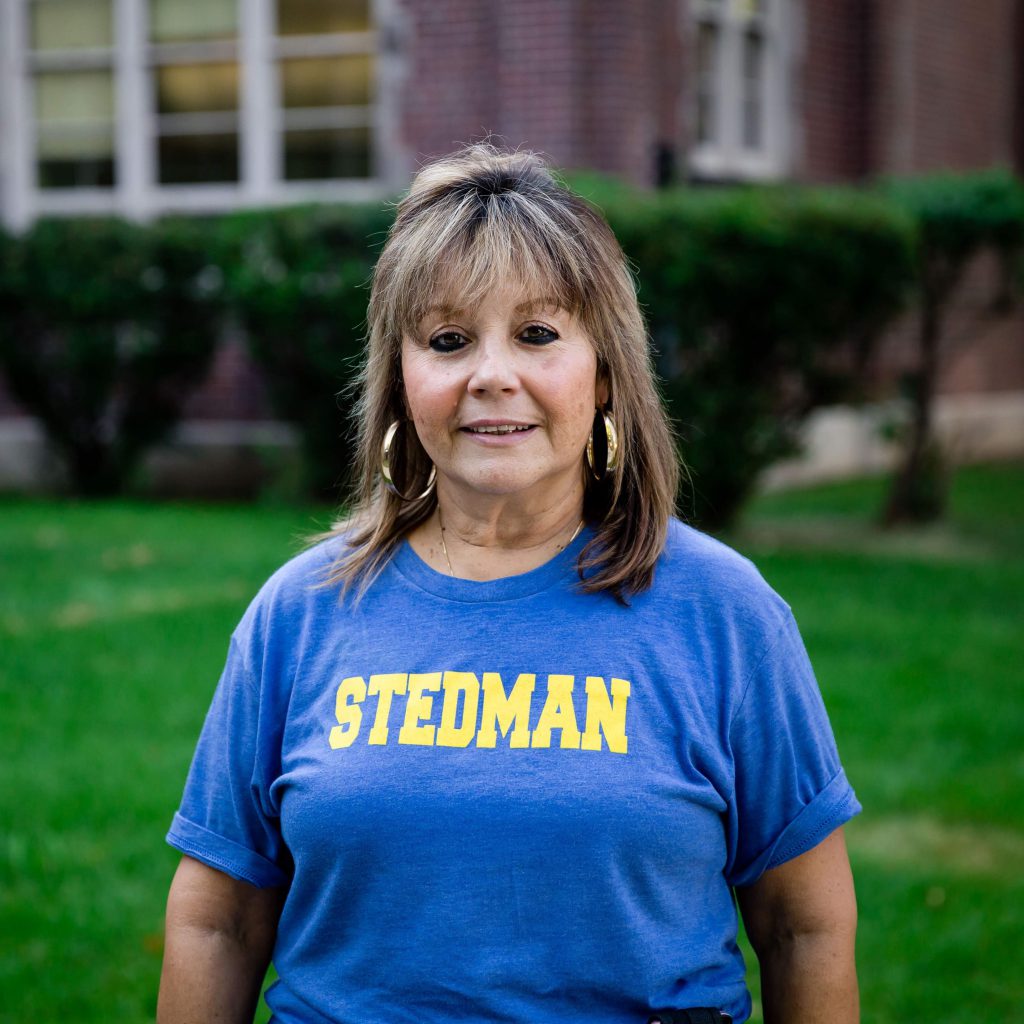 Isabel Stephenson, ECE-4 Immersion – isabel_stephenson@dpsk12.net
I am from Venezuela, South America, but I have been in the USA for more than 30 years and became a US citizen. I am a mom and a proud grandma of 3 wonderful kids, one of them I raised since she was almost four and now she is almost 21.
In my "free time " I like to go to the gym to keep myself healthy, and I look forward to going to the beach during our breaks. I love teaching the little ones because you can always make a difference in their lives. I also know how hard it is to learn in another language, so it has been my passion to help ELL students go through this process. I enjoy teaching at Stedman and being part of the ECE team and the Park Hill community.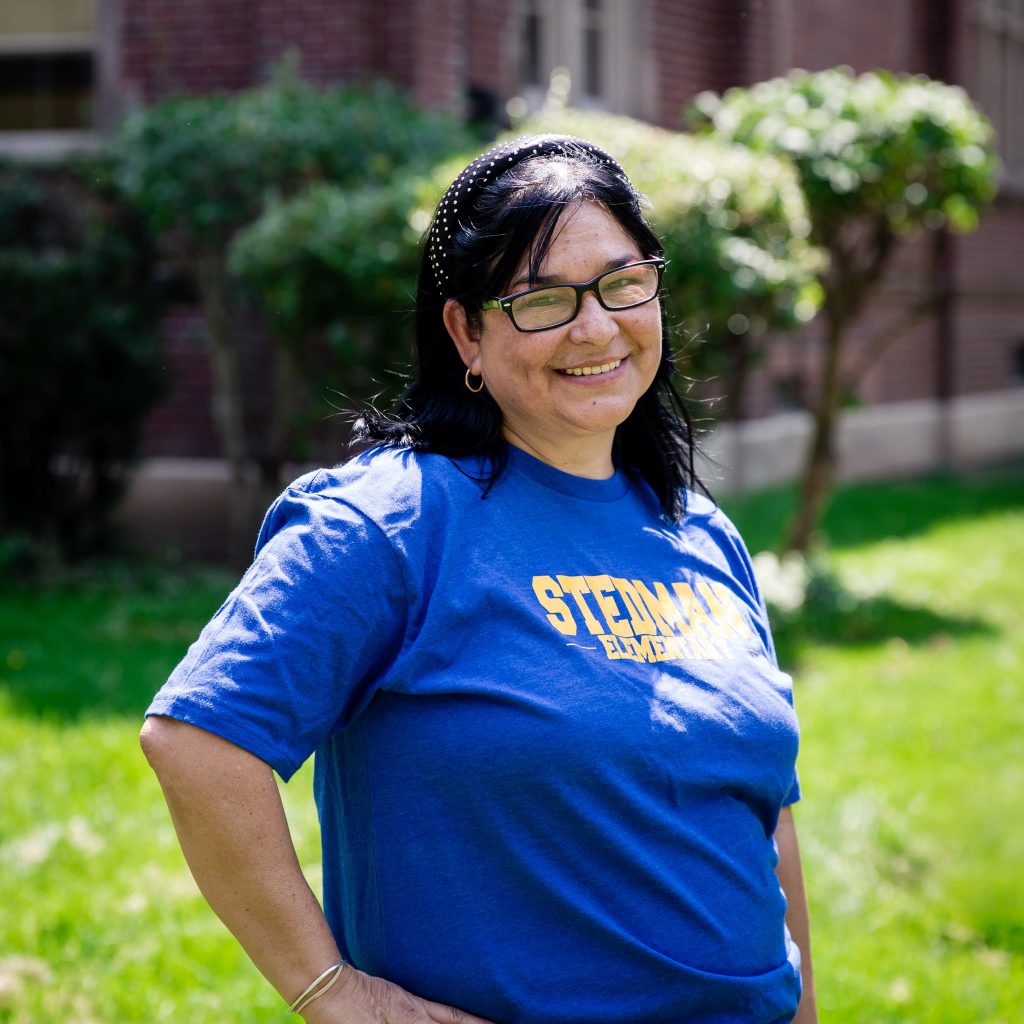 Patty Albujar, ECE-4 Immersion – lily_albujarortiz@dpsk12.net
My name is Lily Patricia Albujar Ortiz, but my students call me Mrs. Patty. I am honored to be on Team Stedman as the ECE-4 immersion teacher this year. I am originally from Peru, where I obtained a Bachelor degree in early childhood education and a Master's degree in Learning Disabilities. I first moved to USA to work for DPS as an ELA-S teacher 11 years ago. In total I have over 20 years of experience as a teacher of early childhood education in Spanish. I love to be able to teach the Spanish language as well as the Hispanic culture to create a new generation of bilingual people. I believe being able to speak different languages and understanding more cultures than our own opens the doors to incredible opportunities in this world. About my personal life, I have two beautiful children, a loving husband, and a precious dog. In my free time I like to be with my family and cook Peruvian food. I also love to dance, sing Karaoke and during vacation travel.
– KINDERGARTEN –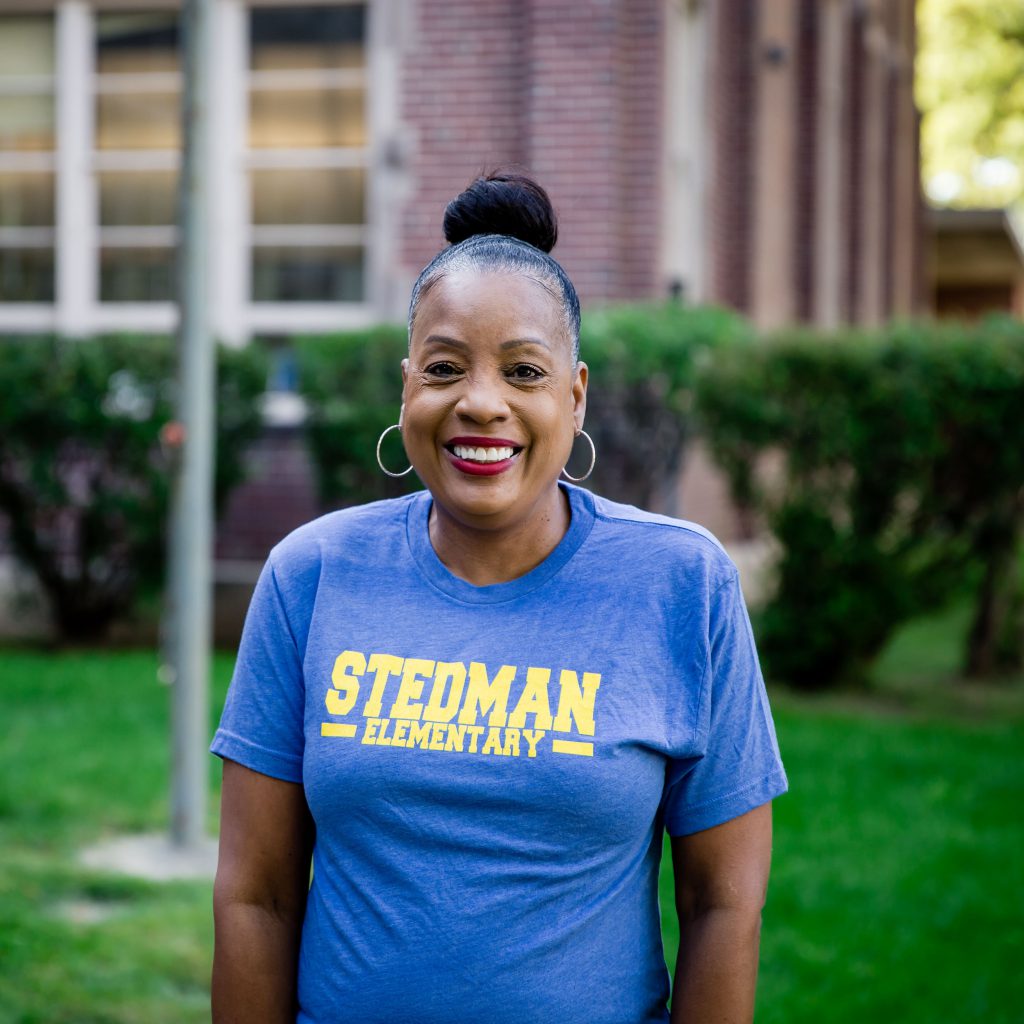 Patricia Landy (English) – PATRICIA_LANDY@dpsk12.net
My name is Patricia Landy and I am the Kindergarten teacher. I am married to my wonderful husband of 20 plus years, I have 2 children, 1 granddaughter and my dog Dutch. I love to travel and spend time with family. I have 22 years experience working with children. I grew up in this neighborhood and I graduated from George Washington High School. I have a degree from the Community College of Denver in Early Childhood Education. I also have a degree from the University of Northern Colorado specializing in Elementary Education. I like teaching kindergarten because every year brings something new and different. There is so much growth and excitement within the students. My joy comes when they learn to read and explore. They learn about themselves, others and the world around them.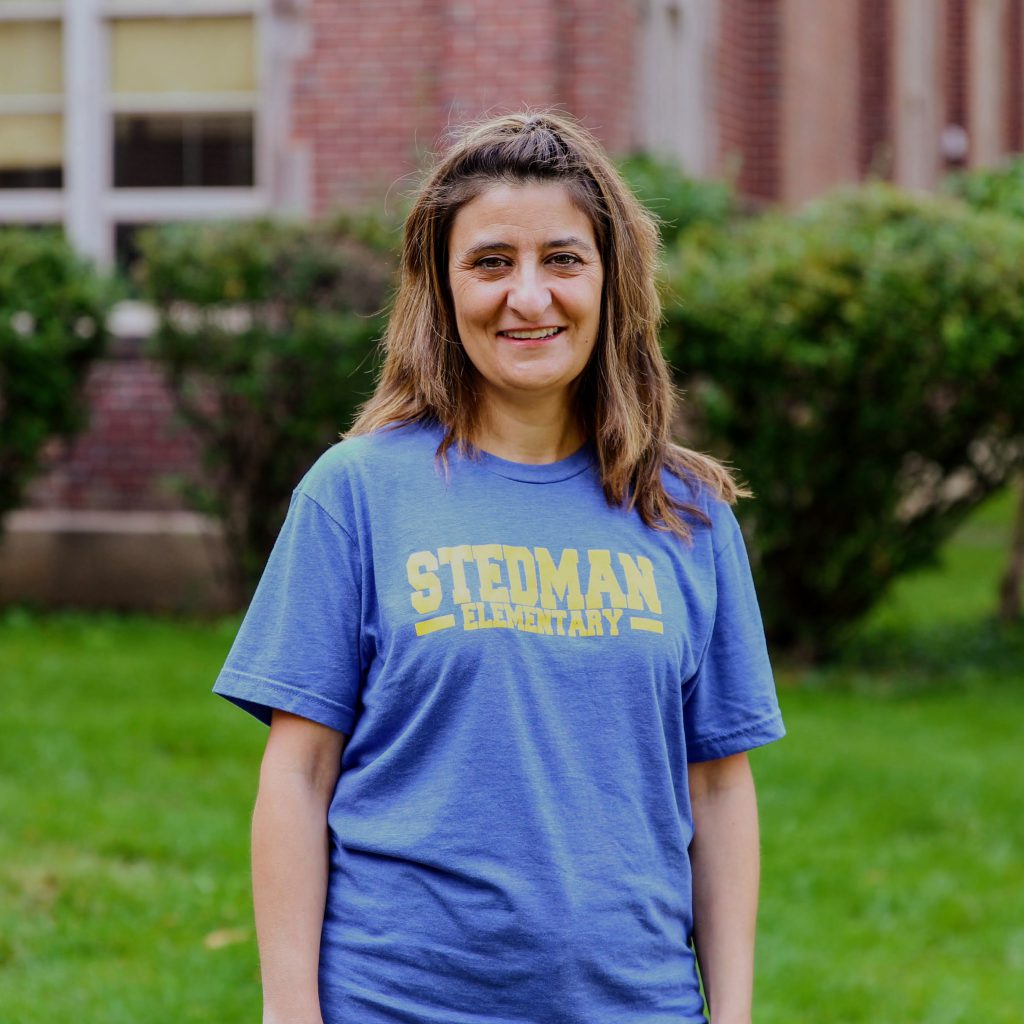 Maria Carrillo (Spanish Immersion) – MARIA_CARRILLOPARRAGA@dpsk12.net
¡Hola a todos! Soy María Carrillo, profesora de infantil en el programa de inmersión en español y estoy encantada de seguir trabajando en Stedman con vosotros y con nuestros bebés en esta maravillosa comunidad.
Soy de Murcia, España (¡muy cerca del mar Mediterráneo!) Mi familia y yo decidimos mudarnos a EEUU en 2014 para conocer otras culturas y vivir experiencias diferentes. Nuestro primer destino fue Santa Fe (NM) y luego nos mudamos a Denver en 2016, desde entonces trabajo en DPS.

Me encanta este trabajo y disfruto cada día que pasa en el aula con nuestros bebés. Siempre he pensado que los maestros ayudamos a nuestros estudiantes no solo a aprender sobre el contenido académico, sino que también somos parte del proceso de crecimiento de estas pequeñas personas, y ayudamos a prepararlos para el mundo. Del mismo modo, ellos me ayudan a crecer cada día y a ser mejor profesor y persona.
Me encanta escuchar música (muy fuerte), bailar, leer, pasar tiempo con mi familia y amigos y siempre me verás con una gran sonrisa en la cara.Gracias y nos vemos en la escuela!
Hello everyone! I am Maria Carrillo, a kindergarten teacher in the Spanish immersion program and I am happy to continue working at Stedman with you and our babies in this wonderful community. I am from Murcia, Spain (very close to the Mediterranean Sea!) My family and I decided to move to the USA in 2014 to learn about other cultures and live different experiences. Our first destination was Santa Fe (NM) and then moved to Denver in 2016, since then I have been working for DPS.

I love this job and enjoy every day that is spent in the classroom with our babies. In my opinion, I think that as teachers help our students not only learn about academic content, but we are also part of the growing process of these little people and help prepare them for the world. In the same way, they help me grow every day and become a better teacher and person. I love listening to music (very loud), dancing, reading, and spending time with my family and friends and you will always see me with a big smile on my face. Thank you and see you soon!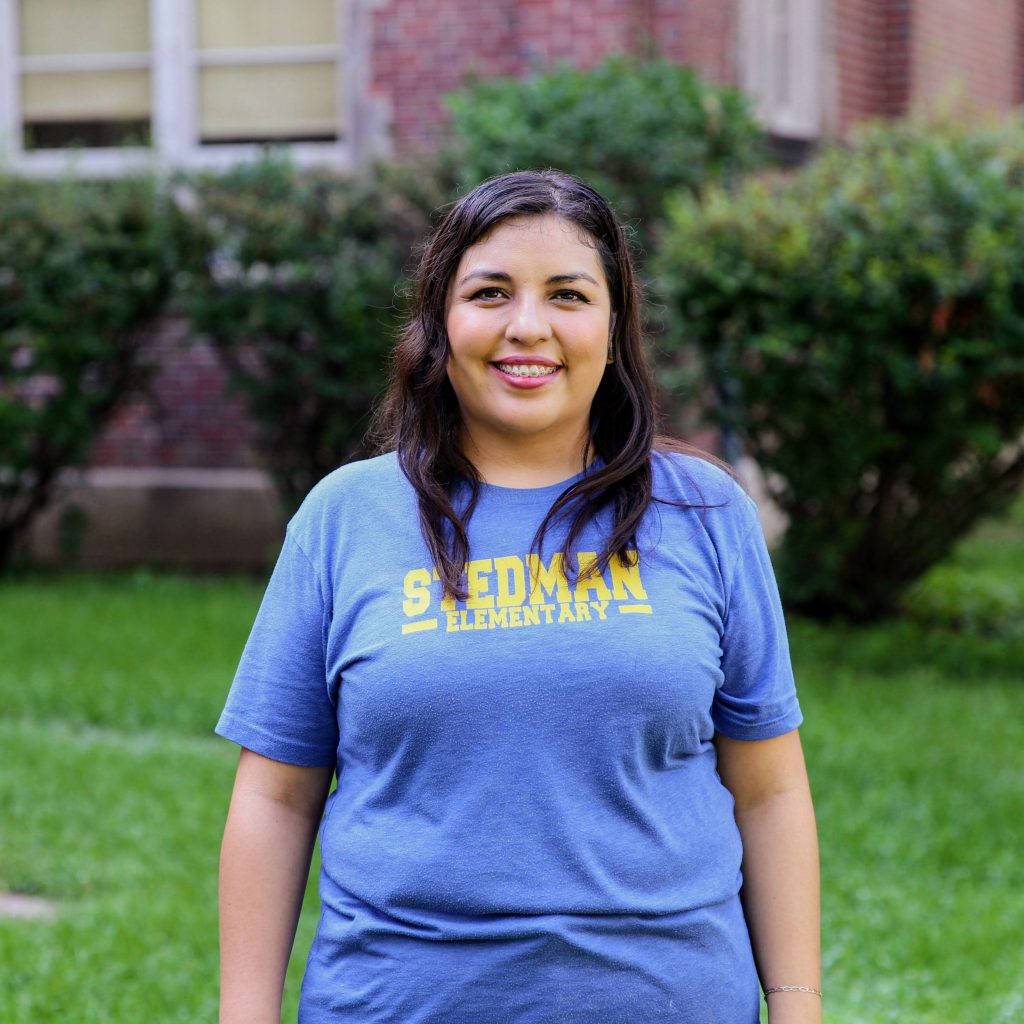 Dafne Arreola (Spanish Immersion) – DAFNE_ARREOLA@dpsk12.net
– 1ST GRADE –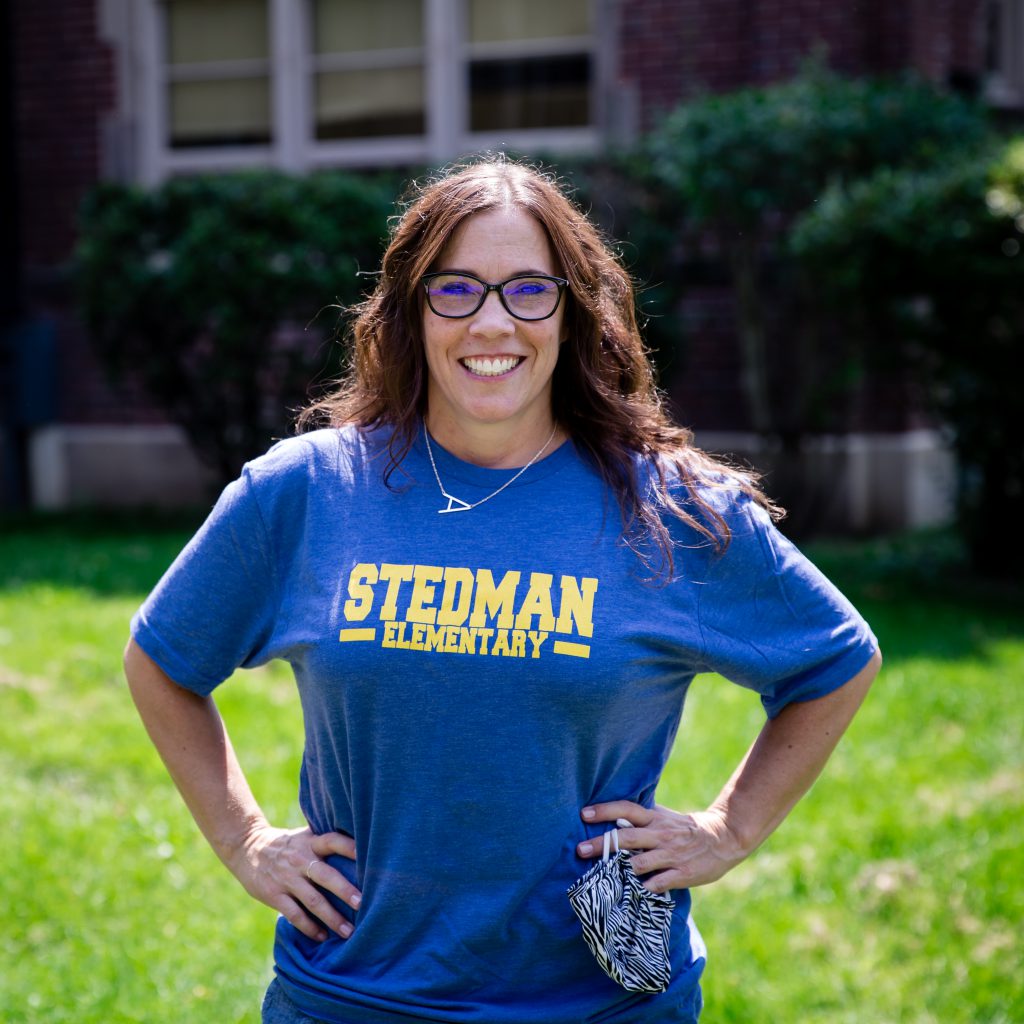 Amanda Hinkson (English) – AMANDA_HINKSON@dpsk12.net
My name is Patricia Landy and I am the Kindergarten teacher. I am married to my wonderful husband of 20 plus years, I have 2 children, 1 granddaughter and my dog Dutch. I love to travel and spend time with family. I have 22 years experience working with children. I grew up in this neighborhood and I graduated from George Washington High School. I have a degree from the Community College of Denver in Early Childhood Education. I also have a degree from the University of Northern Colorado specializing in Elementary Education. I like teaching kindergarten because every year brings something new and different. There is so much growth and excitement within the students. My joy comes when they learn to read and explore. They learn about themselves, others and the world around them.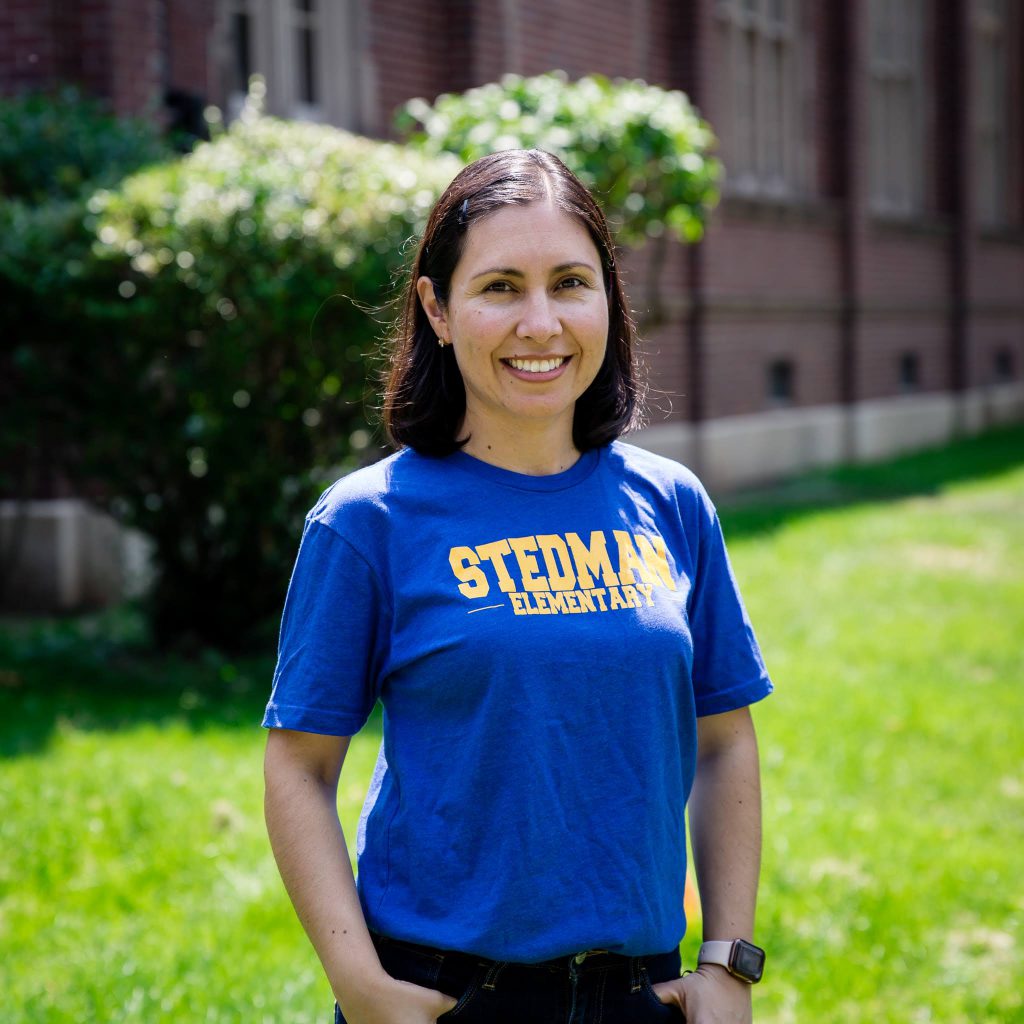 Ana Salas-Lopez (Spanish Immersion) – ANA_SALASLOPEZ@dpsk12.net
My name is Ana Salas. I was born and raised in Mexico where I went to college and graduated with a Bachelor's in Accounting. It was when I became a mother that I discovered my passion for the education of children. For this reason I decided to be a teacher to help young children to develop a love of learning. I taught kindergarten for the past two years and I have experience as a preschool teacher as well. I am enrolled in a program at Metropolitan State University to get a graduate degree in Elementary Education. I am very happy to join the Stedman community as a 1st grade Spanish Immersion teacher and as a parent. I am married to a wonderful man and we have two daughters. We love spending time together as a family.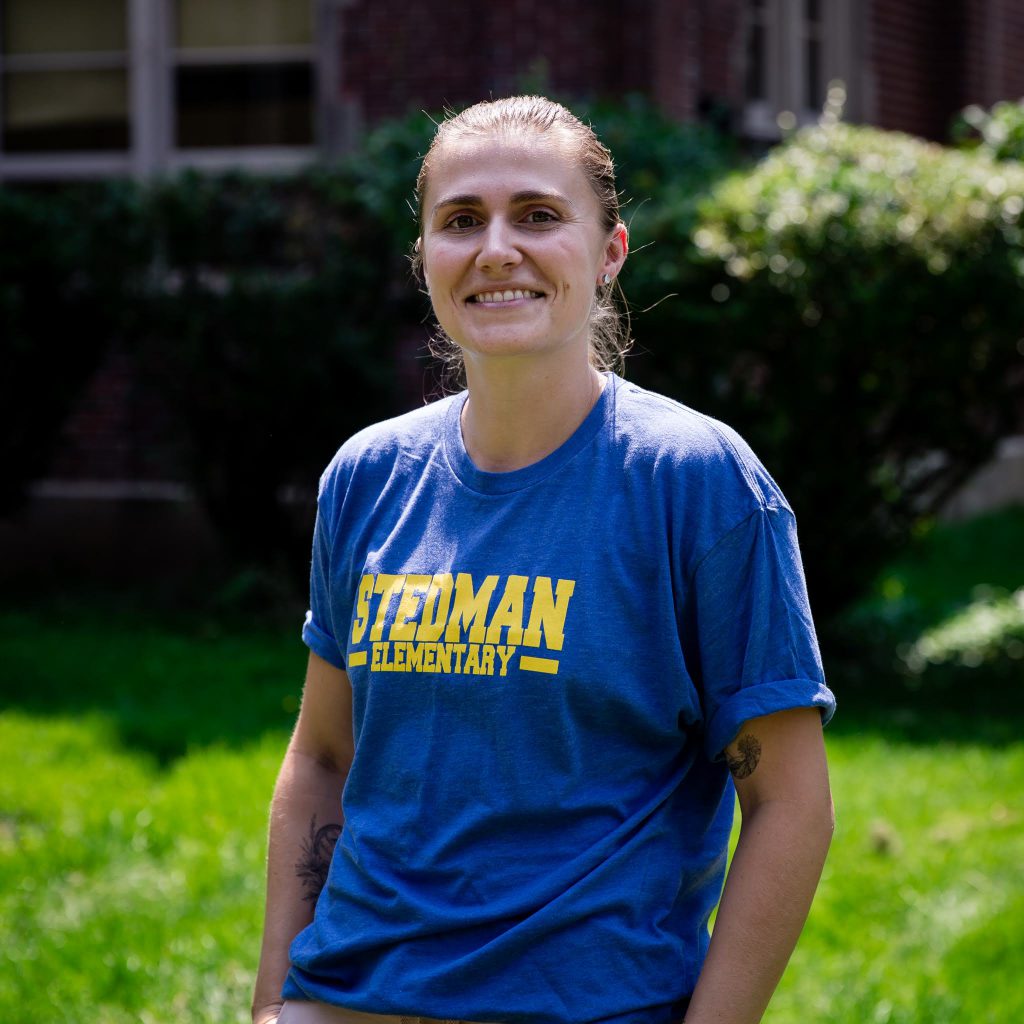 Jamie Bushey (Spanish Immersion) – JAMIE_BUSHEY@dpsk12.net
My name is Jamie Bushey and I'm very excited to be joining the Stedman team as a first grade teacher in the Spanish immersion program! I recently returned from 3 years of teaching abroad in Colombia, South America. In the past I also lived abroad in both Peru and Spain. I am originally from Wisconsin but have spent most of my adult life in Minnesota. I hold a Bachelor's degree from the University of Minnesota in Spanish Studies and a Master's degree in English as a Second Language Education from Hamline University in St. Paul, Minnesota. This will be my 7th year as a teacher but I have over 13 years of experience working in schools and educational settings of all kinds. I have taught middle school Spanish, first and second grade Spanish immersion, and first and third grade English immersion (in Colombia). I am incredibly passionate about language learning and teaching content with the needs of language learners in mind, about building meaningful relationships with all of my students, and about fostering curiosity in young learners about the world around us. In my free time, I enjoy running and hiking with my dog Congo, exploring the outdoors, traveling, reading, gardening, cooking, and spending time with friends. I'm very excited to be in Denver and to join the amazing Stedman community!
– 2ND GRADE –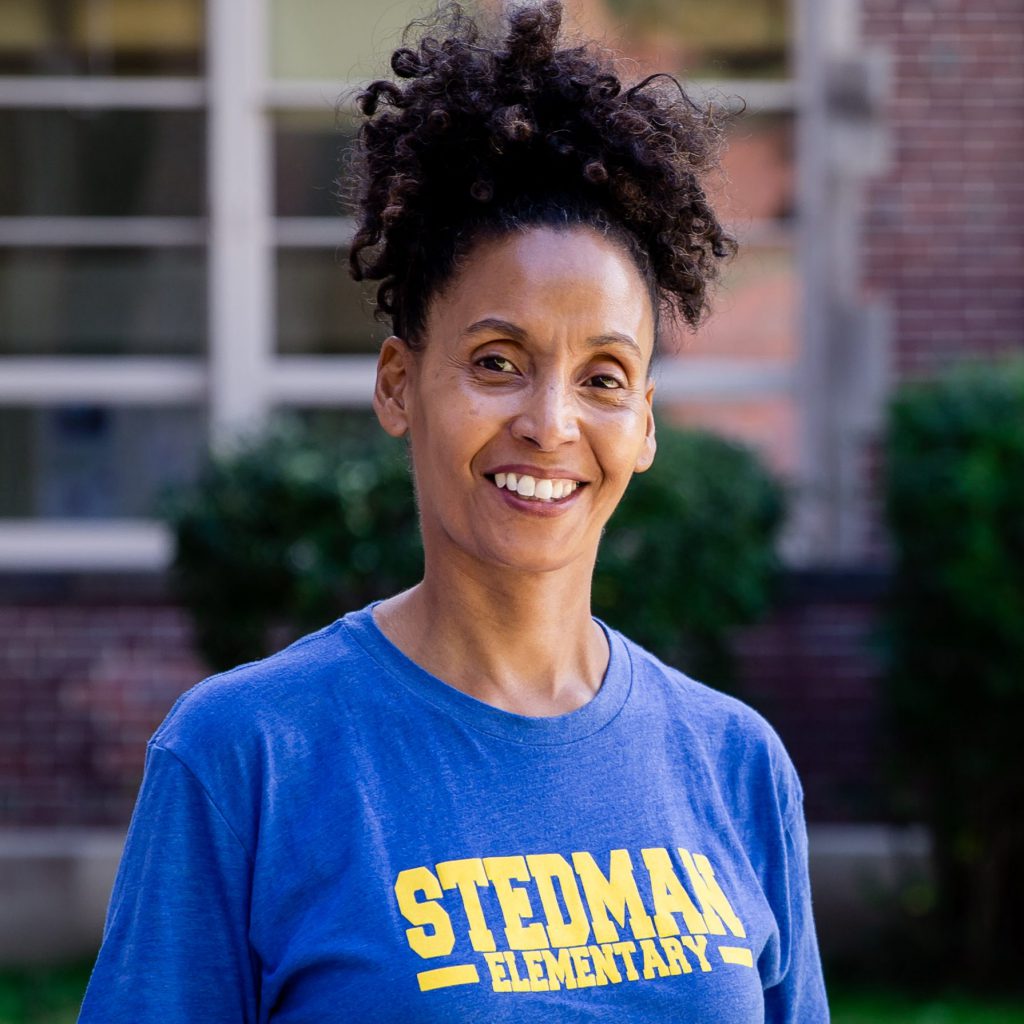 Deborah Sims-Fard (English) – DEBORAH_SIMSFARD@dpsk12.net
Hi Friends, my name is Deborah Sims Fard, and I'm a Stedman Alum! I grew up in the Park Hill Neighborhood and remember walking home from Stedman, around the corner, to go home for lunch – they actually let us do that back then? My Stedman journey has been student, Para, Summer Scholars Literacy Coach, Teacher, Bullying Prevention Coach, and now back to the classroom. In addition, Culturally Responsive Teaching and Parent Advocacy are additional strengths I bring to our Stedman sandbox. My first priority is the safest learning environment possible as a tool to academic success, join me on our journey to the best learning experience Denver has to offer – Stedman Strong.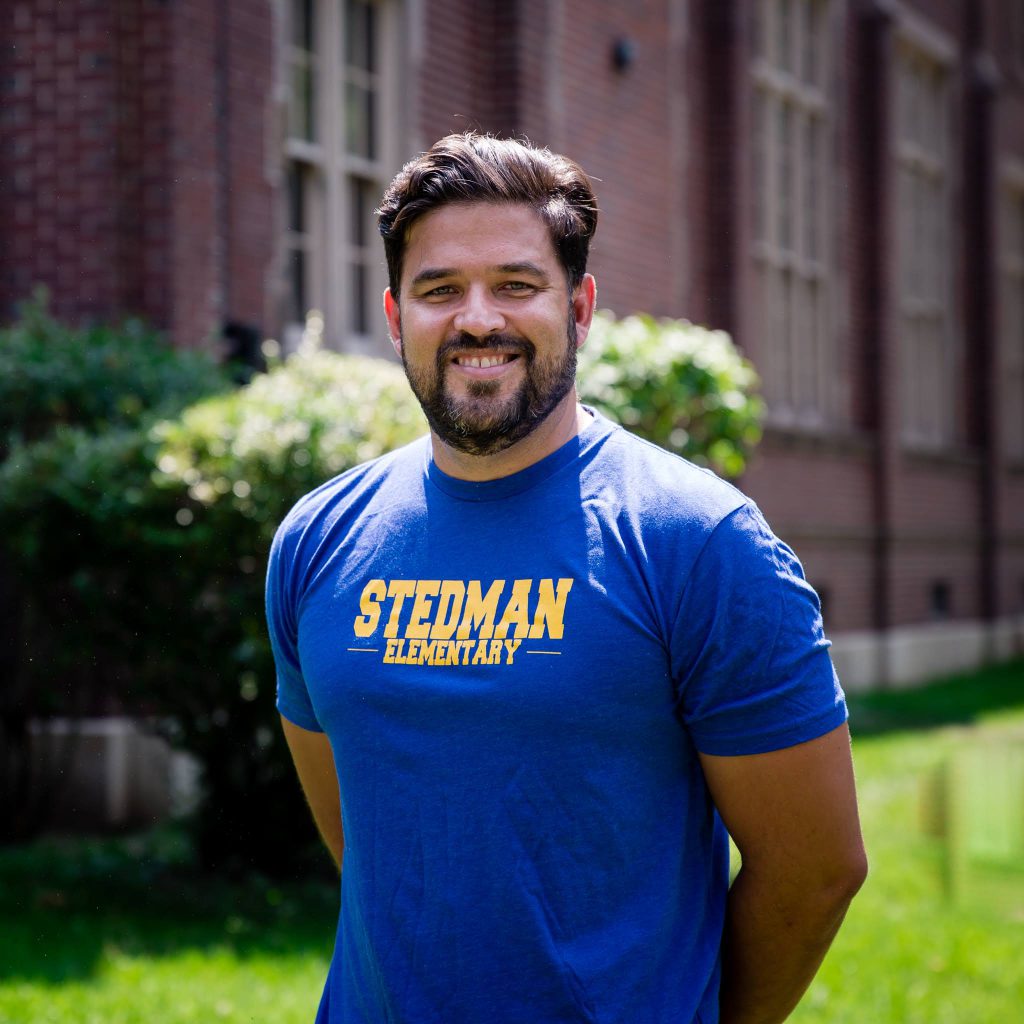 Daniel Lugo (Spanish Immersion) – DANIEL_LUGO@dpsk12.net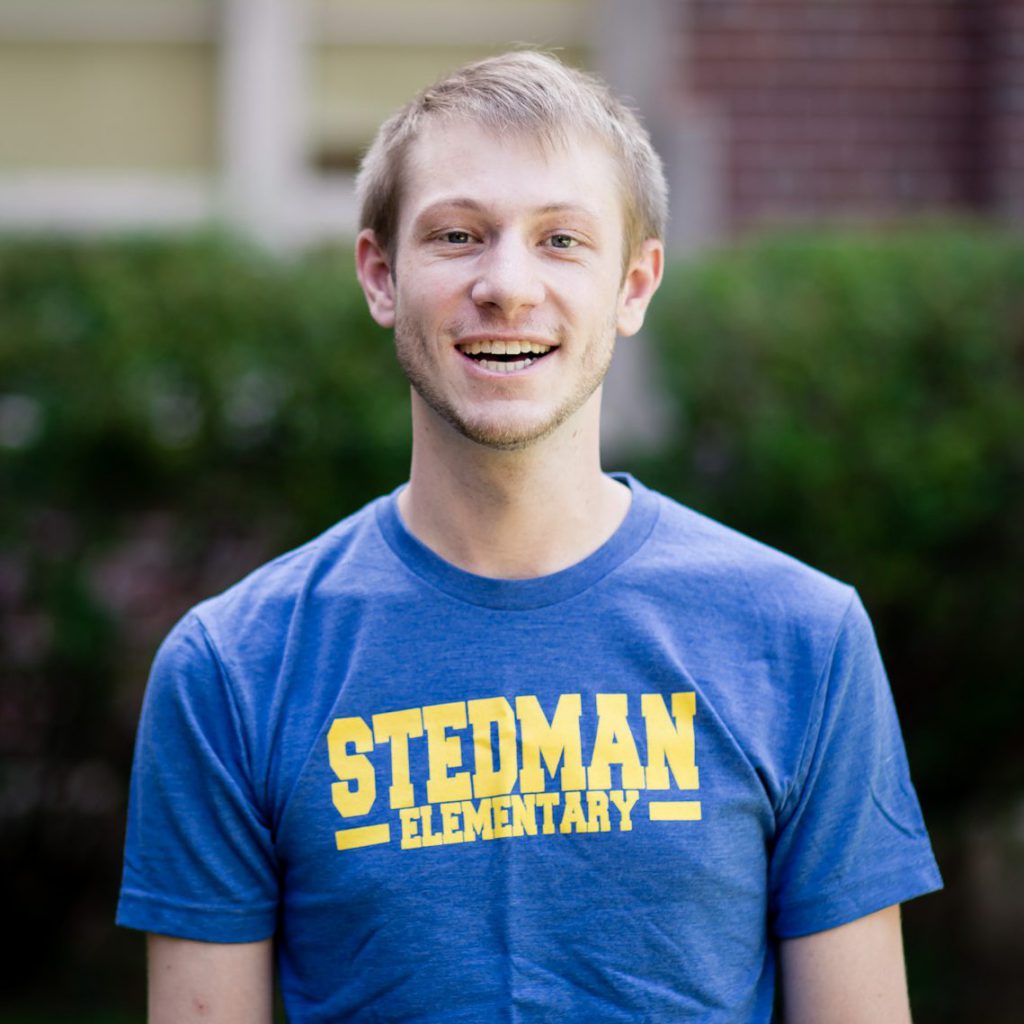 Benjamin DeLawyer (Spanish Immersion) – BENJAMIN_DELAWYER@dpsk12.net
My name is Ben DeLawyer and I am one of Stedman's 2nd Grade Spanish Immersion teachers. I enjoy working with young children to help them grow and could not be more excited to be doing so in a dual immersion classroom at the 2nd Grade level. A couple years ago I moved home to the United States after teaching in Pamplona, Spain for three years, where my passion for the Spanish language came alive. Being an educator in Spain and learning a second language myself, I strongly believe in and value bilingual education, especially from a young age. Being bilingual in Spanish in the 21st century will open many, many doors for students, and I'm looking forward to contributing as much as I can to our young learners at Stedman to help them achieve that. On a personal level I love traveling, camping, outer space, ping-pong, frisbee, soccer, card games, board games, chess, and spending time with family and friends. See you soon!
– 3RD GRADE –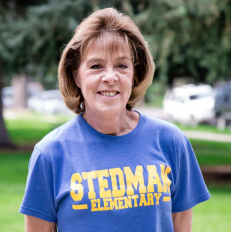 Dawn Romero (English) – DAWN_ROMERO@dpsk12.net
Stedman has been my home for 30 plus years. I have been with DPS for 35 years. I teach because education is my passion. Teaching is more than just a job. It's my passion. It's an ever-surprising mix of very hard work and ecstatic successes, both big and small. As a teacher I have the power to open wide the doors of future achievement. I aim to assume this role and in doing so, provide my kids with choices for their futures through a high-quality education. I teach because I know that my students have dreams and goals for their futures and I can move students toward dramatic academic growth. Their potential is inspiring and I am confident in their ability to succeed. When I'm not teaching I enjoy my family, hiking, gardening, and SDP. "Knowing is not enough; we must apply. Being willing is not enough; we must do." –Leonardo da Vinci. "It is not what we do for our children, but what we have taught them to do for themselves, that will make them successful human beings." –Ann Landers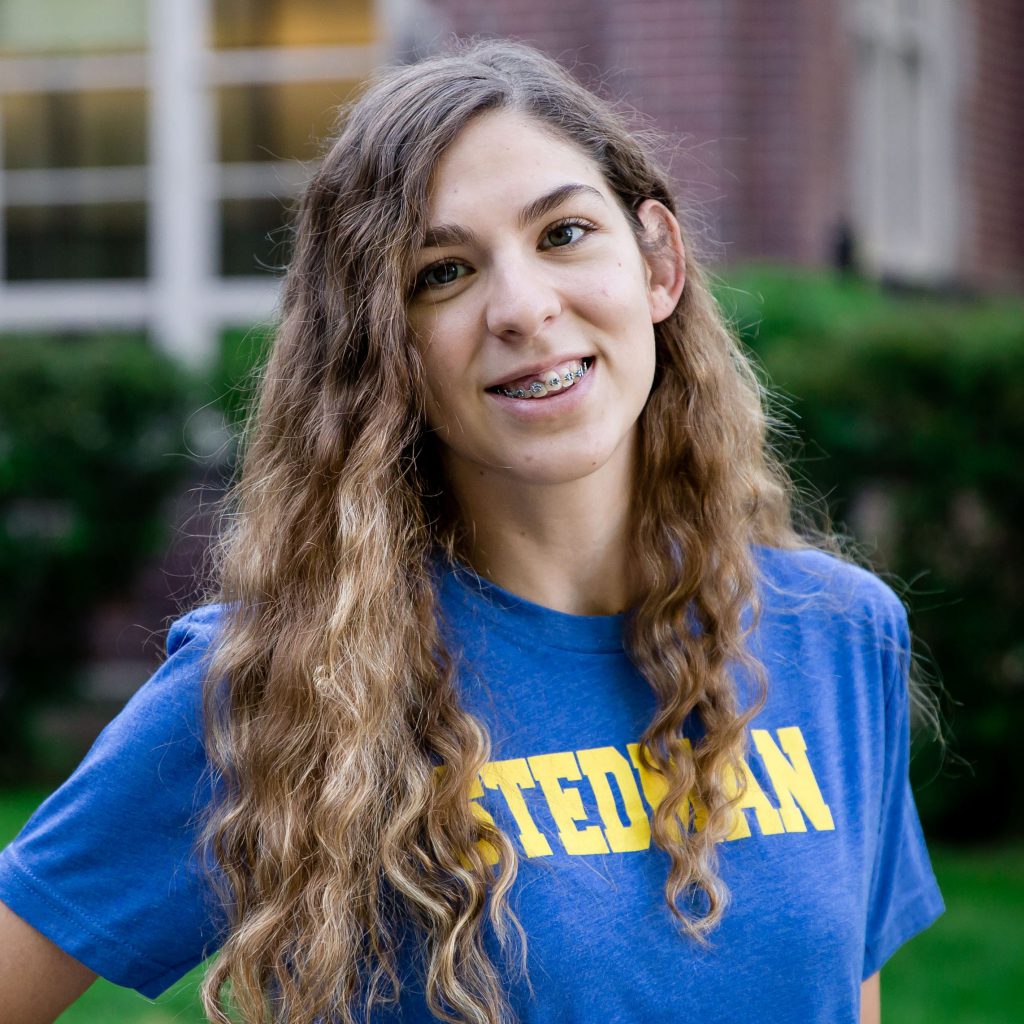 Rosario Cabrera (Spanish Immersion) – ROSARIO_CABRERA@dpsk12.net
Hi, I'm Rosario Cabrera! I was born in Los Angeles, California but was raised mostly here in the beautiful state of Colorado. I'm proud to be the daughter of two immigrant parents (Jalisco, Mexico), who have taught me sacrifice and perseverance- two qualities that I greatly value and wish to instill in my students. I grew up speaking only Spanish, but later was taught English in school. As an immersion teacher, I can apply my own experiences with learning a new language with my own students. I have a bachelors in elementary education with a minor in Spanish from Regis University. I'm super excited to be here this year and know it will be one for the books! P.S. An important thing to know about me is that I love Chipotle!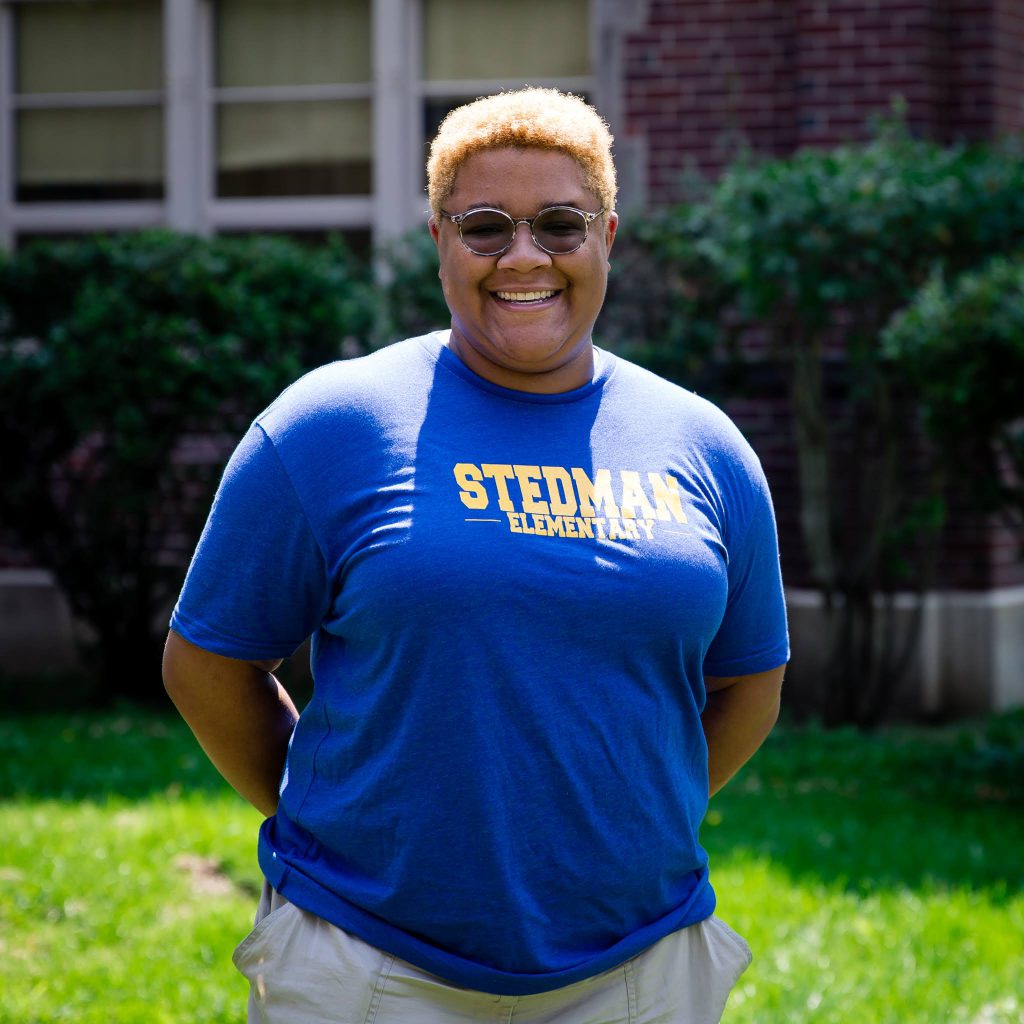 Kyra Solomon (Spanish Immersion) – KYRA_SOLOMON@dpsk12.net
¡Hola a todxs! My name is Ms. Kyra, and I am delighted to call Stedman home as I begin my teaching career. I am originally from Atlanta but moved to Denver to join the Stedman community! In 2021, I graduated from Emory University with a Bachelor's in Spanish with a concentration in Linguistics. I've studied Spanish for the past eight years mostly here in the United States with one term abroad in Buenos Aires. As Spanish is not my first language, positionality and sociolinguistics are interests of mine that inspired me to pursue the social justice work that is foreign language education. Unfortunately, languages are often used to discriminate or gatekeep. This is why I believe you can't teach language without culture and vice versa. My main goals for our kids are to help them develop their abilities and confidence with the Spanish language, but also their appreciation for all language varieties as global citizens. Outside of the classroom, I enjoy woodworking, anything DIY, looking for animal tracks and softball. Let's grow together!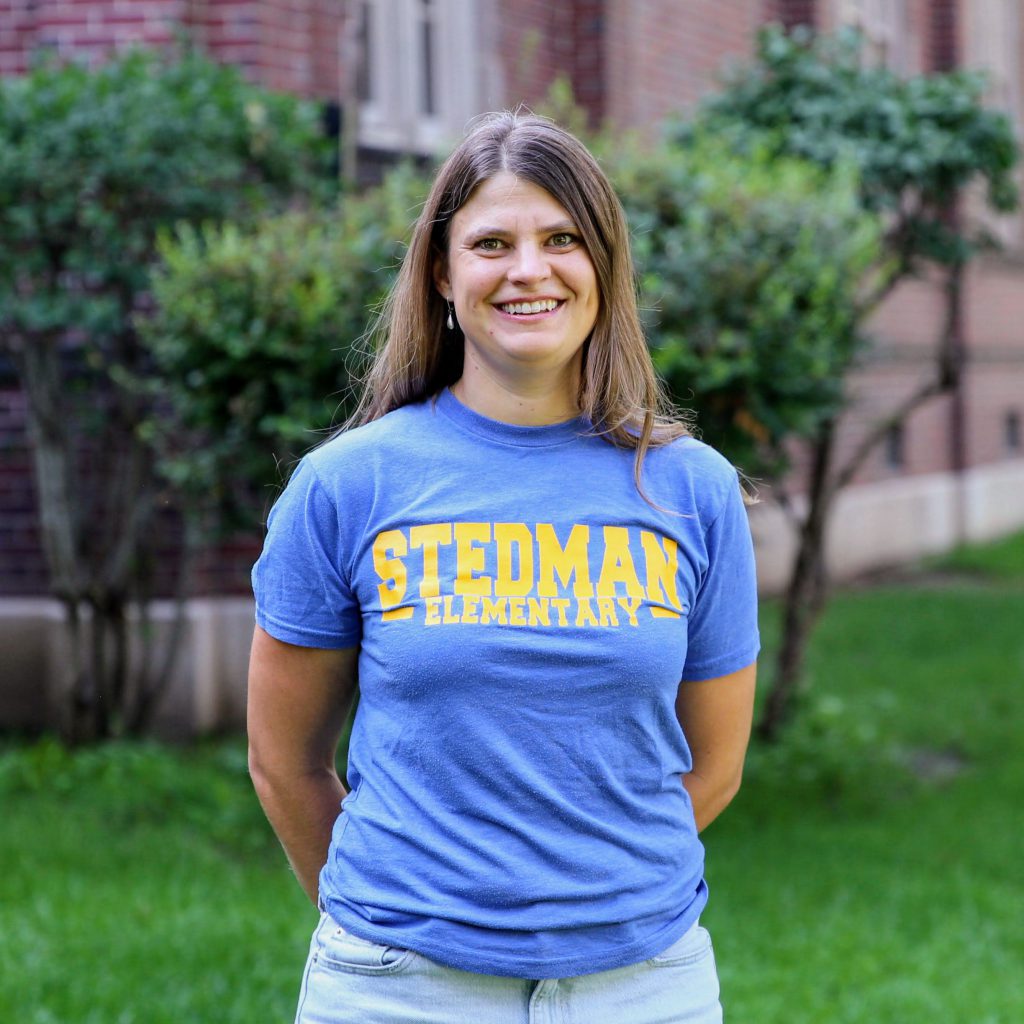 Erika Grimes (English/Interventionist) – erika_grimes@dpsk12.net
Erika has been a member of the Stedman community since 2008 and calls Park Hill home. She is the mother of Micah and Aniyah who have both been Stedman students. She received her undergraduate degree from Colorado State University in Human Development and Family Studies and holds a Masters in Early Childhood Education from CU Denver. Growing up in Colorado, she has a deep love for being in nature, particularly on top of mountains or near an alpine lake or river. Fun fact, in her early years at Stedman, she coached the 4th and 5th grade Stedman basketball team and won a championship! In her time outside of school, Erika enjoys gardening, trail running, biking, hiking, and skiing. She is thrilled to be back with team Stedman after teaching first grade down the street at Hallett the last couple of years.
– 4TH/5TH GRADE –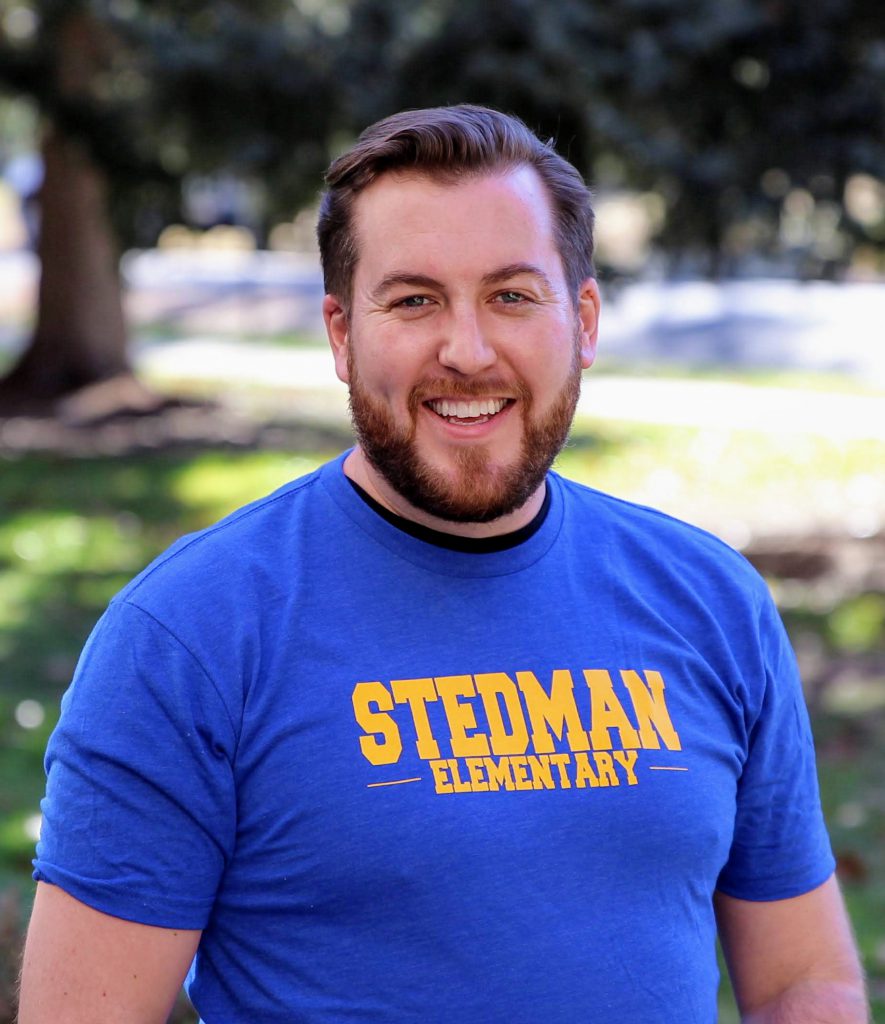 James Godbolt (English) – JAMES_GODBOLT@dpsk12.net
Hi all! My name is Mr. James and I teach fourth and fifth grade math in English. I am a Denver native and a proud East Angel! I have a Masters Degree in Education from Regis University and I am so happy to be part of the wonderful Stedman community. When I'm not with our Knights, I like to garden, build Legos, and play Dungeons and Dragons with my friends!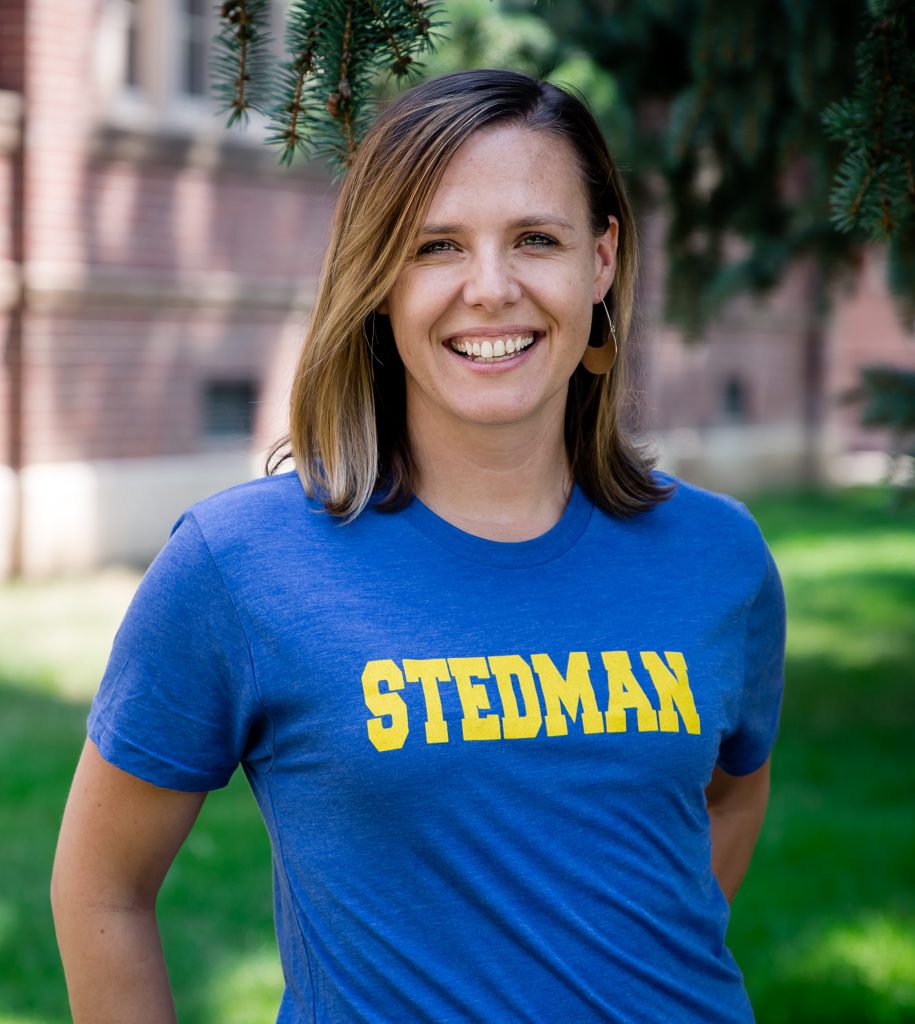 Brooke Trexler (English) – BROOKE_TREXLER@dpsk12.net
This is my eleventh year of teaching and my fourth year at Stedman. While at Stedman, I have taught fifth grade and worked as the 3-5 Math Interventionist and Math Specialist. I grew up in the Denver area and graduated from Englewood High School, received a Bachelors in Political Science from CU-Boulder and a Masters in Culturally and Linguistically Diverse Education from CU-Denver. My two kids have grown up going to DPS schools and are now in high school and college.
My goal for my students is to help them develop the skills and confidence they need to do anything they can dream of, as well as things we can't even begin to imagine will be possible someday. I want them to ask big questions, think flexibly and creatively as problem-solvers, and have the confidence and communication skills to advocate for themselves in middle school, high school and beyond. I am excited to work with all of you this year and welcome any communication and feedback as we work towards our goals!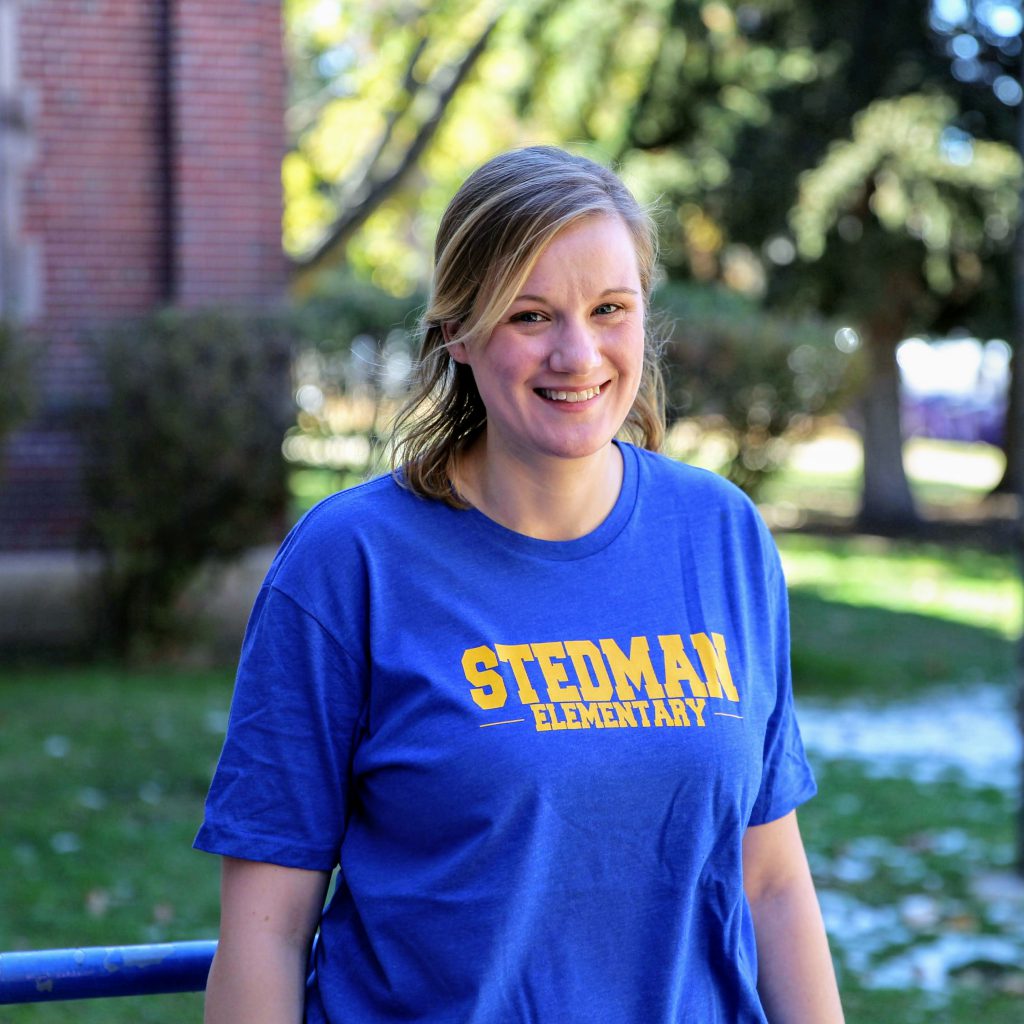 Kendra Bush (Spanish Immersion) – KENDRA_BUSH@dpsk12.net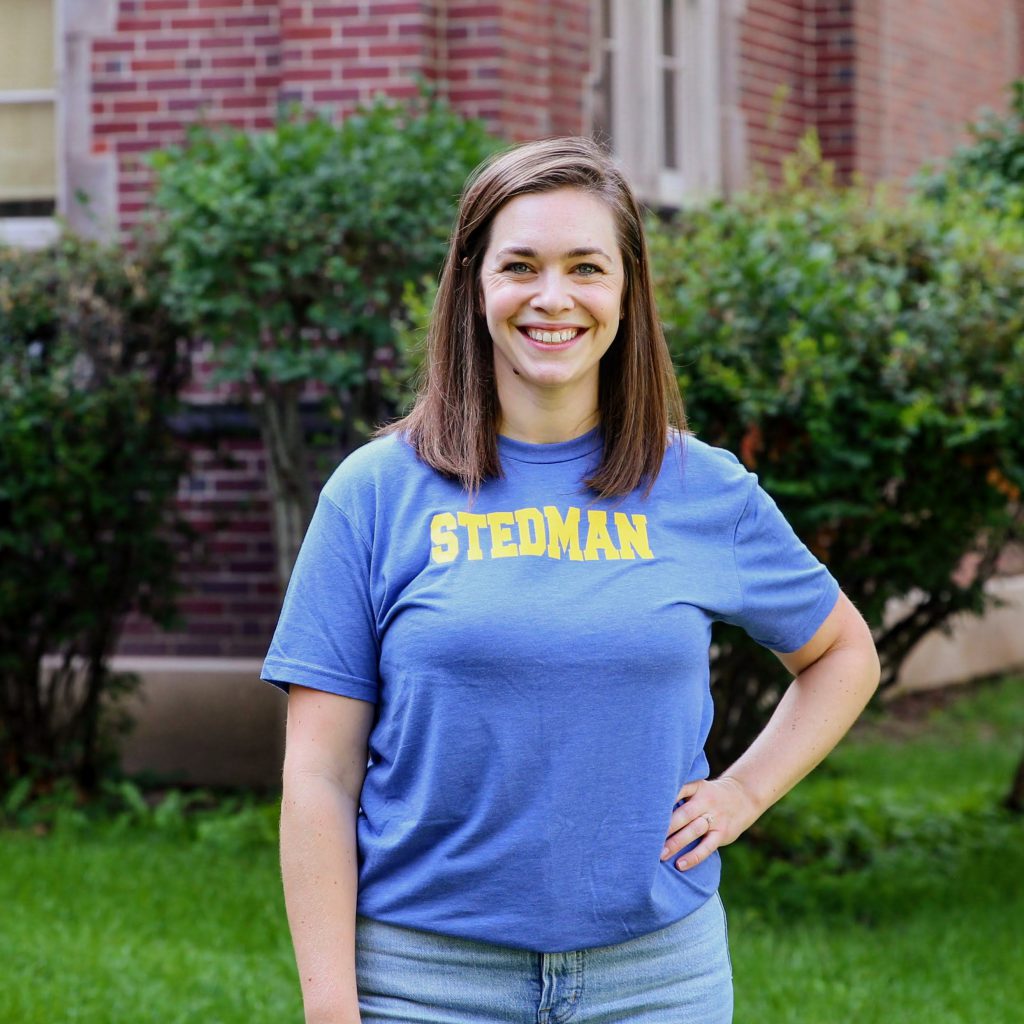 Lara Byrne (Spanish Immersion) – LARA_BYRNE@dpsk12.net
Hello! My name is Lara Byrne and I am thrilled to be joining Stedman this year as a 4/5 Spanish Immersion teacher. I have spent the last six years teaching 5th grade at Barnum Elementary in southwest Denver and before that I taught 4th grade in Madison, Wisconsin. I love cooking and eating good food and going for walks with my daughter, Eva and dog, Wiley. I look forward to meeting the students and families that we serve here at Stedman!
Specials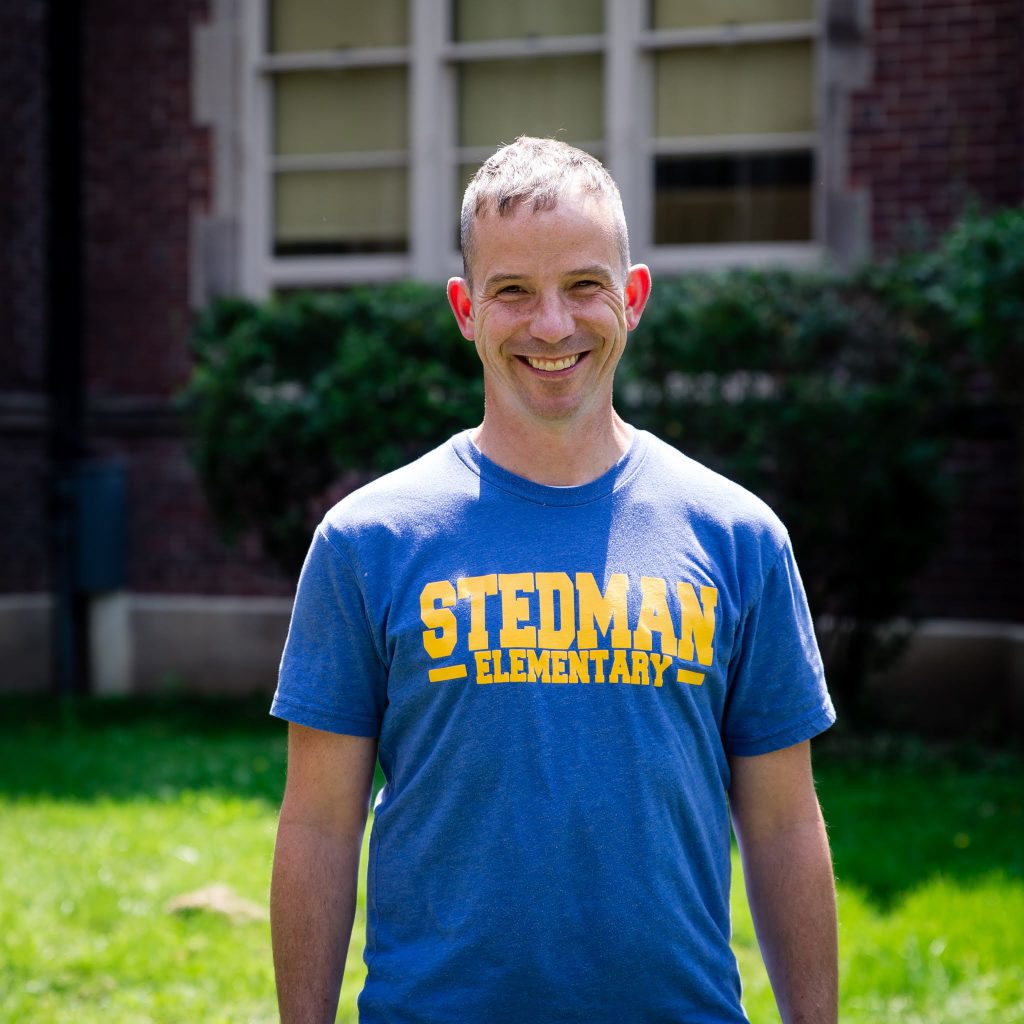 Clint Moore, Music- clinton_moore@dpsk12.net
My name is Mr. Clint Moore. I am the music teacher here at Stedman and have been here since 2015. This is my 18th year teaching. I am so excited to be back in the music room this year doing what I love. I teach instruments, general music, voice, appreciation for the arts, culture, and of course how to have fun! During my time as a teacher I have taught high school, middle school, and elementary. In my free timeI enjoy fishing, ice fishing is my favorite. I also spend time tinkering on my classic Bronco and hiking. I live in Bear Valley in Southwest Denver with my kids, David and Cora. David is 9 and Cora is 6. In addition to teaching I am also a Chief Warrant Officer 3 in the Colorado Army National Guard as a Chinook helicopter pilot. After my deployment to Iraq/Kuwait I was blessed with the opportunity to teach at the best school in the world, STEDMAN! I look forward to a exciting year with new opportunities and challenges. GO STEDMAN!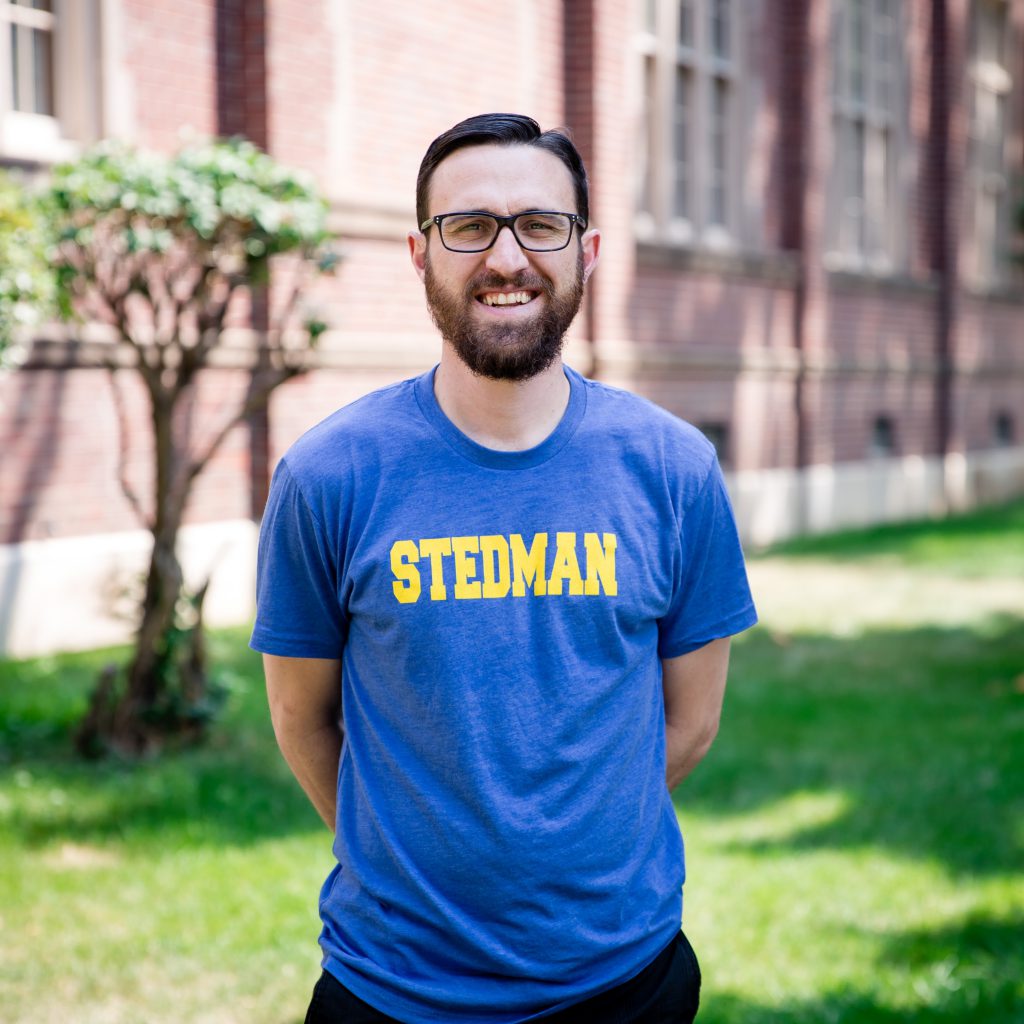 Peter Rossi, PE- peter_rossi@dpsk12.net
My name is Peter Rossi, and I am the physical education teacher at Stedman Elementary School. I also serve as a Regional Team Specialist for DPS and lead professional development sessions for other physical educators in the district. As a Denver native, I love being a part of the Stedman team and serving the community where I grew up. I am entering my seventh year as a P.E. teacher, and I love educating our children on the benefits of living an active lifestyle. My goal is to provide students with the knowledge and skills to be physically active for a lifetime. Prior to Stedman I worked at a DPS charter school and for Jefferson County Public Schools. Before my career in education I worked as a legal reporter for Law Week Colorado. I hold a bachelor's degree in journalism and a master's degree in physical education. I am a lifelong learner and am always looking to implement a new strategy in my practice. While I am not teaching, I love to stay active by playing golf or working out. I love to travel and support our local sports teams. The Rockies, Nuggets and Broncos are my favorites! My favorite thing to do outside of school is to spend time with my wife: Melinda, our sassy three-year-old: Liliana, and our baby boy: Lucas.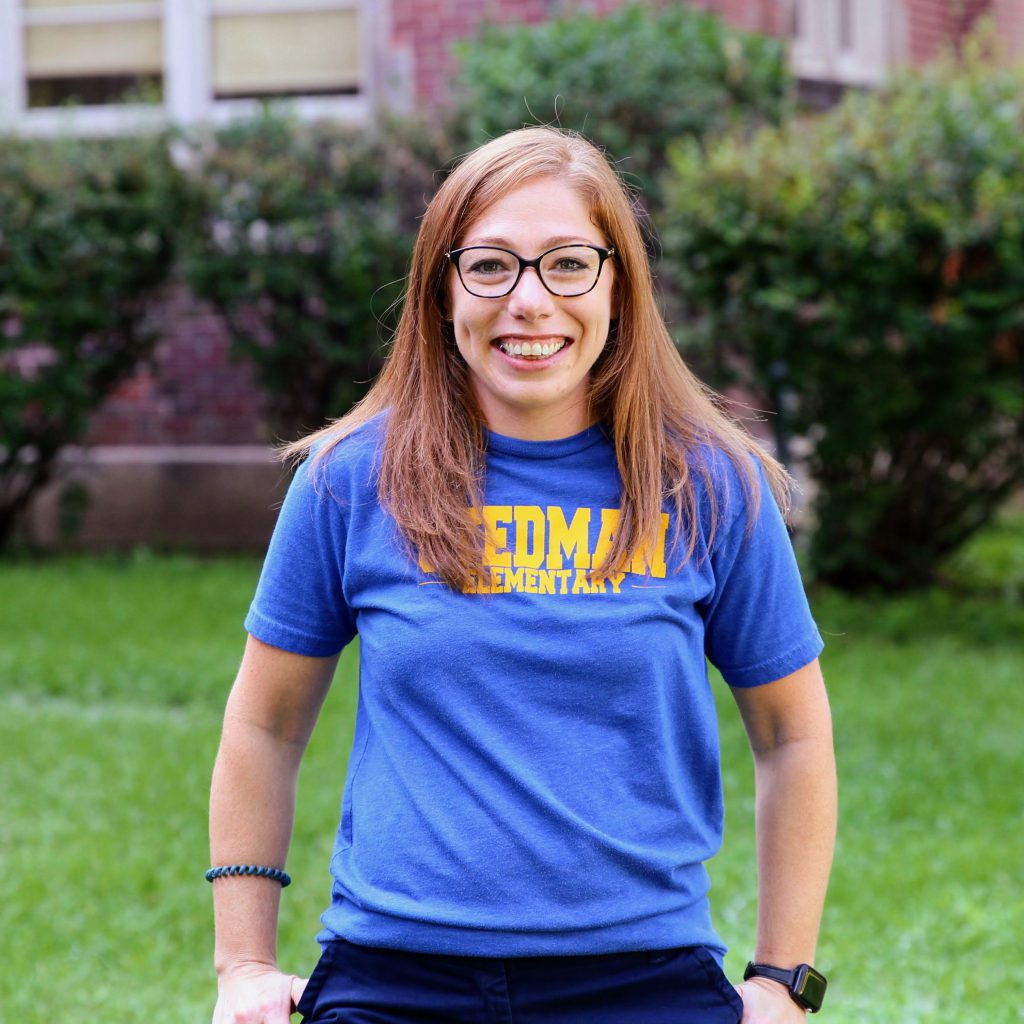 Michele Baer, Art- michele_baer@dpsk12.net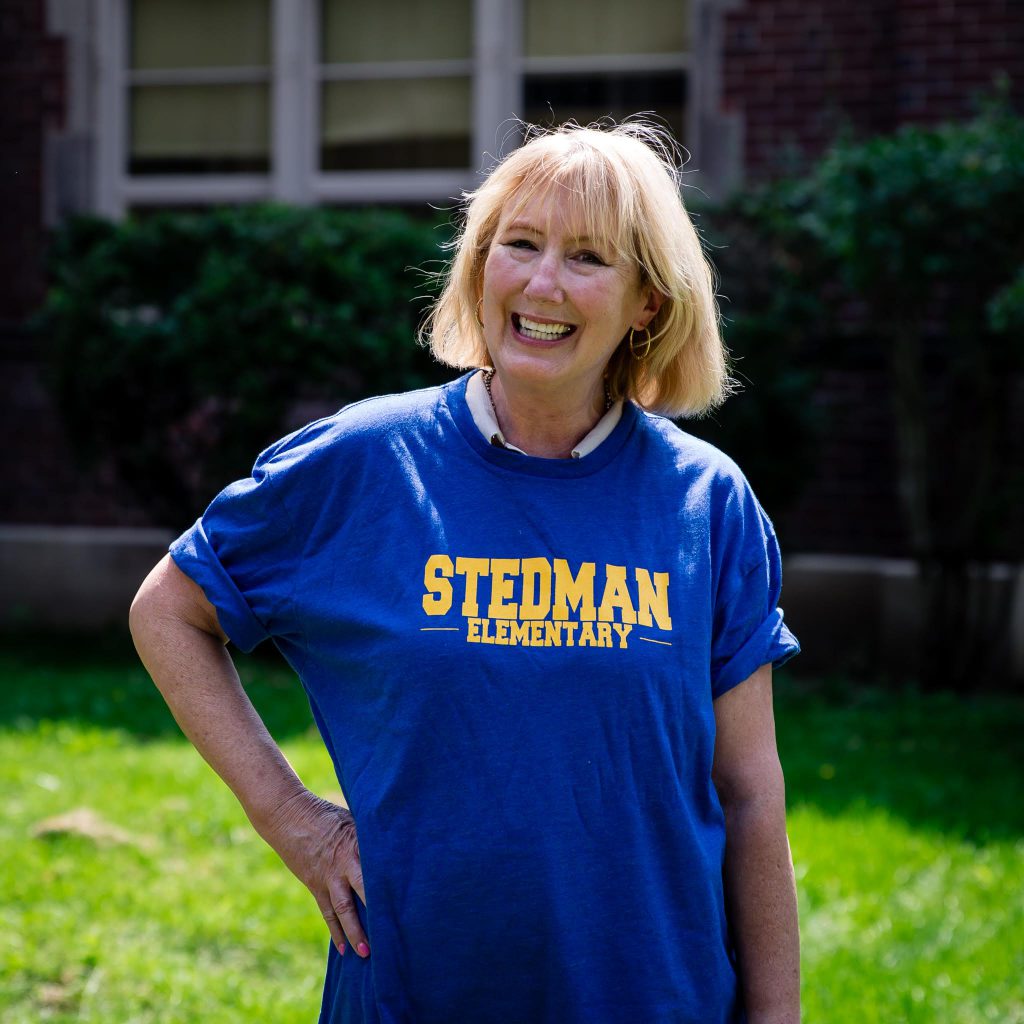 Anne Albeck, Library- anne_albeck@dpsk12.net
Discovery Link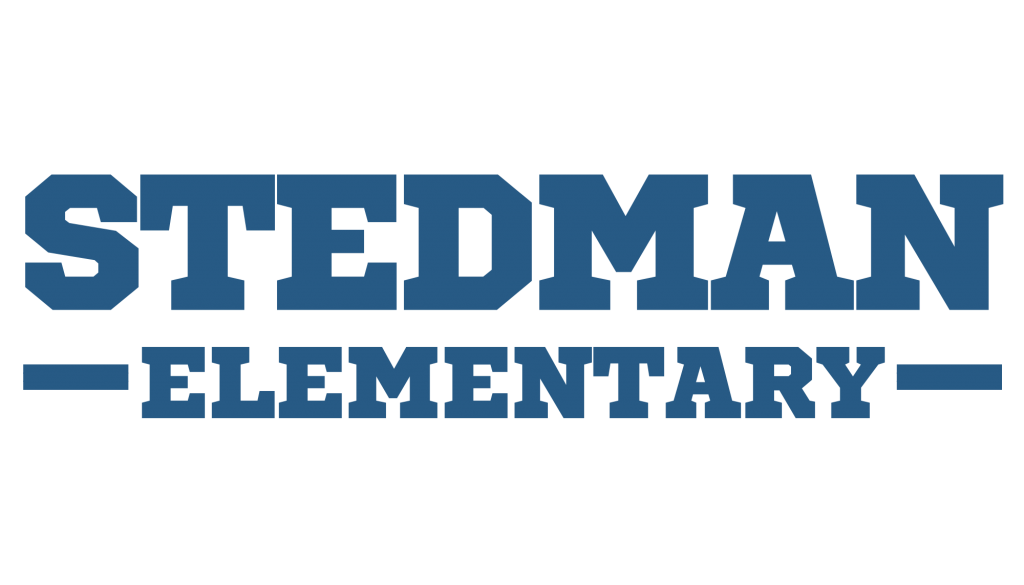 Michael Ellam, Site Coordinator- michael_ellam@dpsk12.net
LAUNCH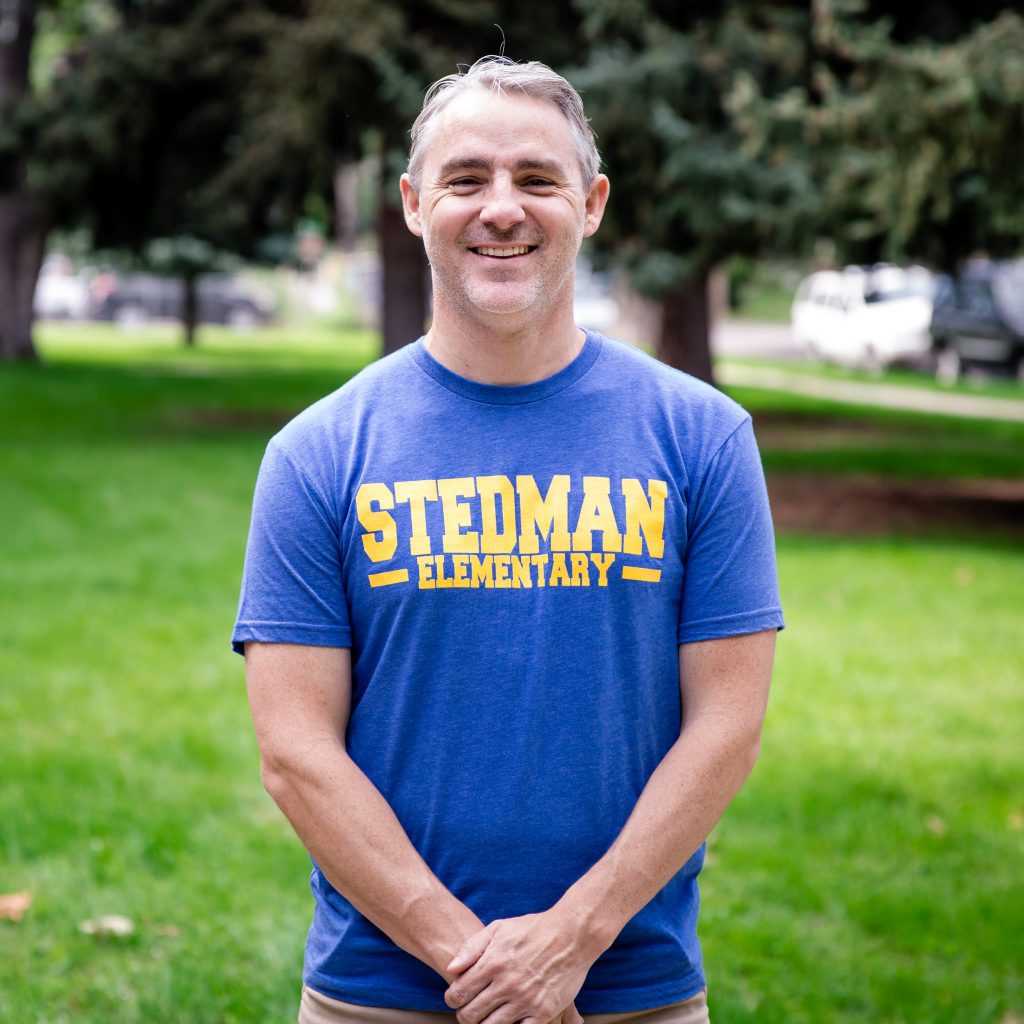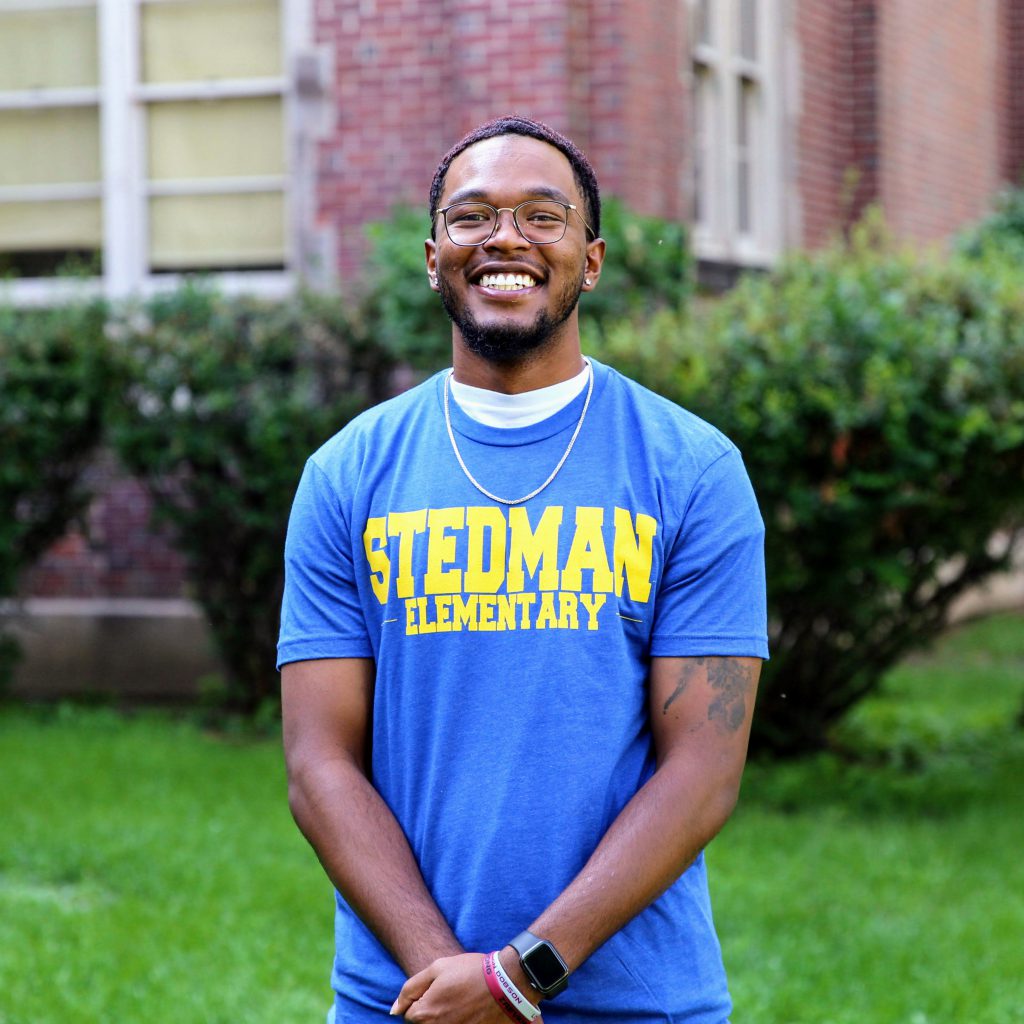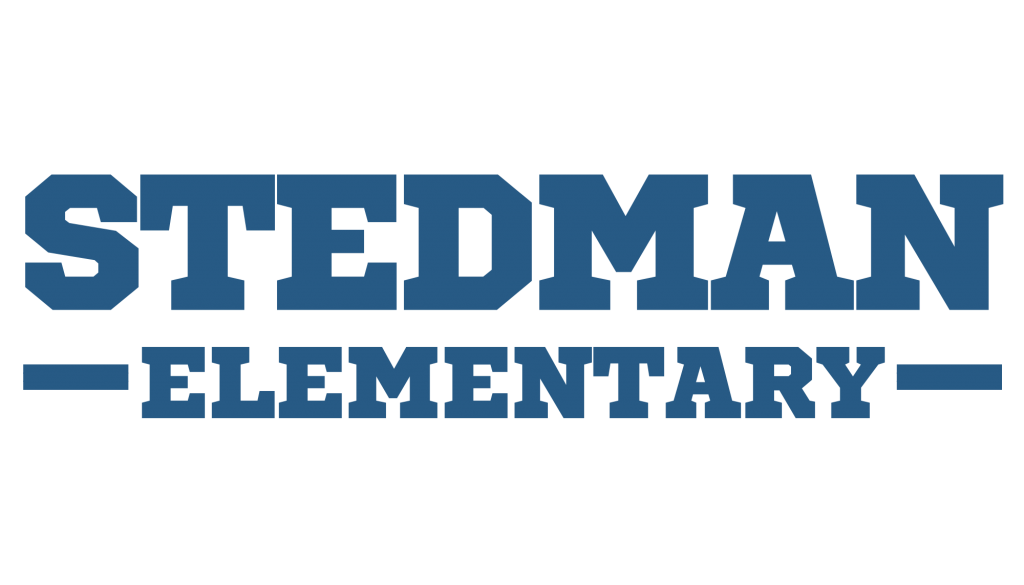 CHIC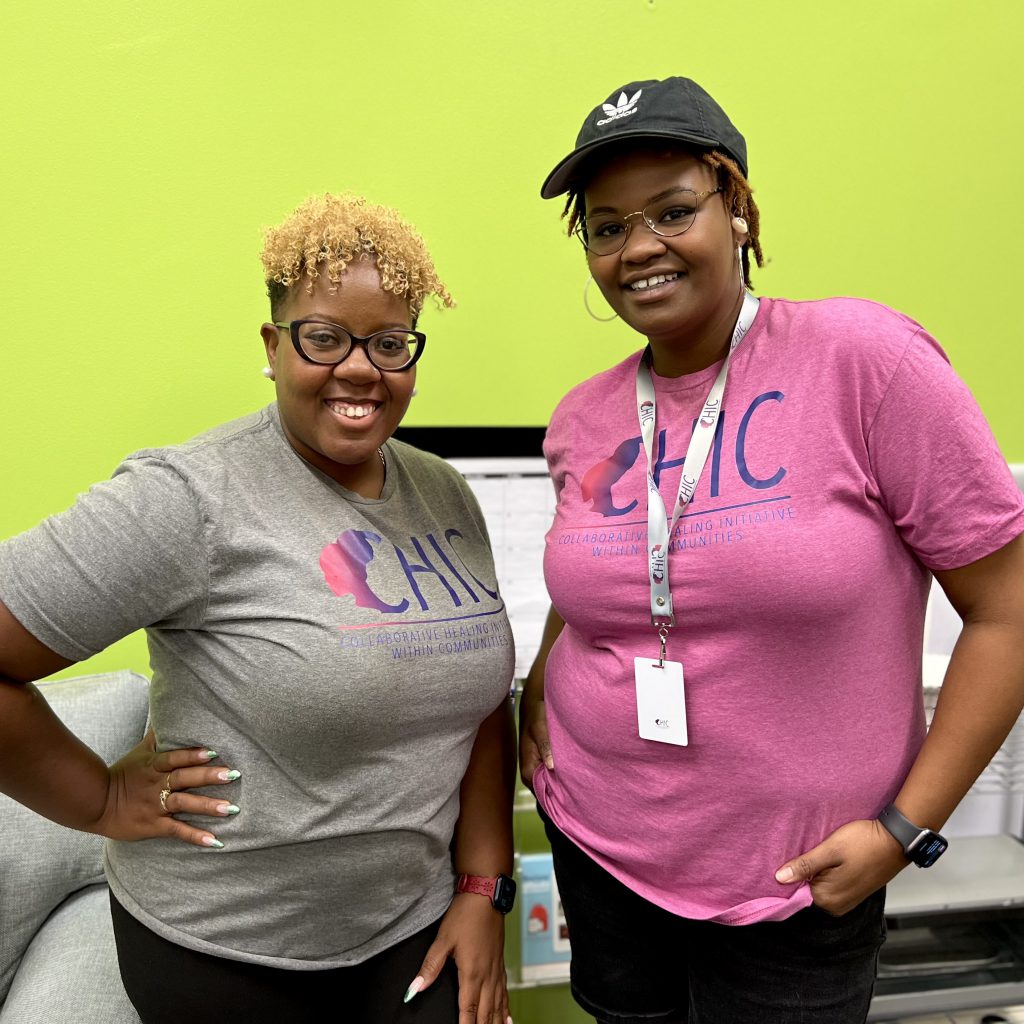 Noel Emerson & Aubrie Mason, aubrie@chicdenver.org
Support Staff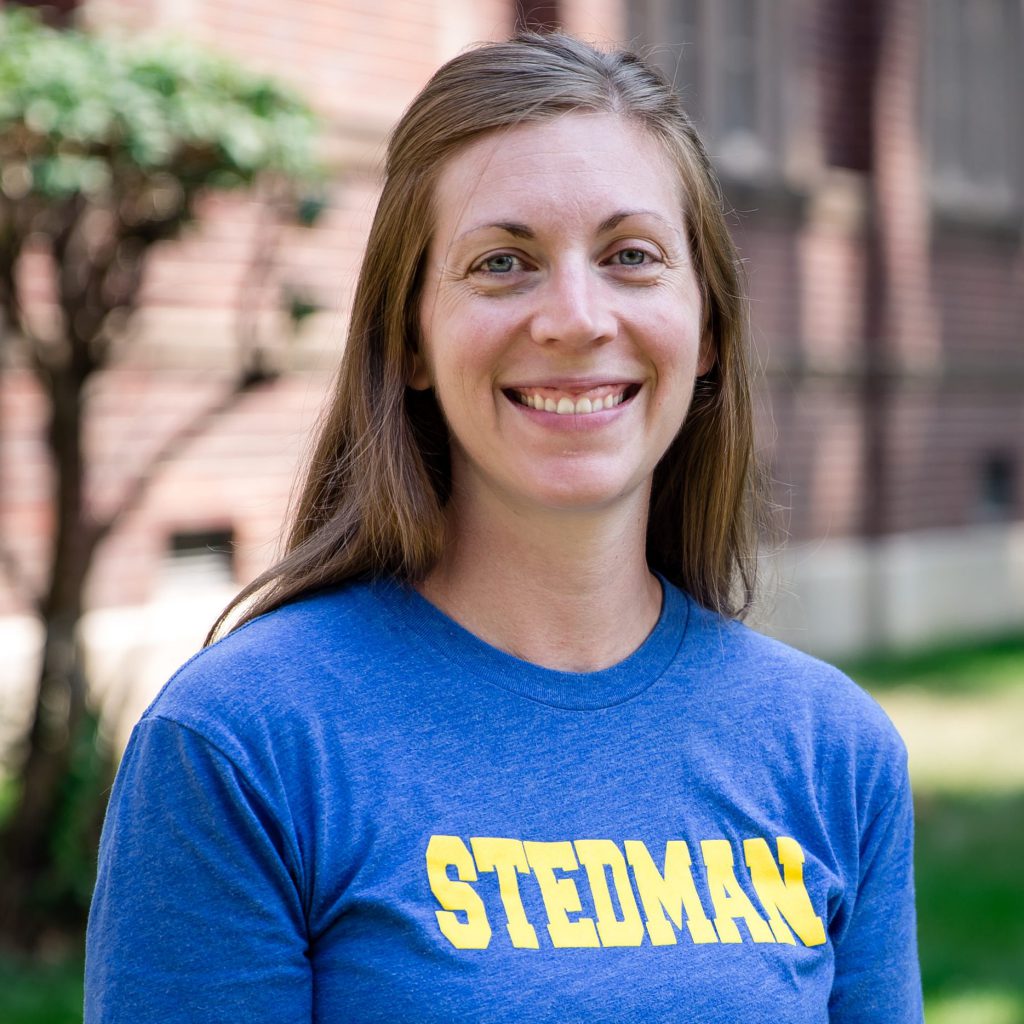 Heather Showman, Social Worker – heather_showman1@dpsk12.net
I am Heather Showman and am your School Social Worker! I started working at Stedman late in the 2016-2017 school year, and have loved getting to know our students and community! I was born in Indiana, but spent most of my childhood in South Carolina. Shortly after moving to Denver four years ago, I was surprised to learn that my Great Great Grandfather was a Denver native and I have had so much fun learning about my Denver roots!
Prior to coming to Stedman, I spent four years as a school social worker and school-based therapist on the Fort Apache Reservation in Arizona, then moved to Denver to work as a school-based therapist working with the refugee communities in the metro area. I love Indiana Basketball, Carolina Football, hiking, reading, and my two cats. I am excited to be a part of Team DPS and return to Stedman as your school social worker!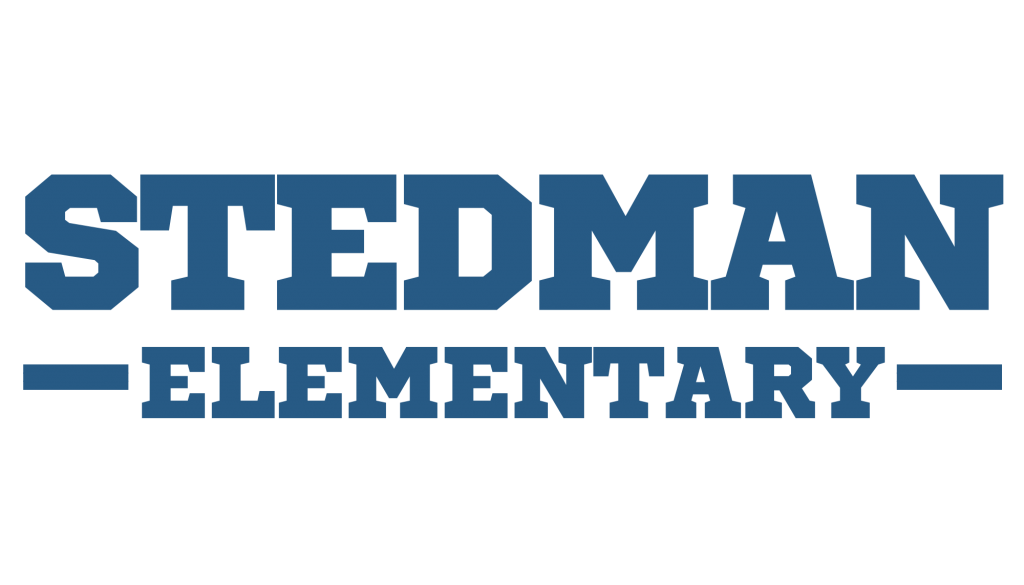 Lindsey Jiron, Mild Moderate Teacher – lindsey_jiron@dpsk12.net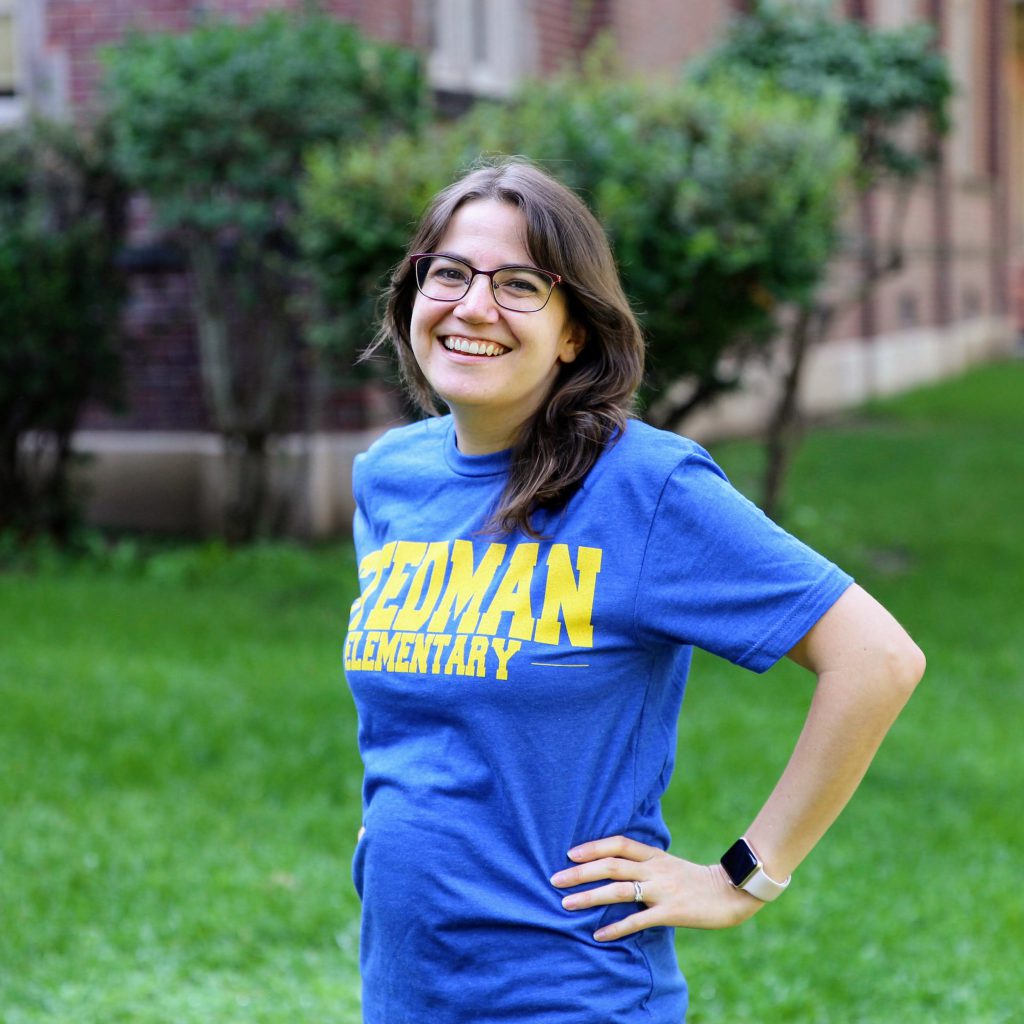 Jenn Sill, School Psychologist – jennifer_sill@dpsk12.net
Hello! My name is Jenn Sill and I am Stedman's School Psychologist. I completed my internship at Stedman during the 2019-2020 school year and graduated with a doctorate in School Psychology (PsyD) in May of 2020 from the University of Colorado Denver. I currently live in the Park Hill neighborhood with my husband and two young children (1 boy and 1 girl). During our free time, we love to walk around the neighborhood, play board games, and eat lots of yummy food while watching the Green Bay Packers. I am so excited to return this school year and to continue building relationships with the Stedman community!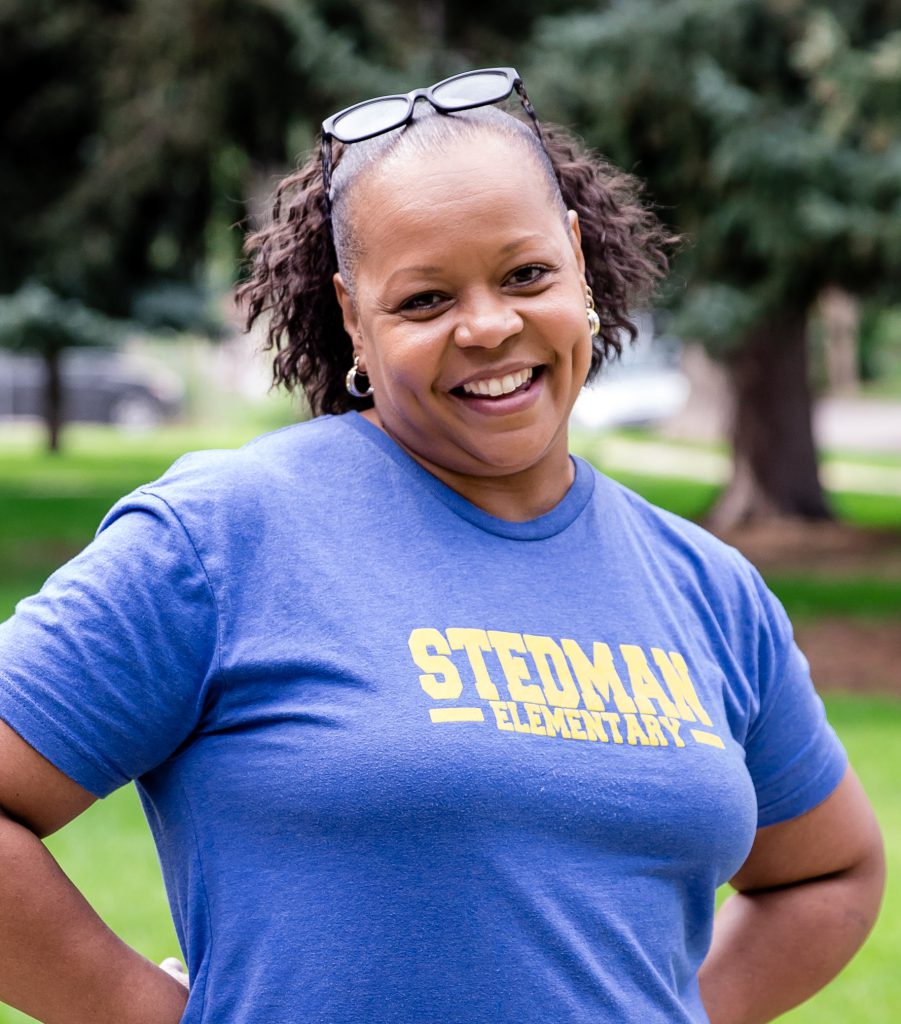 Rhonda Lee, Restorative Justice Coordinator – rhonda_lee@dpsk12.net
My name is Rhonda D. Lee and I'm the new secretary at Stedman Elementary. I started at Stedman in 2013 as a part of the cafeteria team but I always knew that I had more to offer. I've worked with children as a cheerleading coach, managed a beauty school and I have two beautiful daughters of my own. In my spare time I enjoy dancing, walks, and drawing. I'm glad I have the opportunity be a part of the Stedman front office team. GO STEDMAN KNIGHTS!!!!!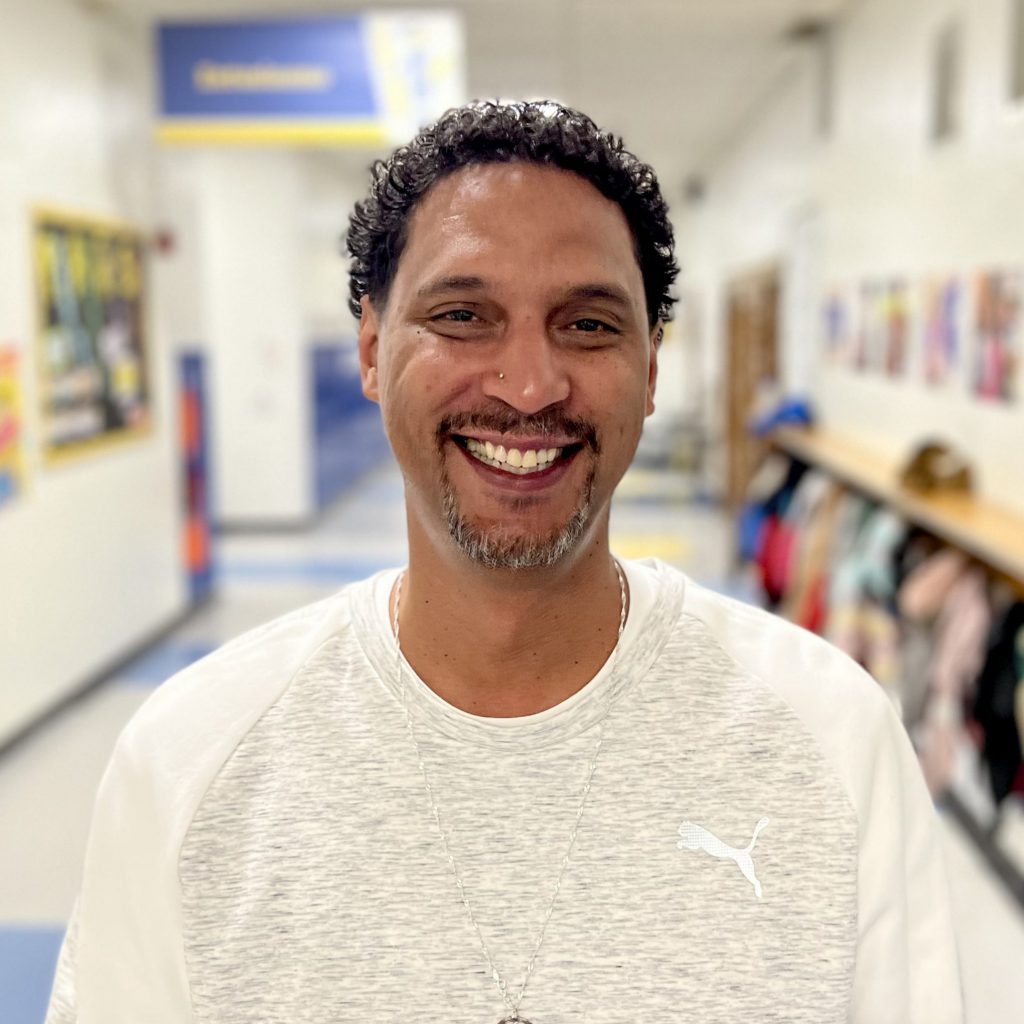 Malik Fletcher, Student Liaison – malik_fletcher@dpsk12.net
My name is Malik Fletcher. I've been a DPS employee for 23 years since my arrival from Illinois. I've had experience in roles such as DPS accounts payable, Kindergarten TA at Green Valley Ranch, ECE TA at Children College, Special Needs Instructor at South High School, Dean of Students at South High School, and as a high school basketball coach for 18 years along with other student support groups. I'm happy to be a new and proud member of the Stedman family and community under the leadership of Mr. Atkins and the entire staff of hard working individuals serving this community.  I am a proud father of two sons, ages 22 and 21 years old.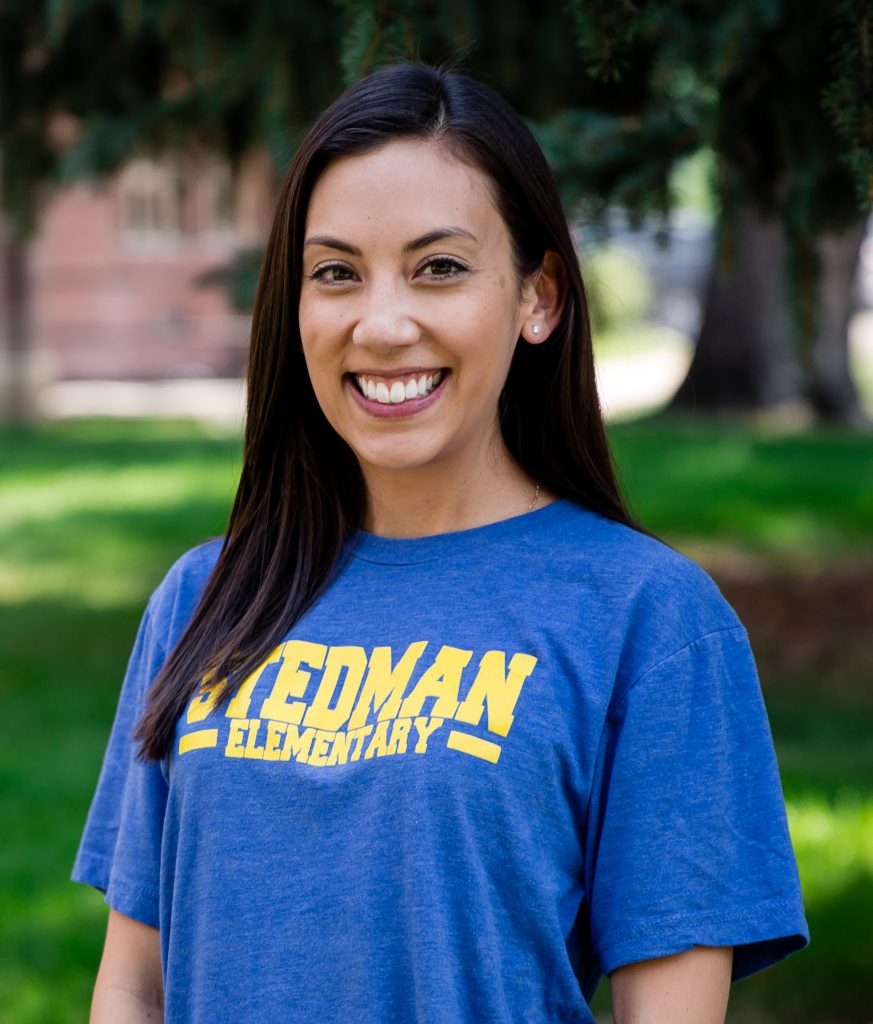 Megan Walsh, English Language Development – megan_walsh@dpsk12.net
My name is Megan Walsh and this is my 6th year at Stedman! I am currently the ELD teacher with over a decade of teaching experience and a Master's degree with Linguistically and Culturally Diverse Education. I was born and raised in Denver and attended DPS schools up until high school. Upon graduating from CSU, I started my teaching career in New Orleans. It was there where I learned about the atrocious disparates in the educational system and have since worked in helping to ensure all students receive a worthy education. I have two young sons who keep me very busy! With my husband, we enjoy being outside, visiting museums, exploring new places, baking…and reading!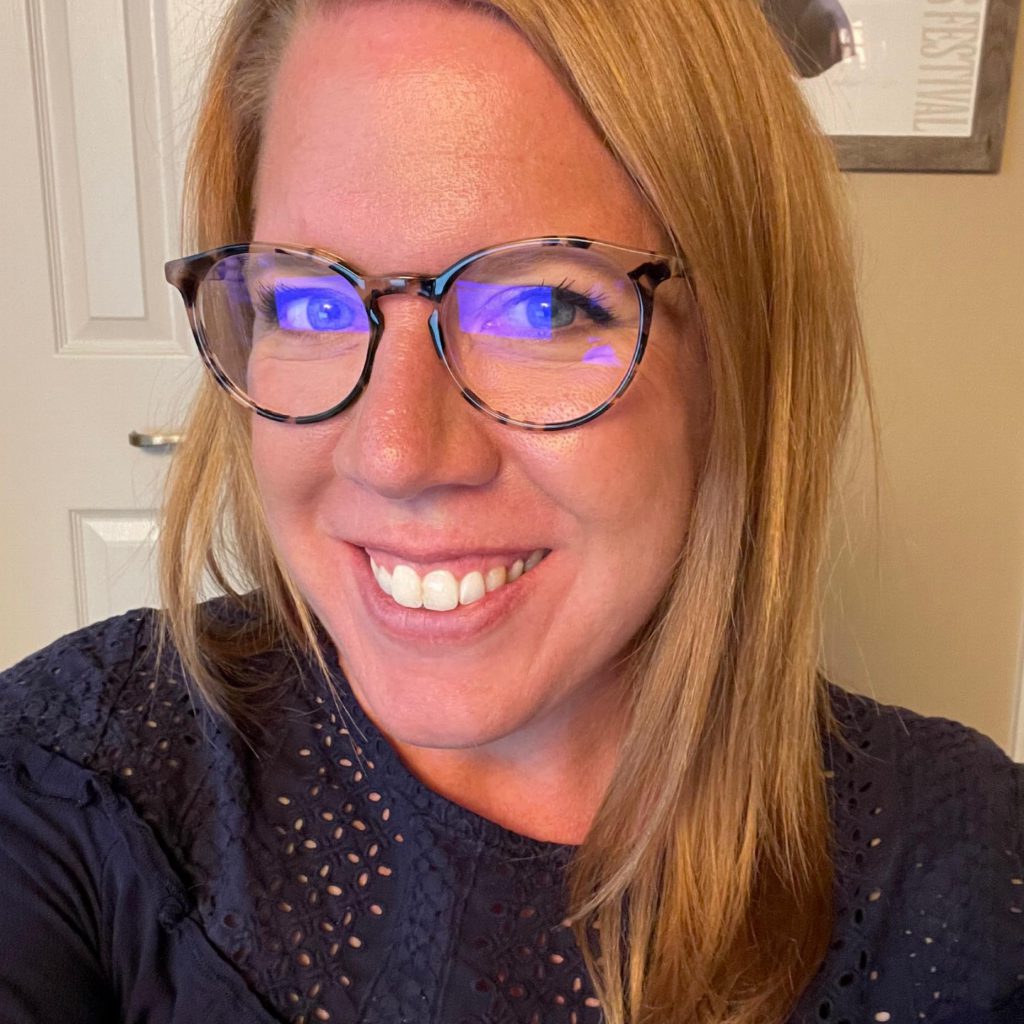 Christine Webb, Speech-Language Pathologist – Christine_webb@dpsk12.net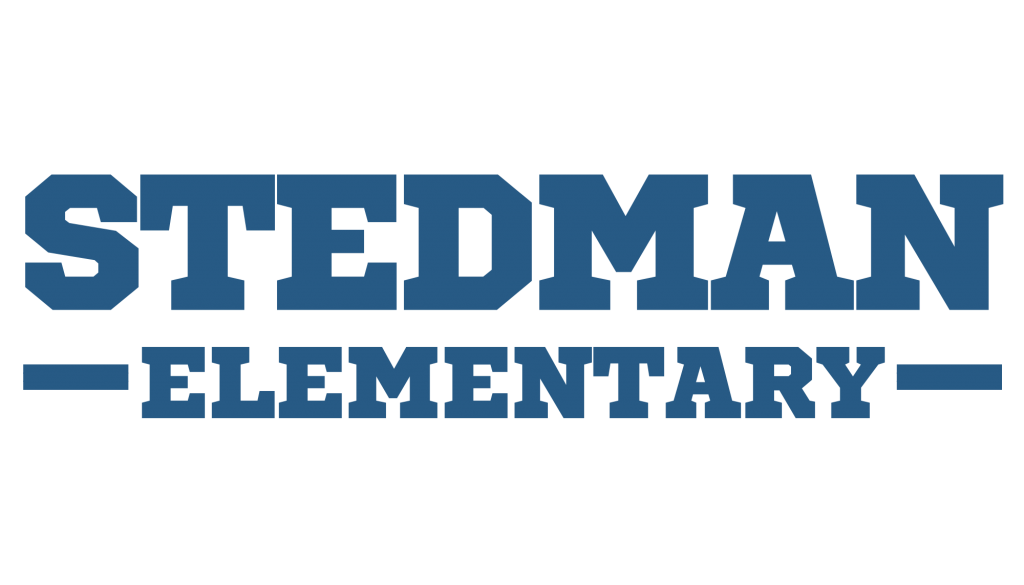 Eileen Figaro, Nurse – eileen_figaro@dpsk12.net
DPS School Nurse. Graduated from San Jose State University, with a BSN; University of Washington, with an MSN focusing on Occupational Health and Teaching Leadership. Received a Nurse Practitioner certification from University of Colorado, focusing on Pediatrics. I enjoy outdoor Winter and Summer sports.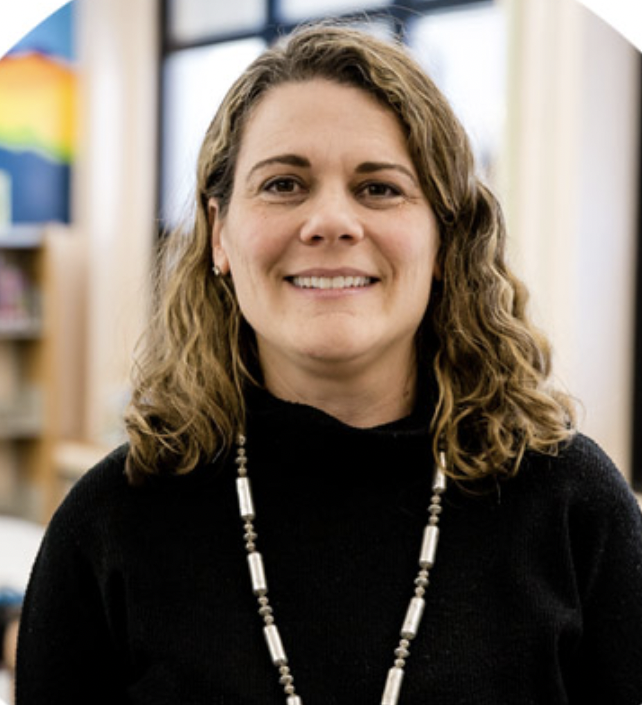 Amy Barrett, Gifted/Talented – amy_barrett@dpsk12.net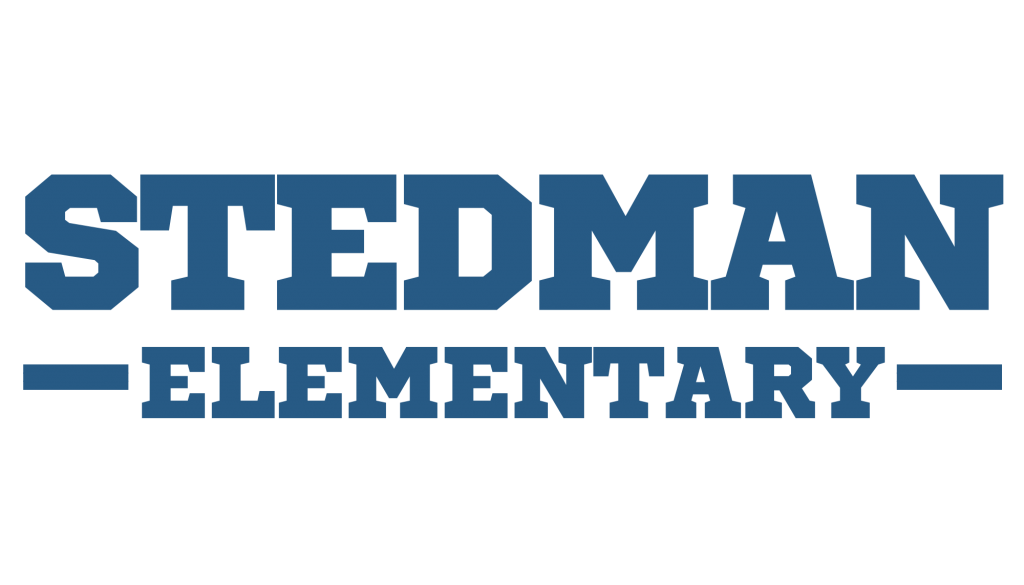 Jerri Succo, Technology Support – jerri_succo@dpsk12.net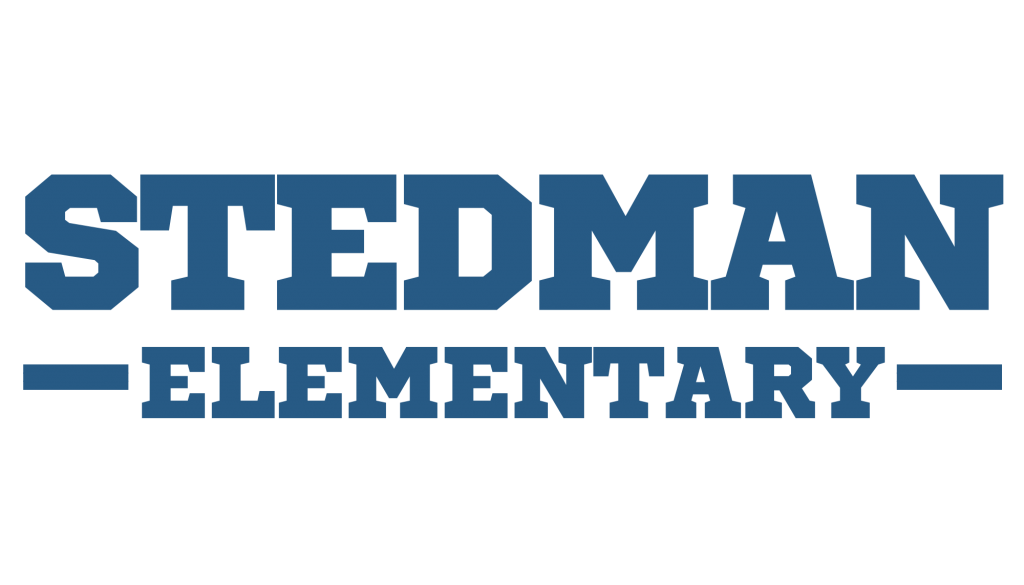 Emily Warren, Occupational Therapist – emily_warren@dpsk12.net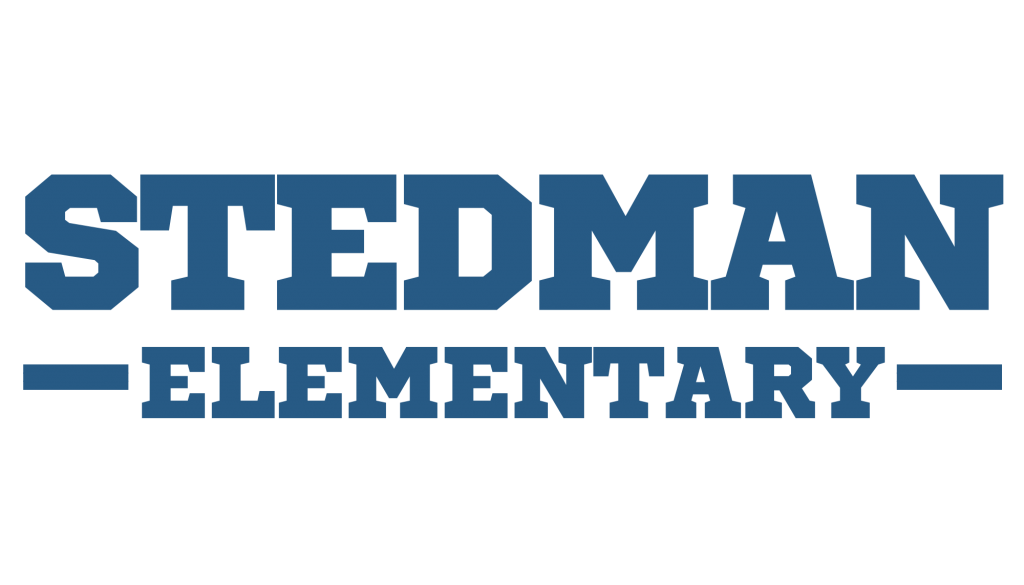 Ali Monroe Larson, Family & Community Services Liaison – alison_larson@dpsk12.net
Paraprofessionals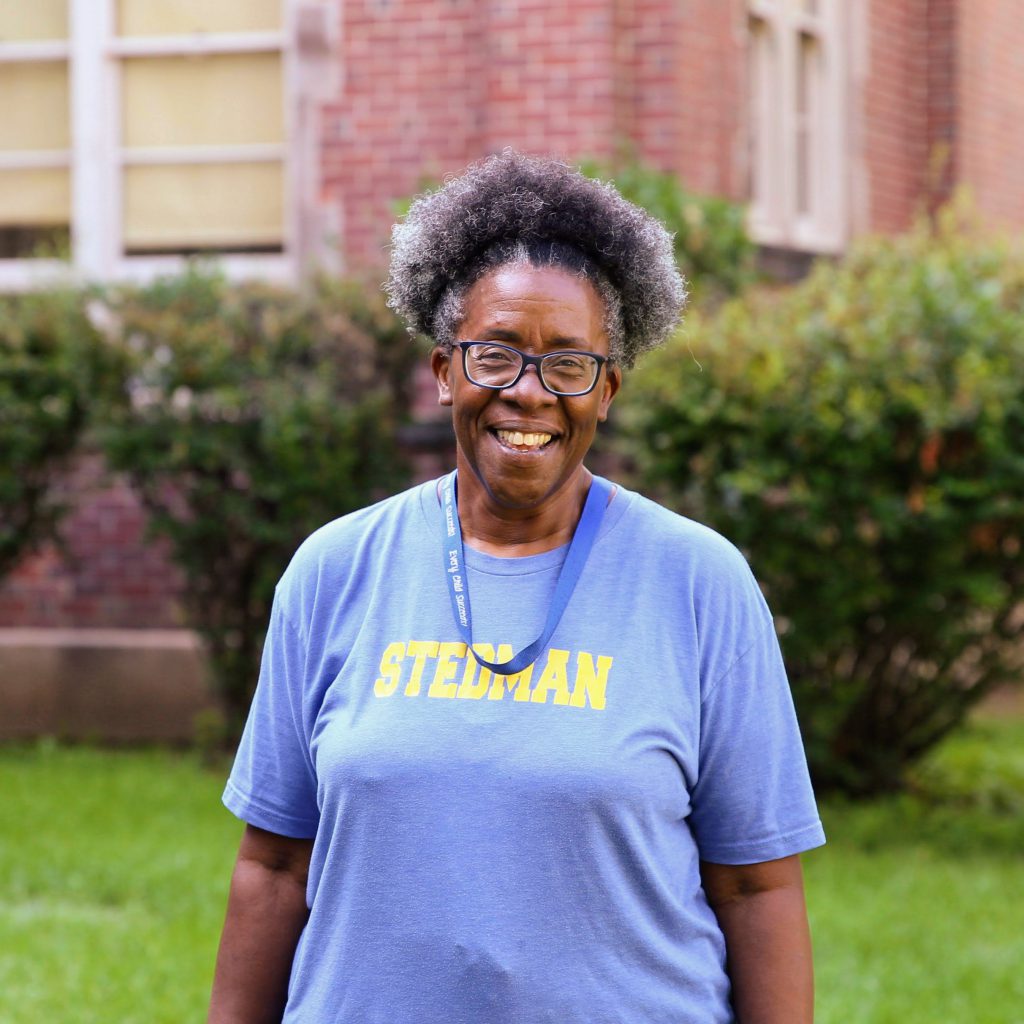 Custodial & Cafeteria Staff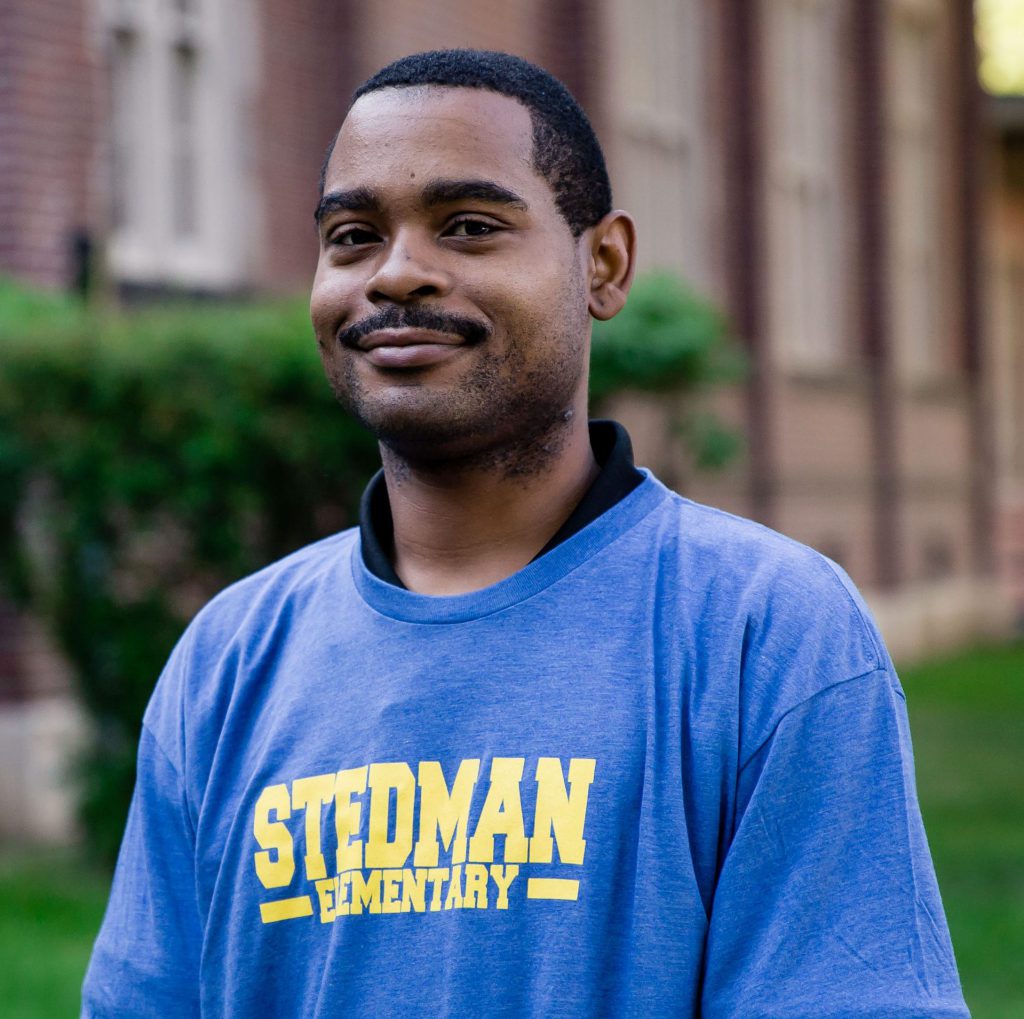 Brandon Mercadel, Facilities Manager – brandon_mercadel@dpsk12.net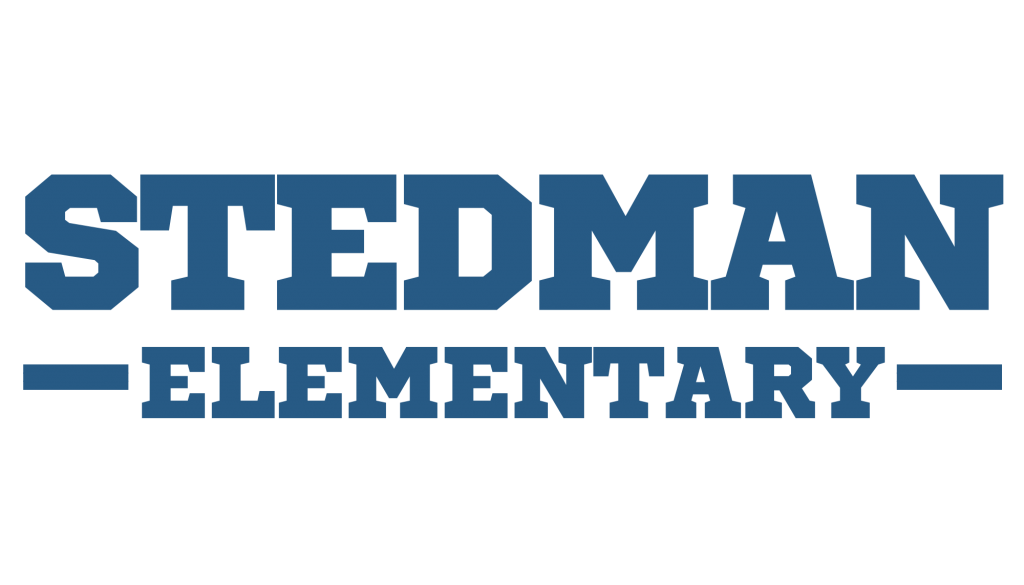 Denise Hysaw, Facilities Assistant Crew Lead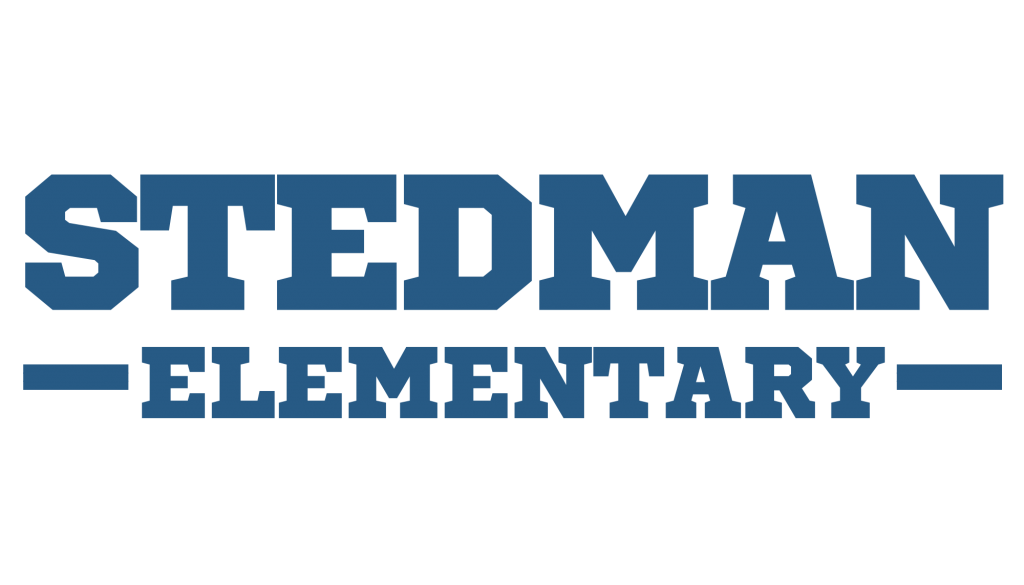 Kevin Yearling, Part-time Custodian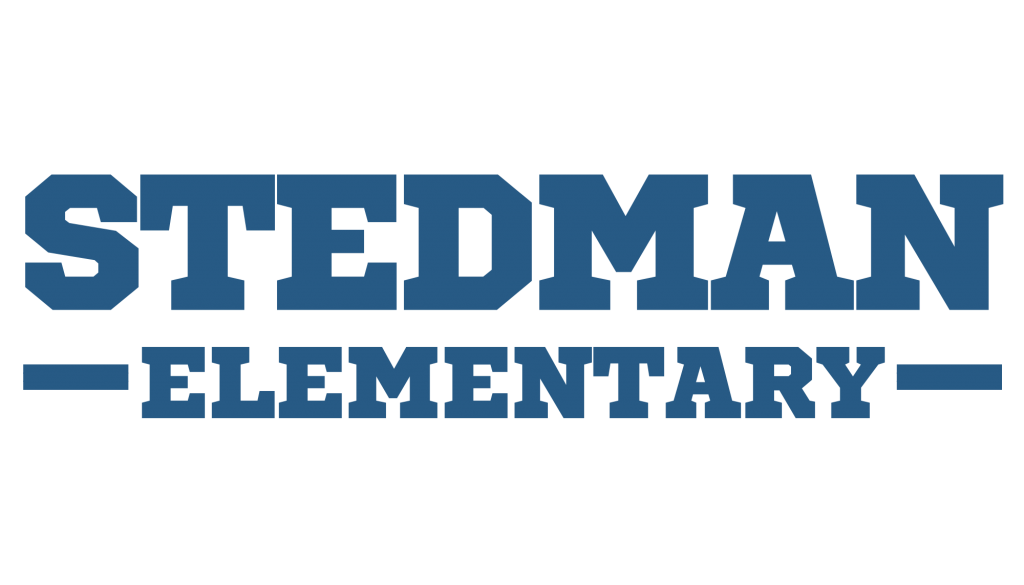 David Gilbert, Food Services Manager – david_gilbert@dpsk12.net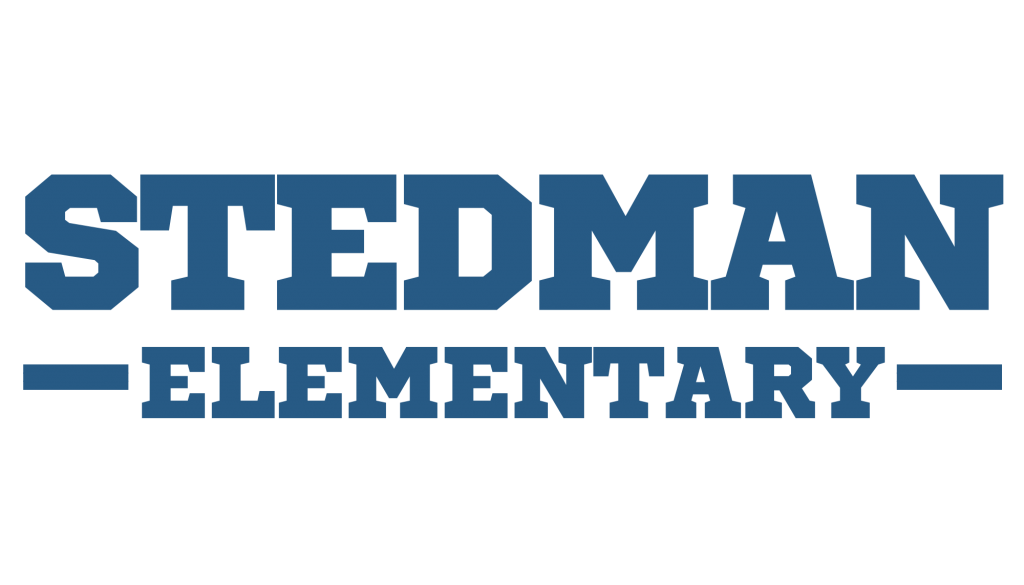 Vorage Jarmon, Oshay Davis, Veraletta Starks – Cafeteria Staff