Stedman students are prepared to participate in their community; students know what is available to them in their community, how they can contribute, and are inspired to take action.
Through fundraising, we will increase opportunities for experiential learning, arts and technology integration into core academic instruction.
The school is a place where all community stakeholders come together to create and contribute to the success of our students and neighborhood.
Stedman will partner with various community organizations throughout the 2015-2016 school year. These organizations include:
Spellbinders

Cleo Parker Robinson Dance Company

La Napoule Art Foundation

RedLine EPIC Arts Program

MathHoops

Denver Art Museum

Playworks

Dahlia Campus for Health and Well-being

Colorado Children's Chorale

Colorado Symphony Orchestra

Optimist Club International
***
On Oct. 30, 2014, the entire 5th grade shared music and poetry at the groundbreaking ceremony for a new Community Health Center just a few blocks away. Students heard from prominent community members including Mayor Hancock and Senator Johnston.
Cleo Parker Robinson- our students participate in residencies and attend performances
Through a partnership with CO Symphony Orchestra, our students take violin lessons.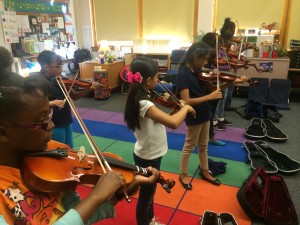 For many years, Stedman has partnered with Kent Denver School. Throughout the year, Middle School students from Kent Denver visit
and work with our students on projects like the one below. Our kindergarten students learned about and made pinatas!
Through our partnership with Spellbinders, oral storyteller Janet Fine tell stories in all grade K-5 classes monthly.
spellbinders.org
Through our partnership with the Colorado Children's Chorale, we offer a unique choir opportunity called the Stedman Singers every
monday at 8am for grade 3-5 students. http://www.childrenschorale.org