Tours & Open Houses
**Update: Due to the increase in COVID, we have canceled previously scheduled in-person tours and have tentatively scheduled two new dates for February. Please continue to check this page for the most up-to-date information on what events are taking place.
Stedman will host in-person tours after normal school hours on a limited number of dates. See below for more and RSVP here if you would like to attend any events. (You can also get a great glimpse into our community via our Facebook and YouTube pages!)
** Actualización: debido al aumento de COVID, hemos cancelado los recorridos en persona y hemos programado tentativamente dos nuevas fechas para febrero. Continúe consultando esta página para obtener la información más actualizada sobre los eventos que se están llevando a cabo.
Stedman ofrecerá recorridos en persona después del horario escolar normal en un número limitado de fechas. Consulte a continuación para obtener más información y confirme su asistencia aquí si desea asistir a algún evento. (¡También puede echar un vistazo a nuestra comunidad a través de nuestras páginas de Facebook y YouTube!)
TOURS:
Thursday, February 3rd at 4:30pm (In-person, tentative at this time)
Wednesday, February 9th at 4:30pm (In-person, tentative at this time)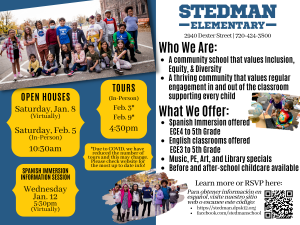 View our virtual tour video below (Vea nuestro video de recorrido virtual a continuación):
OPEN HOUSES:
Saturday, January 8th (Virtual) at 10:30am
Saturday, February 5th (In-Person) at 10:30am** Tentative at this time due to COVID
SPANISH IMMERSION INFORMATION SESSION:
Wednesday, January 12th (Virtual) at 5:30pm (via Zoom)
Learn more detailed information about Spanish Immersion here.
Participating in DPS SchoolChoice 2022/2023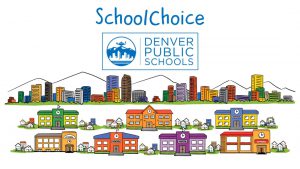 All families with students entering ECE-3, ECE-4, Kindergarten, Middle or High School MUST participate in DPS SchoolChoice. If you need assistance, please contact the Choice Hotline at 720-423-3493, let our front office know by calling 720-424-3800, or reach out to our Choice Coordinator at alison_larson@dpsk12.org.
Two Program Offerings at Stedman
These are separate programs that are viewed as two "different" schools by DPS SchoolChoice.
English Program
If Stedman is your boundary school, you are guaranteed a spot in our traditional English Classrooms. This program offers a traditional elementary experience in English with English-speaking teachers. If you live outside the Stedman boundary, you can also choice into this program.
Spanish Immersion
If you are interested in Spanish instruction, Spanish Immersion is a separate program that must be choiced into. Our Spanish Immersion model follows the DPS Language Allocation Guidelines (which is a gradual release to English instruction over the course of Elementary School). You can view our priorities for enrollment into Spanish Immersion HERE. Students applying in Grades 2-5 will be contacted to schedule an assessment for entrance.
Curriculum in both our English and Spanish Immersion programs are aligned.
HOW TO CHOICE
Choice takes place completely online. If you need assistance filling out an application, please talk with our Front Office at 720-424-3800 or email our Choice Coordinator at alison_larson@dpsk12.org. Make sure you complete the process by February 15th at 4pm.
SchoolChoice is as easy as FIND, APPLY, REGISTER!
FIND the best school for your student with the Great Schools Enrollment Guides, the new School Finder online tool at schoolchoice.dpsk12.org, and by touring schools of interest. (Due to COVID-19, many schools will not be offering tours in person. Visit school websites for virtual tours or information that will be helpful in your selection process.)
APPLY by using the online application at schoolchoice.dpsk12.org between JANUARY 14 and FEBRUARY 15, 2022 at 4 p.m. (List your top 12 options!)

Families will need to provide verification of child's age and verification of current address. Verification of income is required for ECE-4 applicants only.
If you miss this window, your chances of attending a school of your choosing decreases dramatically.

Families are notified of placements in late March – you will then REGISTER with your school to attend in the Fall! (Each school will notify you about their registration process.)
QUESTIONS? Call the SchoolChoice Hotline: 720-423-3493
APPLYING TO STEDMAN
When you are applying to our school, note that you will see TWO options:
Stedman Elementary – Traditional English
Stedman Elementary – Spanish Immersion
Notes
Entrance into the Spanish Immersion program for grades 2 – 5 requires Spanish language experience. If you apply to Spanish Immersion in these grades, we will be in touch to determine if your child's experience is sufficient for acceptance into the Immersion program.
If you are a heritage Spanish speaker, please be sure to select that "Spanish" is the main language spoken in your home during your application.
Need assistance with this process?
There are many avenues for support:
***************
Participar en DPS SchoolChoice 2022/2023
Todas las familias con estudiantes que ingresan a ECE-3, ECE-4, Kindergarten, Middle o High School DEBEN participar en SchoolChoice de DPS. Si necesita ayuda, comuníquese con la línea directa de Choice al 720-423-3493, avísele a nuestra oficina de recepción llamando al 720-424-3800, o comuníquese con nuestro Coordinador de Choice en alison_larson@dpsk12.org.
Dos programas ofrecidos en Stedman
Estos son programas separados que DPS SchoolChoice considera dos escuelas "diferentes".
Programa de inglés
si Stedman es la escuela de su zona, se le garantiza un lugar en nuestras aulas de inglés tradicionales. Este programa ofrece una experiencia de primaria tradicional en inglés con profesores de habla inglesa. Si vive fuera de los límites de Stedman, también puede optar por este programa.
Inmersión en español
si está interesado en la instrucción en español, la inmersión en español es un programa separado que debe elegir. Nuestro modelo de inmersión en español sigue las Pautas de asignación de idiomas de DPS (que es un lanzamiento gradual a la instrucción en inglés durante el curso de la escuela primaria). Puede ver nuestras prioridades para la inscripción en inmersión en español AQUÍ.
Curriculum in both our English and Spanish Immersion programs are aligned.
CÓMO ELEGIR
La elección se lleva a cabo completamente en línea. Si necesita ayuda para completar una solicitud, hable con nuestra oficina de recepción al 720-424-3800 o envíe un correo electrónico a nuestro coordinador de opciones a alison_larson@dpsk12.org. Asegúrese de completar el proceso antes del 15 de febrero a las 4 p.m.
¡SchoolChoice es tan fácil como BUSCAR, APLICAR y REGISTRARSE!
ENCUENTRE la mejor escuela para su estudiante con las Guías de inscripción de Great Schools, la nueva herramienta en línea School Finder en schoolchoice.dpsk12.org y recorriendo las escuelas de interés. (Debido a COVID-19, las escuelas no ofrecerán recorridos en persona. Visite los sitios web de las escuelas para obtener recorridos virtuales o información que será útil en su proceso de selección).
SOLICITAR utilizando la solicitud en línea en schoolchoice.dpsk12.org entre el 14 de ENERO y el 15 de FEBRERO de 2022 a las 4 p.m. (¡Enumere sus 12 opciones principales!)

Las familias deberán proporcionar verificación de la edad del niño y verificación de la dirección actual. Se requiere verificación de ingresos solo para los solicitantes de ECE-4
Si pierde esta oportunidad, sus posibilidades de asistir a la escuela de su elección disminuyen drásticamente.

Las familias son notificadas de las colocaciones a últimos de marzo; ¡luego se REGISTRA en su escuela para asistir en el otoño! (Cada escuela le notificará sobre su proceso de registro).
PREGUNTAS? Línea directa SchoolChoice: 720-423-3493
APLICANDO A STEDMAN
Cuando solicite ingreso a nuestra escuela, tenga en cuenta que verá DOS opciones:
Primaria Stedman – Inglés tradicional
Primaria Stedman – Inmersión en español
Notes
La entrada al programa de inmersión en español para los grados 2 a 5 requiere experiencia en el idioma español.
Si solicita la inmersión en español en estos grados, nos pondremos en contacto para determinar si la experiencia de su hijo es suficiente para ser aceptado en el programa de inmersión.
¿Necesita ayuda con este proceso?
Hay muchas vías de apoyo: